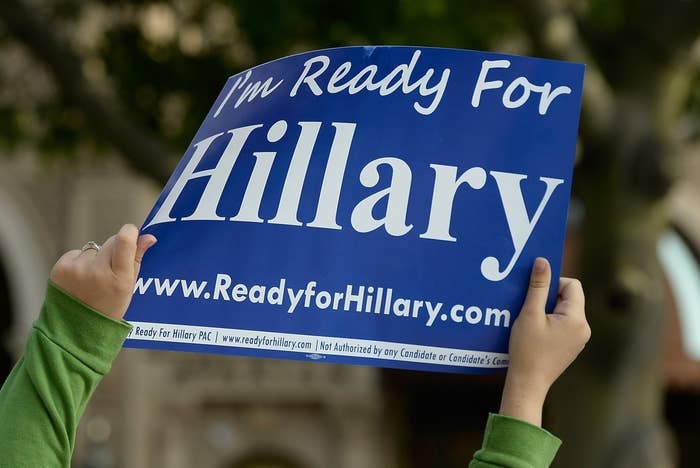 Just five days after Barack Obama beat Mitt Romney for a second term, a group called "Ready for Hillary" made its quiet entrance on Twitter. "Ready to go! Are you?" read a first tweet, dropped into the radio silence of a barely followed feed.
Half a year later, the political action committee is FEC-registered, with a hefty social media presence, a list of 200,000 email addresses, and a handsome cadre of established Clinton supporters who have, to varying degrees, given Ready for Hillary the thumbs-up, and helped make it the predominant vessel for voters hoping, early as it may be, that the former secretary of state will run for president in 2016. Now when the PAC posts a tweet or a picture on Facebook, the responses come in the thousands.
But as more people learn the Ready for Hillary name, many of the allies and former aides in Clinton's orbit are watching the organization warily, suspicious of the PAC as it gains outsize attention in the absence of any official moves from Hillaryland.
In a wide range of interviews with onetime staffers and fundraisers, the devotion, confusion, and quasi-paranoia among Clinton's professional loyalists was on full display. Some spoke highly of Ready for Hillary's ability to harness the energy around Clinton; others derided its methods and presentation as amateur; and still more refused to express an opinion at all, asking instead what their peers had said about the group. Several declined to even speak off the record: To publicly criticize one of the biggest Clinton love-fests ever seen, said one former staffer, would be to throw cold water on every voter clicking "like" on Facebook.
"The top-tier people won't do anything until they hear it straight from Hillary or Bill or Huma," said one 2008 campaign staffer, referring to the former secretary's longtime personal aide, Huma Abedin.
But the PAC's cofounder, Adam Parkhomenko, said the group is working to build trust with the Clinton community and reach out to individuals who may not understand its mission, which Parkhomenko describes as "a grassroots campaign" focused on organization, list-building, and fundraising. He and Allida Black, a Virginia-based scholar and volunteer on the 2008 campaign, decided to start the group late last year to jump-start Clinton's political operation, still dormant after four years at the State Department.
"Part of this is building credibility. It doesn't matter if I worked for Hillary for six years," said Parkhomenko, who worked in Clinton's Senate campaign office in 2003. "A lot of it is, 'Well, is this person on board?' And, 'What does this person think of it? What does this donor think of it?'"
Parkhomenko spends all day on the phone answering questions, rallying support, allaying concerns — some conversations, he said, are 10 minutes, and some last two and a half hours.
The group has already netted several notable inner-circle allies: Longtime aides James Carville and Harold Ickes have endorsed the PAC — though neither has joined it in any formal capacity — and a number of other former staffers have signed on as volunteers, including Bill Clinton's White House political director, Craig T. Smith. The group also plans to unveil a finance committee in two weeks' time that, Parkhomenko says, will be stocked with big-name Democrats from the worlds of Clinton, Obama, and their 2008 primary opponent, John Edwards.
"The finance committee rollout will really impress people and show a coalition of Democrats who are united behind Hillary and who believe that this is the right vehicle to support and financially support her," he said.
But some in the Clinton fundraising world don't agree. One former Hillary bundler has even actively discouraged donors from contributing to the group.
"I'm not worried about the Haim Saban types," said the fundraiser. "It's the mid-level donors wasting their money that I worry about — someone who is capable of maxing out to someone like Hillary, or of raising $50,000, who sees James Carville and all these other people who are legitimizing Ready for Hillary."
In April, Carville sent an email on behalf of the PAC, calling the group's work "absolutely critical"; though in an interview on HuffPost Live two weeks later, the veteran strategist appeared more distant. "They asked me to sign something. I'm not a member of it or anything like that. But they're good guys, and I signed it," he said, adding, "I sign too many things sometimes."
The fundraiser called the group a "fringe and amateur" operation, arguing that it spends too much time on social media campaigns that run counter to the Clinton brand and are "way too public," said the source. "The whole thing is memes." (Freshly Photoshopped images — typically a picture of Clinton overlaid with a spirited caption — appear with frequency on the group's Facebook and Twitter feeds: "Simply put:" reads one, "She's my girl.")
And small features on the PAC's site, though imperceptible to grassroots supporters nationwide, have nettled some campaign veterans as insensitive, if not puzzling. Patti Solis Doyle, the former Clinton campaign manager who has borne the brunt of blame inside Hillaryland for the 2008 primary defeat, is given her own page on the site. Asked last month about Doyle page, a Ready for Hillary spokesman said they routinely highlight prominent Democrats who express their support for the PAC or Clinton.
"This isn't a criminal enterprise. But it's more like, 'What, who are these people?' These people are untested. It's not like you have a Bill Burton type," said the bundler, citing the former Obama aide who founded Priorities USA, the major Democratic PAC supporting the president's reelection. "You need a person that is genuinely close to Hillary and decides to break apart and go for this."
The reason Democrats didn't have droves of super PACs last year, said a former senior official in the Obama administration, is because of a "clear signal" to members of the party that Priorities would be the dominant group. "If Hillary Clinton wants to have a super PAC, people will know that Hillary Clinton wants to have a super PAC," the former official said. "One of her people will be installed, and it will be obvious to the entire world that this is now the go-to. Once the heavy hitters weigh in, led by a Hillaryland person, it will be crystal clear."
"There's an intellectual tension between those who want there to be an effort they can get behind, and then the practical matter that she'll actually have a group supported by high-level donors," the official added. "The heavyweights will pretty quickly eclipse whatever they've done."
But Shelly Porgess, who worked under Clinton at the State Department and is now a volunteer for the PAC, said that there is room enough for as many groups as want to support her candidacy. Porgess cited the EMILY's List campaign to elect a woman to the White House, Madame President, which launched just last week.
"Every core Hillary person is about 2016. But different people will choose to pursue that path in a different way," said Porgess, who also fundraised for Clinton's 2008 campaign. "The more, the merrier. This will be a very big tent, and it doesn't just have to come from this PAC.
A former Clinton staffer who supports the PAC also argued that, even if top-level aides aren't at the helm of the group, donors' money won't be wasted.
"It's not like Phil Singer and Howard Wolfson. It's kind of like the B-players," said the operative. "The people who started it are definitely people entrenched in Hillary world. They're not the inner circle — they're one or two out from the inner circle."
Unlike Parkhomenko, Black was never on the Clinton payroll. Instead, she was what you could call a hyperactive volunteer during the 2008 campaign, hosting 500 house parties and traveling to 14 states, where she knocked on 5,000 doors and raised $15,000. She also founded a PAC called "WomenCount" and kept pushing for Clinton to become the Democratic nominee right up to the convention in Denver. (She and Parkhomenko have also hired three full-time staffers: Seth Bringman, a former communications director for the Ohio Democratic Party; Nickie Titus, who was director of digital media on Sen. Tim Kaine's campaign last year; and Matt Felan, Clinton's deputy national finance director in 2008.)
Inner circle or not, Parkhomenko says he and Black want the PAC to "absolutely" be the prominent pro-Clinton outside group in 2016, should she decide to run. "I think what we're building will be an unparalleled organization," he said.
The group hasn't yet asked its supporters for money, but has already received 2,500 contributions through its website, Parkhomenko said. At the end of June, Ready for Hillary will file campaign disclosure data with the FEC, giving the Clinton world a first glimpse at the organization's finances.
To bolster the PAC's fundraising effort, Felan has been courting fundraisers who have worked for Clinton with an offer of part-time contract work, at a rate of $5,000 per month for meeting a particular goal, according to two people with knowledge of the proposition. So far, Ben Pollara, a Miami-based strategist who served as Clinton's Florida finance director, is the only person under contract with the group as a fundraiser.
But the organization argues that what will make it last, and ultimately more salient with members of Hillaryland, is that it's a group focused more on grassroots support and infrastructure than with raking in cash. When Clinton left Washington's Foggy Bottom with a 69% approval rating, and amidst a din of speculation about her next political move, the PAC served as an outlet for supporters already clamoring for 2016. Parkhomenko calls it a first for the tradition of political action committees; and Porgess, too, says the PAC "represents the best of American democracy" and "is all about Americans taking it into their own hands."
Not the way you'd typically describe the type of outside group more often associated with million-dollar ad buys and political heavyweights.
"You can start a super PAC if the money is there, but we're doing something different," Parkhomenko said. "People will say what they want to say, but as this continues to move forward, a lot of people that have something negative to say will see after our first file, and they'll start to come around and realize we are serious about this."