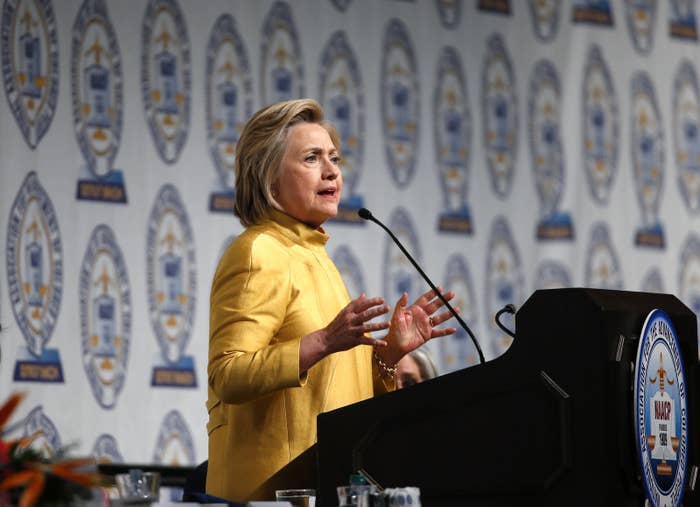 DETROIT — For 30 minutes on Sunday night, speaking from the dais of an NAACP dinner here in Detroit, Hillary Clinton presented the audience of 6,000 with a distinct and cutting image of her likely opponent in the general election.
It was Donald Trump, she reminded the predominantly black crowd, who "led the insidious birther movement to discredit the president's citizenship" only a few years ago. And it was Donald Trump, she said, who played "coy" and declined to disavow David Duke and other white supremacists who have supported his campaign.
"We cannot let Barack Obama's legacy fall into Donald Trump's hands," Clinton declared, moving people in the sprawling COBO Center to their feet.
In recent weeks on the campaign trail, Clinton has talked increasingly about an all but certain match-up against Donald Trump and what she argues is his "divisive" and "dangerous" vision for America. On Sunday, delivering the keynote address at the Fight for Freedom Fund Dinner for the NAACP, Clinton spoke in personal and urgent terms about what Trump's election might mean for the Obamas and their legacy.
"We have to bring our country together," Clinton said. "That mission feels more urgent than ever now that the Obama presidency is coming to a close."
"We've been blessed to have this strong, thoughtful leader sitting in the Oval Office and an exceptional first lady by his side. They have made us proud," Clinton said, calling it a "tremendous honor" to serve in his administration. "They have represented America to the world with style and grace, and it is up to us to make sure that when they leave the White House, the concerns and priorities they've championed, the hopes and dreams that Americans have entrusted to them, don't also leave."
As Trump attempts to secure the GOP nomination and professionalize his presidential campaign, seeking at turns to soften his tone and appeal to a broader swath of the country, Clinton has warned voters against his possible shifts.
"Trump keeps saying things like, 'You know, I didn't really mean it. It was all part of my reality TV show. Running for president will be on your screen,'" Clinton said at a rally late last month in Rhode Island. "Well, if we buy that, shame on us."

Clinton argued on Sunday night that a Trump presidency would threaten Obama's policies, and the spirit of his historic election as the first black president: "We have to look at our great country. Look at this amazing gathering. People from every background. Every race. Every religion. Coming together as one people, one nation," Clinton said. "There is no other place like it in the world. I went to 112 countries as your secretary of state."
"There is no place like America," she continued. "Let's not endanger the promise, the potential, the dream of our country by giving into these voices of hatred. Instead, let us remind ourselves of how far we have come together."
The election, she said, came down to a simple choice. "It's about unity versus division. Compassion versus selfishness. And love vs. hate," Clinton said. "The stakes don't get much higher than that."