Clinton: How We Respond To Orlando Says Something About America
Hillary Clinton didn't say Donald Trump's name on Monday — emphasizing gun control and plans for combating ISIS instead — but the implicit contrast was clear.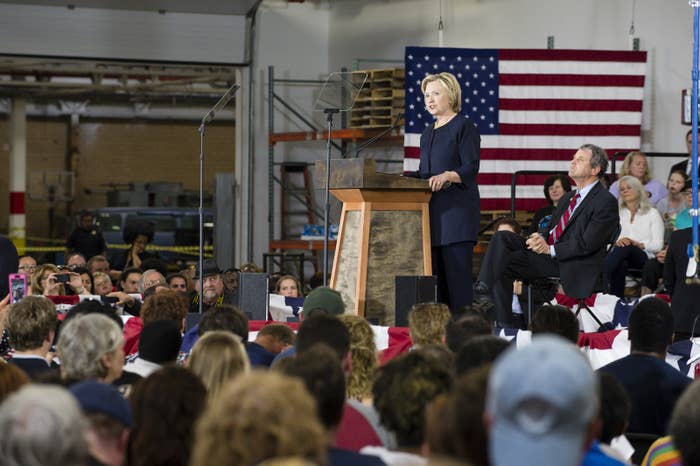 CLEVELAND — Hillary Clinton planned to kick off her general election campaign here on Monday "under very different circumstances."
"But today," she said, "is not a day for politics."
Instead, at her first event in a battleground state since becoming the presumptive Democratic nominee, Clinton scrapped a speech directed squarely at Donald Trump and spoke in somber and measured terms about the terrorist attack that left 49 dead late Saturday night at a gay nightclub in Orlando — a tragedy that marked the worst shooting in U.S. history.
The contrast, however, between the two candidates on Monday meant the speech may as well have been about Trump. "This is a moment when all Americans need to stand together," Clinton said, reading slowly from a pair of teleprompters. "No matter how many times we endure attacks like this, the horror never fades. The murder of innocent people breaks our hearts, tears at our sense of security, and makes us furious.
"Now we have to steel our resolve to respond. And that's what I want to talk to you about: how we respond."
Clinton laid out broad plans for combating ISIS abroad and online, addressed "the threat of lone wolves" like Orlando shooter Omar Mateen, and ticked off the slate of aggressive gun restrictions she's already proposed on the trail this year.
Clinton promised a "ramped up" air campaign against the Islamic group and an "intelligence surge." Over the past year, Clinton has argued that European countries need to take a more robust approach toward terror and intelligence sharing. On Monday, she vowed that the "lone wolf" attacks seen in Orlando, San Bernardino, and Boston — a development that ISIS has encouraged and codified — would be a priority as president.
"We face a twisted ideology and poisoned psychology that inspires the so-called lone wolves," without formal organization, Clinton said. "As president, I will make identifying and stopping lone wolves a top priority."
Clinton said she would bring together a group of government and private sector officials with community leaders to head the "lone wolf" effort, though she did not elaborate on how to combat the threat specifically.
Clinton also noted that FBI officials had interviewed Mateen, the shooter, on multiple occasions in the last three years — a fact, she said, that should have prevented a gun purchase.
"If the FBI is watching you for suspected terrorist links, you shouldn't be able to just go buy a gun with no questions asked," Clinton argued.
Law enforcement officials say Mateen carried a handgun and a long gun in the style of an AR-15 rifle, the semi-automatic weapon used in the San Bernardino shooting late last year, as well as the 2013 shootings in Aurora, Colorado, and Newtown, Connecticut. The gun would likely be a target of Democrats' proposed weapons ban. "That may not stop every shooting or every terrorist attack," Clinton said. "But it will stop some, and it will save lives."
Clinton's 30-minute address was also an appeal to the values that have guided the country through what she described as "the darkest chapters of our history." Trump, his rhetoric, and his proposals ran like an undercurrent through Clinton's speech.
"Our open, diverse society is an asset in the struggle against terrorism, not a liability. It makes us stronger and more resistant to radicalization," Clinton said. (An hour later, in a speech in New Hampshire, Trump again called for restricting immigration from Muslim countries, despite the Orlando shooter's U.S. birth.)
How we choose to respond to events like Orlando, Clinton argued, raises "a larger point about the future of our country," emphasizing American unity and equality.
She addressed the LGBT community directly, likening the events on Sunday to a long line of violence perpetrated against people because they were LGBT — "from Stonewall to Laramie and now Orlando," Clinton said.
"I want to say this to all the LGBT grieving today in Florida and across our country. You have millions of allies who will always have your back — and I am one of them," Clinton said. "We have to stand together, be proud together. There is no better rebuke to the terrorists and all those who hate."
Hours before arriving in Cleveland, Clinton called into four morning news shows to address the Orlando shooting and respond to what she called Trump's "quite dangerous" rhetoric. In her speech, she alluded specifically to his "inflammatory anti-Muslim rhetoric" and proposed ban on Muslims, arguing such talk would only erode trust abroad and make U.S. law enforcement's job more difficult.
That remark seemed directed toward Trump's tweets congratulating himself on predicting another terrorist attack.
"This has always been a country of 'we,' not 'me,'" Clinton said, citing the phrase on the U.S. seal. 'E pluribus unum — 'out of many, one' — has seen us through the darkest chapters of our history."
She portrayed the American experience as a struggle through dark times, but also a continuum of expanded progress, from ending slavery, to expanding the vote, to opening up access to education.
The "spirit" of the recovery from the Sept. 11 terrorist attacks, Clinton said, should serve as the country's roadmap in the wake of Orlando — and in this year's election.
"I remember how it felt on the day after 9/11. I bet many of you do as well," she said. "Americans from all walks of life rallied together with a sense common purpose on Sept. 12, and in the days and weeks and months that followed. We had each other's backs."
Clinton, who was at the time a U.S. senator from New York, recalled Democrats' shared sense of purpose with the country's Republican president and New York's Republican governor and Republican mayor.
"We did not attack each other. We worked with each other to protect our country and to rebuild our city," Clinton said. "It is time to get back to the spirit of those days — the spirit of 9/12. Let's make sure we keep looking to the best of our country, to the best within each of us. Democratic and Republican presidents have risen to the occasion in the face of tragedy.
"That is what we are called to do."