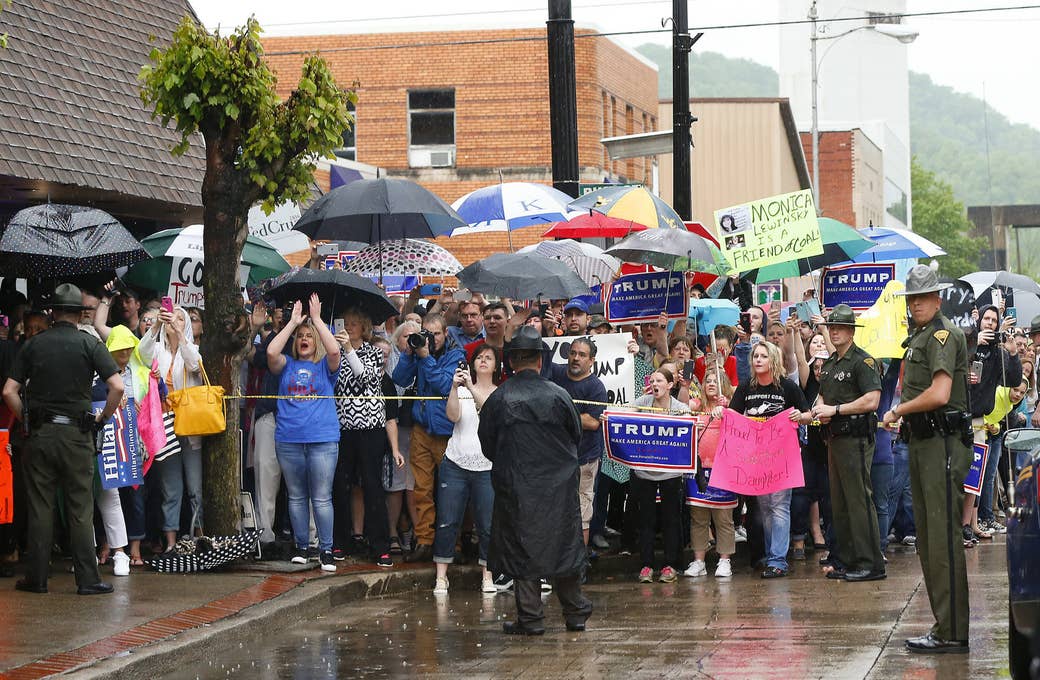 Candice Branham likes Donald Trump. But that wasn't the reason she stood for hours last week in the rain, waiting to protest Hillary Clinton in Williamson, a small coal town in West Virginia. "I'm for whoever," the 29-year-old said. "I'm not for Hillary."
Around Branham, scattered voices rang out from the crowd — people shouting about coal, about "baby-killers" and "tree-huggers" and Hillary the "crook." But after Clinton's motorcade pulled to a stop in downtown Williamson, the message from the protesters was the same. "Hillary. Go. Home," they chanted together. "Hillary. Go. Home."
Branham gestured to the crowd. "She shouldn't even bother coming here."
This was the sentiment heard outside Clinton events across West Virginia — where she lost this Tuesday's Democratic primary to Bernie Sanders but chose to begin her bid in the general election last week during a three-state tour of hard-hit Appalachia.

In one sense, the showing in West Virginia encapsulated Clinton's approach to her campaign promise to unify a fractured electorate: to target problems and reach out, even in parts of the country where she's deeply unpopular. (Or as Clinton put it last week, to "fight for you and your families every day – whether you vote for me or not.")
At other points, however, the effort reflected a far more complex reality behind that promise: a country that has changed significantly since Bill Clinton campaigned in communities like Williamson, a candidate who doesn't lend herself to the role of unifier, and a general election between two of history's least popular likely nominees.
As she traveled through Appalachia, a swath of coal country where Trump has found many of his most ardent supporters, Clinton encountered voters set in rigid opposition to her presence. In Kentucky, as Clinton led a discussion with steel workers, protesters shouted from across the street: "Nobody wants you here! Go home!" In southeastern Ohio, as she left a speech, two men stood arms raised, each flashing a middle finger. And in Williamson, W.Va., at a small forum on the coal community, one of the participants challenged Clinton on a comment she made about putting miners out of work.
Even Bill Clinton, who once connected deeply with white working-class families in states like West Virginia, was met with some resistance as he campaigned there this month. For many in the region, the former president acknowledged, there was perhaps little to be done to sway the vote. But for the campaign, he said, the swing through West Virginia was a significant symbolic gesture, not a last-ditch bid to win Tuesday's primary.
"Look, here's the deal. That wasn't about getting votes, for her or for me," Bill Clinton said, stopping to answer questions after a recent campaign event in California.
"She was trying to make the point: 'Vote however you're determined to vote, but I don't think we can leave anybody behind,'" the former president said. "That was about saying, it doesn't matter how you vote. Every American deserves a chance to get back into an economy where there is a stable middle class and there is upward mobility."
The trip through West Virginia marked the effective start of Clinton's general election bid, kicking off a string of other small roundtable discussions across Virginia and Kentucky this week, fashioned in the style of the so-called "listening tours" that the former U.S. senator has historically used to begin her campaigns. The events feature about a dozen participants and play out as a mix of policy talk, heavy on details, and of personal stories, often of setback and hardships, from the voters at the table.
To start a general election with events like these in the heart of Trump country, Clinton aides argue, reflects an implicit contrast with the presumptive GOP nominee.
"What we want to communicate in these weeks is that she is the one that is able to best unify the country," said Brian Fallon, the campaign's national press secretary.
"She is going to be the one that will reach out — to not try to divide Americans against each other, but bring people together even if they don't start off supporting her. We especially want to do that in areas that frequently get overlooked," Fallon said, noting that Clinton will continue to "highlight those areas" as she travels to battleground states while also competing in the remaining Democratic primaries and caucuses.
One of her biggest backers in West Virginia, Sen. Joe Manchin, told reporters last week that Clinton's advisers had argued the trip. "All of her people said, 'Let's go somewhere else, let's not go there.' I heard all of it." The idea behind the of tour, Manchin said, "wasn't from the standpoint of thinking, we're gonna turn these people around."
Aides acknowledge that Clinton, who has been a polarizing figure in national politics for more than two decades and is now nearly as unpopular with Americans as the GOP frontrunner, may seem like an improbable figure when it comes to unifying a badly splintered country and appealing to the white working-class voters who identify with Trump and Bernie Sanders. (On Tuesday, a Quinnipiac poll with a large share of white voters sampled showed Clinton and Trump performing evenly in three key swing states.)
Campaign officials have argued that Clinton's wins in Ohio and New York, for instance, show she can pick up support from that slice of the electorate, expanding on a coalition of older voters, women, and people of color. Still, as she campaigned ahead of Tuesday's primary, the protests that followed her across Appalachia revealed a larger shift among the same voters who supported Clinton over Barack Obama in 2008 and identified with her husband's campaigns, but now flock to Trump's unlikely brand of populism.
"What happened," Bill Clinton reasoned, "is most of these people are making the same or less money than the last day I was president. And there's been a big loss of jobs."
"But the people — there's nothing wrong with them. They just want to work," the former president said, echoing the words of protesters like Branham, the woman who stood outside Clinton's campaign event in downtown Williamson. "They want a future. I think that you can't blame 'em for being mad. They feel everybody has abandoned them."
"Basically, our state has changed," Manchin said.
He predicted that Trump's campaign would be able to draw a "tremendous number" of new voters to the polls in less diverse states. "These are all good people, hard-working people, God-fearing people… I've known 'em all my life, the people down there."
"They're hurt," Manchin said.