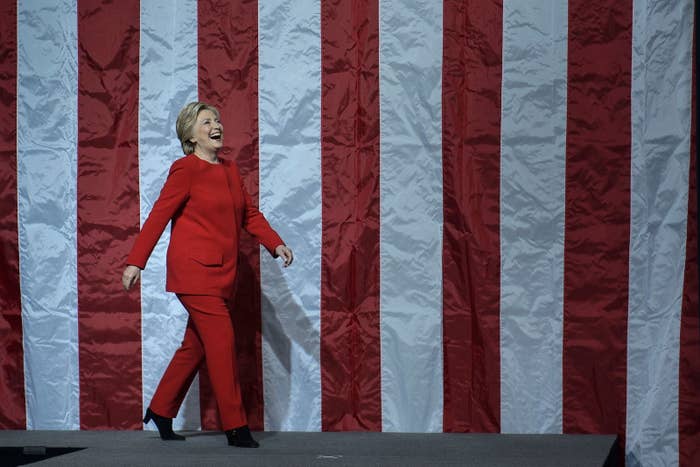 WHITE PLAINS, New York — On the eve of Election Day, over the course of 18 hours, three rallies, five flights, addressing a combined 43,000 people, Hillary Clinton ended her campaign Monday with a marathon sprint that marked a positive end to a race that has, for long stretches, felt like a slog to participants, the candidate included.

At events from Pittsburgh to Grand Rapids, Michigan, to Philadelphia, to Raleigh, North Carolina, Clinton spoke in aspirational terms about "an open, inclusive, big-hearted America," framing the choice Tuesday as one between "division and unity" and telling voters at each stop that "our core values are being tested in this election." The day recalled her husband's famous nonstop 30-hour, 4,106-mile trip from east to west before his sweeping victory over George H. W. Bush.
Clinton channeled what she described as "a sense of potential — of joy."
On this Monday morning, her last on the campaign trail, Clinton stepped out of her van holding her iPhone, still FaceTiming with her granddaughter, Charlotte. She turned the camera to the reporters, showing Charlotte the press corps that has followed her now for 575 long days.
"You see the big plane?"
It was a far cry from the candidate who, just 10 days earlier, entered the homestretch of the campaign under the cloud of new questions raised by FBI director James Comey, who, close to Election Day disclosed a new inquiry related to Clinton's private email server in a letter to Congress. In the days that followed, she felt the need to address the development in her stump speech in quite sharp terms.
By the middle of last week, though, aides felt they had turned a corner on the controversy, finishing in the mode of a campaign confident in its robust get-out-the-vote operation and a candidate at ease with herself and the state of the race, seeming to savor these final days.

She brought old friends on the plane: Cheryl Mills, Maggie Williams, Capricia Marshall. She hung out backstage with Beyoncé and Jay Z in Cleveland. She made one last church stop in Philadelphia and bellowed, as she has most Sundays on the campaign trail, that "this is the day the lord has made — let us rejoice and be glad in it." She told stories about her late mother on the stump. And in one moment of release, as a sudden downpour crashed down on a crowd in Pembroke Pines, Florida, her pantsuit speckled with rain, she lifted her arms to the sky. By the time Comey released a second letter, this one stating that the new inquiry had concluded nothing of consequence, Clinton didn't bother to mention it.
"We just have to work until the last vote count is in. We are on a good track," she told her press corps before mounting the stairs to the front cabin of her Boeing 737.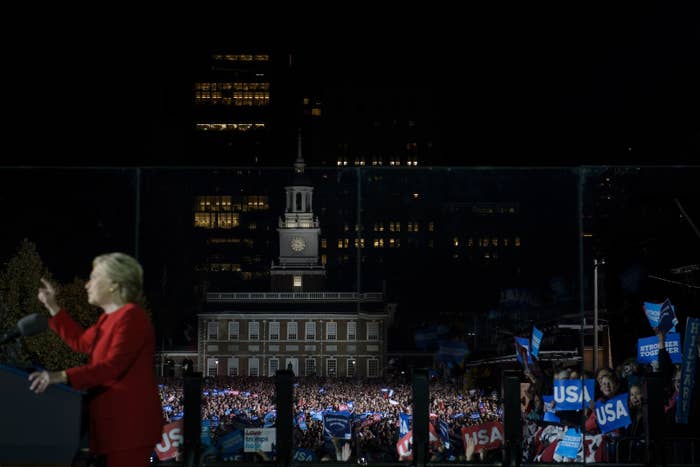 In Pittsburgh, at an outdoor rally colored by fall leaves, Clinton spotted a "Coal Miners for Hillary" sign in the crowd. "I'll tell you sir," she said, diverting from her speech, "I know how hard times are, and as I have said, and you can take it to the bank, I will not forget you." In Grand Rapids, she took time to tell the story of her mother, who had been abandoned as a child by her family, and taught Clinton the importance of small acts of kindness. In Philadelphia, she told a crowd of 33,000, her largest of either her 2008 or 2016 campaigns, that she "regretted deeply how angry the tone of the campaign became," before a voter in the crowd shouted, "It's not your fault!" And in Raleigh, taking the stage around 1 a.m. in a brightly lit college arena, Clinton watched a performance by Lady Gaga, took the stage, and joked, "You know, this is so energizing. We could keep going."
One aide described the mood on Monday among the candidate and her staff as "light."
Through the day, the Clinton traveling party took on a celebratory feel. Senior operatives who have spent the year holed up in Clinton's Brooklyn headquarters hopped on the plane for the final swing. Jon Bon Jovi joined for one leg. Press secretary Nick Merrill commandeered the overhead PA. ("Will Capricia Marshall please report to the principal's office?") Marshall danced and clapped paces from the spot where Lady Gaga danced on a piano. Communications director Jennifer Palmieri sported a new "I Believe That She Will Win" pin on her denim duster jacket. Bill Clinton teased the press from the front cabin as reporters called for a late-night gaggle. And campaign vice chair Huma Abedin, one of Clinton's closest and longest-serving aides, absent from the road after being embroiled in the FBI news, made her return on the flight to Raleigh to see her boss put on one final rally in the coliseum at North Carolina State University.
It was 3:30 a.m. by the time Clinton's plane landed back in White Plains.
Waiting for her on the tarmac, a few hundred supporters and staffers jumped and cheered, shivering in the cold. The campaign anthem "Fight Song" blasted from the hangar. Clinton stepped down from her plane, wearing glasses and bright red gloves, looking tired, but let out a big smile, a wave, and worked the last ropeline of her campaign.