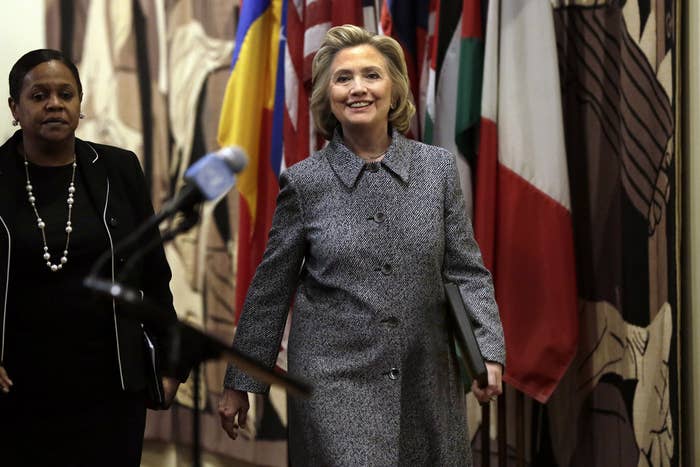 The discovery of one email address, hdr22@clintonemail.com, will result in a major public disclosure: a cache of 30,490 messages, released by the State Department, sent and received by a cabinet official now poised to run for president.
But another 31,830 emails, selected by Clinton's attorneys as strictly personal, will not only remain private but were deleted following a review of the former secretary of state's correspondence from her four years in the administration.
Clinton confirmed that she had deleted personal emails at a press conference Tuesday, attended by about 200 reporters, at the United Nations in New York.
The comments were her first about the scandal that, for eight days now, has dominated news coverage and disrupted a week meant to celebrate Clinton's achievements ahead of the 20th anniversary of the former first lady's famed speech on women's rights to the UN's 1995 conference in Beijing.
Until Tuesday, Clinton had not answered questions about the process conducted by her attorneys to select which emails to include — and which to omit — in the stacks of pages she turned over to State Department officials.
"There were over 60,000 in total, sent and received," Clinton said of the messages from her personal account, which she used instead of government email as secretary. "About half were work-related and went to the State Department and about half were personal that were not in any way related to my work."
"They were personal and private about matters I believed were in the scope of my personal privacy," Clinton said, asked why she deleted the personal messages. "They have nothing to do with work. I didn't see any reason to keep them."
Clinton spokesman Nick Merrill said in a statement sent to reporters on Tuesday afternoon that Clinton directed her attorneys "to assist by identifying and preserving all emails that could potentially be federal records." The 31,830 personal emails, Merrill said, were "private, personal" correspondence.
Merrill described the survey of Clinton's emails as a "multi-step process." The attorneys searched specifically for correspondence from key State Department advisers, and for key words such as "Benghazi and Libya."
Clinton said on Tuesday that her attorneys erred on the side of caution, sending more emails than necessary in response to the State Department request last year that former secretaries submit their official correspondence for record-keeping.
"I have absolute confidence that anything that could be in any way connected to work is now in the possession of the State Department," Clinton said.
Clinton said there was no independent third-party involved in the review, but added, "I am very confident of the process."
The server hosting the email account, which was initially set up as part of her husband's personal office, will remain private, Clinton told reporters.
The existence of the "clintonemail.com" account came to light last Monday amid a House select committee's investigation into the 2012 terrorist attack in Benghazi. The revelation precipitated a rush of negative press and prompted Clinton's announcement last Wednesday that State would publish her email.
Rep. Trey Gowdy, the Republican chairing the Benghazi committee, has said that the public has no assurance, beyond Clinton's word, that the 55,000-page collection of emails set for release is complete or was assembled in good faith.
"Without access to Secretary Clinton's personal server, there is no way for the State Department to know it has acquired all documents that should be made public," Gowdy said in a statement on Tuesday. "There is no way to accept State's or Secretary Clinton's certification she has turned over all the documents."
The State Department was not involved in the survey of emails and only has access the 30,000 emails selected by Clinton's attorneys, officials said.
On Tuesday, Gowdy called for Clinton to turn over her server to a "neutral, detached third-party arbiter" to determine which emails should remain private.
At her press conference, Clinton said that every government official decides when to use a personal account and when to use government email.
"You would have to ask that to every single federal employee," she said.
The Benghazi committee also filed a subpoena last Wednesday for all emails pertaining to the strike on the U.S. compound in Benghazi that took place during Clinton's tenure. "Legitimate investigations do not consider partial records," Gowdy's spokesperson said last week. "And that is the point of the subpoena."
Gowdy has also said that Clinton used more than one email account at the State Department. The documents she turned over to the House select committee, he said, show "two separate and distinct email addresses" ascribed to Clinton.
Merrill, the Clinton spokesperson, has said the second address was not registered until March of 2013, one month after her departure from the administration.
Clinton was using the new account last year when she submitted her correspondence records to the State Department. The address "appeared on the copies as the 'sender,' and not the address she used as secretary," Merrill said.
Gowdy's spokesperson has said the concerns about the second email still hold without access to "the relevant electronic information and stored data."
Clinton, Gowdy's spokesperson added, has "left herself in the unique position of being the only one to determine what records the American people are entitled to."