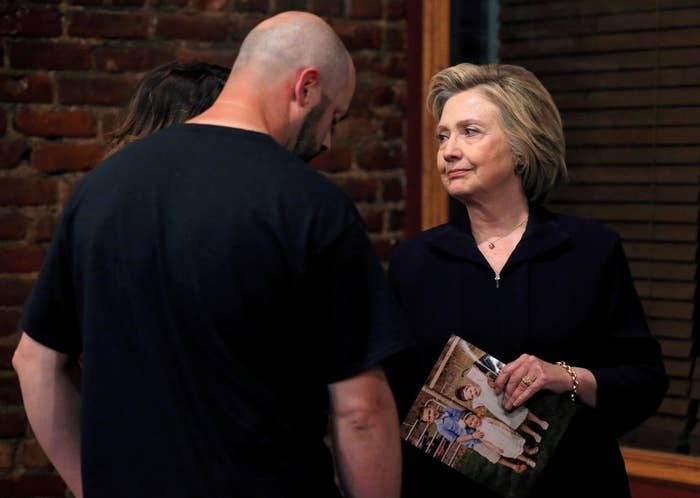 WILLIAMSON, W.V. — Outside the Williamson Health and Wellness Center, at the Pike Street intersection of this small coal town, dozens of protesters crowded police barricades, huddled together beneath shared umbrellas, their "TRUMP" signs dripping with rain. They wanted Hillary Clinton to leave West Virginia.
"Hillary, go home! Hillary, go home!"
Inside the site of the small campaign event, held as part of a two-day swing through Appalachia, their chants sounded in the background as Clinton and Sen. Joe Manchin led a 12-person roundtable discussion on the collapse of the coal industry. ("Go! Go! Go! Go!" they shouted.) About 50 minutes in, one of the participants — a 39-year-old coal worker who lost his job, a father of two young girls and one boy — tried to explain to Clinton why "those people out there" were so angry.
In stark terms, Bo Copley, a former maintenance planner for a subsidiary of Arch Coal, told Clinton that voters here had been deeply put off by the comments she made earlier this spring about the decline of coal. "We're going to put a lot of coal miners and coal companies out of business," Clinton said at the time, before adding, "And we're going to make it clear that we don't want to forget those people."
The remark was seen as a significant misstep for Clinton, who performed well in this part of the country against Barack Obama in 2008, and whose husband connected well in his own campaigns with many of the working-class white voters who now identity with Trump. Clinton moved quickly to explain and apologize directly to Manchin, one of her key backers in the region, both by phone and by letter.
But Copley, who said he spoke as the "voice" of the protesters on Pike Street, came to the event with more questions — setting off 15 minutes of tense and unusually candid conversation between a voter, U.S. senator, and presidential candidate.
"The reason you hear those people out there, saying some of the things that they say," Copley started, "is because when you make comments like, 'We're gonna put a lot of coal miners out of jobs,' these are the kinds of people you're affecting."
Copley took out a picture of his family and slid it across the table.
"This is my family," said Copley as Clinton picked up the photo. "My hope is in God, that's my future. I want my family to know that they have a future here in this state — that this is a great state. I've lived my entire life here. West Virginians are proud people. We take pride in our faith in God. We take pride in our family. We take pride in our jobs. We take pride in the fact that we're hard workers."
Copley and his wife, Lauren, came to the roundtable at the invitation of Dr. Dino Beckett, another participant in Monday's roundtable. (Their kids play soccer together. Copley coaches three neighborhood teams.) Copley stopped often to catch himself from crying as he described what's happened to families like his here in Mingo County, once one of the country's top coal-producers. In the past four years, Mingo's coal mining employment has dropped by half. The county has seen the largest growth in unemployment in that period of any in the state.
"I just wanna know how you can say you're gonna put a lot of coal miners out of jobs, and then come in here and tell us how you're gonna be our friend," he said. "Because those people out there don't see you as a friend."
"I know that, though," Clinton said, her voice low. She apologized several times, but not without qualifications, insisting that the comment was simply a "misstatement."
"I don't know how to explain it other than what I said was totally out of context from what I meant. Because I have been talking about helping coal country for a very long time, and I put out a plan last summer. It was a misstatement, because what I was saying was the way things are going now, we will continue to lose jobs."
Clinton's campaign plan would invest about 30 billion dollars in coal country, focusing on health and retirement benefits, infrastructure, and education.
Clinton looked at Copley as she spoke. "I don't mind anybody being upset or angry — that's a perfect right for people to feel that way," she said. "I can't take it back, and I certainly can't get people who for political reasons — or very personal reasons, painful reasons — are upset with me."
"But here's what I want you to know. What I want you to know is I'm gonna do everything I can to help no matter what happens politically," she said. "That is just how I am made."
Manchin, who'd been watching the exchange from other side of the table, offered Copley his own assessment. "Bo, I know just sitting here, I know what you're gettin' from outside. You know what I'm gettin' from outside, right?" he said, referring to political pressure he's faced for supporting Clinton. "You're hearing it every minute."
"So, if we're brave enough to say listen, 'I know you're mad — you might be mad at me, mad at Bo, but we still love you, we're just trying to make it better for you.' I can't run," Manchin continued. "If I'm worried about that politically, I'm worried about myself more politically than I am about my state, and I'm not gonna do that."
Copley responded with a laugh. "I don't think they're mad at me," he said. "I think they're looking at me as a voice at this point."
Clinton and Manchin agreed this was a good thing.
"If I can be candid," Copley said, "I think still supporting her hurts you. It does."
"I know," Manchin replied. If West Virginians feel like they have the wrong guy in Washington, he told Copley, they'd vote him out. "They'll send me back home. I miss my state. I love my state," he said, to Clinton's laughter. "Send me back home."
After the roundtable, Copley told reporters Clinton hadn't won him over.
Manchin, though, said the event had been a success. "It was a real conversation," he said afterward. "We all cried!" But as Copley spoke to the press, the senator walked over, gave him a hug, and acknowledged the power of his message to Clinton.
"You spoke for the whole state," Manchin said.