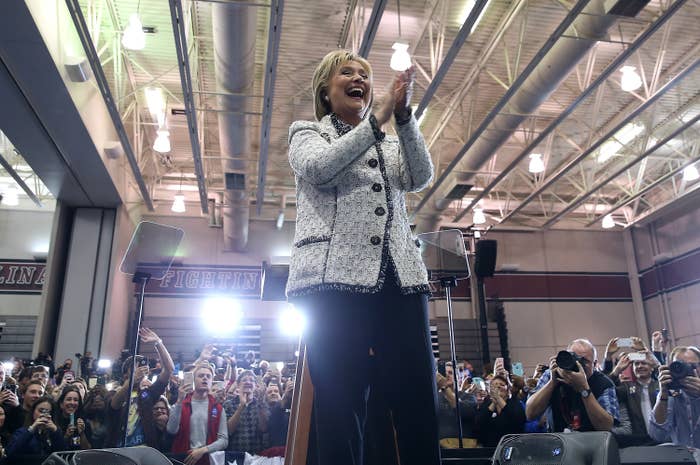 COLUMBIA, S.C. — Rep. Jim Clyburn approached the podium, looked out across the room, lifted his 75-year-old arms to the air, cracked a smile, and started to dance. "Happy" by Pharrell was playing on on the loudspeakers.
The crowd went wild. Clyburn was happy. Supporters were happy. Everyone was happy. And by the time she joined him on stage, even Hillary Clinton seemed happy. South Carolina voters, particularly black voters, delivered the big, resounding win that she and her team have wanted badly. Clinton beat Bernie Sanders here by 47 points — and by 72 points among black voters.
The victory carried with it some combination of relief and excitement — a cautious hope that the campaign, after 10 months, might finally start to click. In the volleyball gymnasium at the University of South Carolina, Saturday's rally showed a candidate with deeper confidence, a campaign message newly refined and reframed, and a staff given over to a moment of genuine feeling and commitment.
One campaign aide described the mood simply as "jubilant."

Supporters danced along to every song. Staffers shared bits of results data in delight. ("We're winning black voters above 65 years old by 93 points. 93 points!") And when Clinton took the stage, aides lingering in the back of the gym cheered as hard and loud as the crowd. One jumped up and down, letting out high-pitched screams. Another shouted at the top of his lungs, "HILL-A-RY, HILL-A-RY."
It was a rare moment of shared celebration for a campaign that has, at points, felt like a slog to participants. One month ago, when Clinton did not claim victory in Iowa — except to say, somewhat unconvincingly, that she was leaving the state with a "big sigh of relief" — she spoke for six minutes and left. No handshakes. No ropeline. No one one knew what to make of it. Two supporters, college students, were left hanging near the stage. "So," one asked, "she's not coming back?"
Then came the slow and total defeat in New Hampshire. There was talk of a staff shake-up and complaints about the campaign message. Ahead of Nevada and South Carolina, states where Clinton benefited from a diverse electorate, she and her advisers were still working to broaden and reframe their pitch to voters, particularly black voters. Here at her campaign rallies week, Clinton told crowds that she, not Sanders, would work hardest to address racial and ethnic barriers.
On Saturday night, recasting the elements message again, Clinton offered voters a simple concept. The speech, essentially, was an appeal for unity — for a conscientiousness that closes divisions in communities and propels policy changes that help people in small and large ways. All of it, Clinton told the crowd here, comes down to the question a presiding church elder recently put to her: "'How, how are we ever going to strengthen the bonds of family and community again?'
"Well," Clinton said, reprising a line she has used on the campaign trail this year and explained as a shorthand for her view of politics, "we're going to start by working together with more love and kindness in our hearts and more respect for each other, even when we disagree.
Clinton also pit the message directly against Donald Trump. "Despite what you hear, we don't need to make America great again," she said, referencing Trump's campaign slogan. "America has never stopped being great. But we do need to make America whole again. Instead of building walls, we need to be tearing down barriers. We need to show by everything we do that we really are in this together."
The speech was the likeliest glimpse yet at the message Clinton might present in a general election, particularly against an opponent like Trump. After the rally, aides would not go as far as to say that they believe Trump will be the Republican nominee. ("I've given up guessing," said communications director Jennifer Palmieri.)
Clinton still faces a highly competitive contests with Sanders. He is positioned to do well in caucus-style states next month and could run up a competitive delegate count. But as aides celebrated their victory on Saturday night, winning handily among black voters here, they also expressed surprise when results showed Clinton held an eight-point margin, 54-46, against Sanders among white voters.
"Tomorrow," she told the crowd, "this campaign goes national!"
But before she left South Carolina, Clinton lingered for a long while on the ropeline. She shook every hand, took every photo, all the way back to the exit. Clinton wouldn't leave. She doubled back to the other side and went again. Then doubled back again. And again. And when she finally ducked past an American flag, heading backstage, she paused — popping back out for one last wave to the crowd.