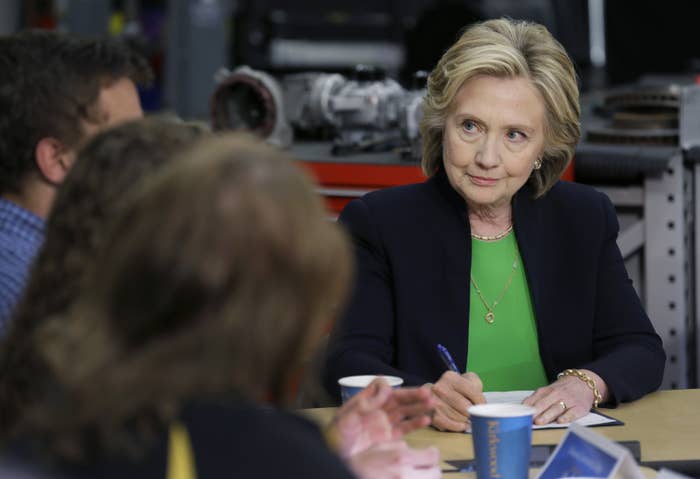 On April 12, 2015, one year ago on this day, a massive political machine known as "Hillary for America" first came clanking and grinding into the public world, unveiling an infrastructure of political strategists and consultants, field offices and digital properties — all underpinning an effort to make Hillary Clinton president.

The question on that Sunday afternoon as the candidate left home in Chappaqua, N.Y., heading West for her first event in Iowa, was whether the voters would follow.
One year later, on the anniversary of the launch, Clinton is celebrating the millions of supporters who made a powerhouse campaign into what her aides argue is a grassroots coalition. To mark the occasion on Tuesday, officials built "Our Year On The Trail," a website geared to show Clinton's voters they are part of something big.
Using interactive tools, the page documents the campaign's development over the last year. One function allows users to find out how many contributors share their first name ("276 other Hillarys have joined this campaign, too!"), zip code (13,689 from Chappaqua), and astrological sign (26,909 Scorpios; "She's a Scorpio, too!"). In another tool, a map plots donations and volunteers over the last 12 months, timed to an icon of Clinton's face bopping from state to state, tracing her travels.
("Mary" was the most common name for a Clinton donor this year, per the site. And her Virgo and Leo supporters far outnumber those who align with the other 10 astrological signs: more than 45,000 Virgos and 43,000 Leos signed on.)
The site ends with a brief thank you from the candidate to her supporters, signed with a hand-written "Hillary": "I'm grateful for all you've done… When the road ahead is tough, you need the best people by your side. That's why I'm thankful for you."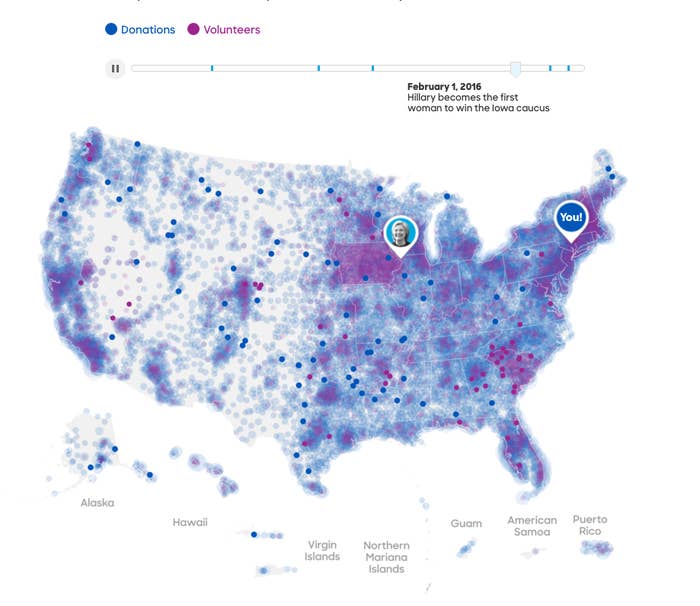 Since last April, Clinton and her aides have sought to dispel the notion that her supporters lack enthusiasm, particularly from young people amid the rise of Bernie Sanders. Although he commands much of that voting bloc and a small-donor army that has delivered a steady stream of millions of dollars, Clinton has seen a strong coalition of support throughout the primary. Last month, a Gallup survey showed Clinton backers are "more enthusiastic" than Sanders', 54% to 44%.
Officials often note that Clinton has received more votes this year than any candidate in either party. Aides have also looked to highlight the attention paid to building out a small-donor and volunteer operation across the country. A year into the campaign, according to the anniversary website, Clinton claims more than half a million volunteers. ("Volunteers spent 145,195 hours talking to voters.") The site also highlights more than 1 million donors — from "all walks of life." (See: 21,894 teachers, 11,668 nurses, 2,051 librarians, 502 electricians, 167 bakers, 15 butchers, "and even 6 candlestick makers.")
Clinton will spend her campaign's one-year mark at a roundtable discussion in New York before attending fundraising events in Florida, and will not make much of the anniversary itself at her events, an aide said. (Aside from the website, the public birthday programming appears to be a series of two dozen "One Year Anniversary Phone Banks" organized across Pennsylvania, which votes on April 26.)
In a statement provided by an official, the candidate touted the "broad, diverse coalition of voters and grassroots supporters" behind her campaign.
"They're knocking on doors, making phone calls, and donating however much they can so we can build on the progress President Obama has made and fight against the dangerous, divisive rhetoric of the Republicans," Clinton said.