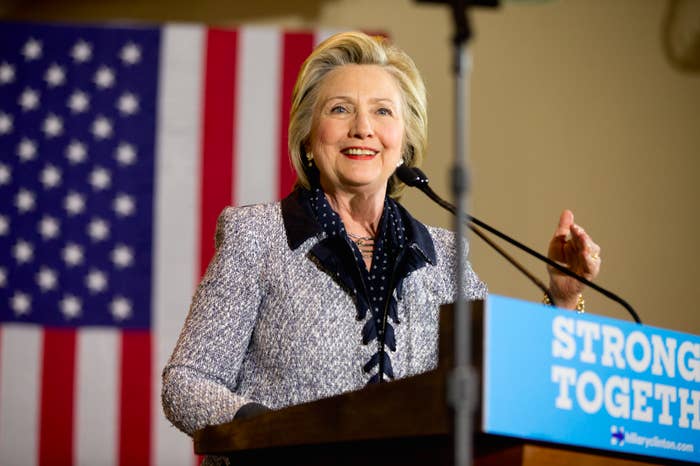 PITTSBURGH, Pa. — Hillary Clinton assailed Donald Trump for his "shameful," "disrespectful" suggestion after the terrorist attack in Orlando, the deadliest shooting in U.S. history, that President Obama sympathized with terrorists.

"Just one day after the massacre, he went on TV and suggested that President Obama is on the side of the terrorists. Now, just think about that for a second," Clinton told the crowd here in a packed Pittsburgh union hall, standing behind a newly designed campaign placard that read, "STRONGER TOGETHER."
"Even in a time of divided politics," Clinton said, "this is way beyond anything that should be said by someone running for president of the United States."
"What Donald Trump is saying is shameful."
The presumptive GOP nominee made the suggestion in two interviews the morning after 49 were pronounced dead at the hands of an American-born terrorist.
On the TODAY show, Trump said many people believe Obama doesn't "get" the threat posed by ISIS, then added: "A lot of people think maybe he doesn't want to know about it." In a separate appearance on Fox News, he floated vague theories about whether Obama has "got something else in mind" when it comes to terrorism: "There's something going on. It's inconceivable. There's something going on."
Although he dismissed news articles on the comments as "dishonest," Trump did not deny the implication later on Monday in an interview with the Howie Carr Show. "Well," he only said, "I'll let people figure that out for themselves."
At Tuesday's campaign event, invoking the weight of what "history will remember," Clinton challenged Republicans to disavow Trump's statements about Obama.

"I have to ask," she said, "will responsible Republican leaders stand up to their presumptive nominee, or will they stand by his accusation about our president? Now I am sure they'd rather avoid that question altogether. But history will remember what we do in this moment."
The speech here in Pittsburgh marked Clinton's second visit to a battleground state since she became the presumptive nominee. Campaign officials initially intended the focus of the event to be on the candidate's economic proposals and her support for the labor community — but after the tragedy in Orlando over the weekend, Clinton's swing through Ohio and Pennsylvania this week took a somber turn.
On Monday, Clinton delivered a measured response to the shooting, emphasizing gun control and her plans for combating ISIS, with no mention of Trump by name.
Her speech here, however, came as a full-scale rebuttal to the GOP nominee and his inflammatory remarks and false statements in the days after Orlando.
She dismissed his campaign as full of "conspiracy theories" and "pathological self-congratulations," and tore through the national security address he delivered on Monday in New Hampshire as filled with "bizarre rants" and "outright lies."

Clinton also reminded voters that Trump led the birther movement against Obama ("I guess he had to be reminded Hawaii is part of the United States"), and more recently cast doubt on an Indiana-born federal judge because of his Mexican heritage ("I guess he has to be reminded Indiana is in the United States").

Clinton, whose aides have said she will attempt to fill the role of "unifier" against Trump, concluded her remarks here by reading from the letter that George H.W. Bush left for her husband as he left the presidency on Jan. 20, 1993.
Last week, the letter resurfaced online, shared by hundreds of thousands as a token of the country's shared values and a bygone spirit of bipartisanship. The Bush family has opted to sit out this year's general election, declining to endorse Trump.
"I hadn't read it in a long time — until yesterday," Clinton said.
"It moved me to tears, just like it did all those years ago."
"They had just fought a fierce campaign. Bill won, President Bush lost. In a democracy, that's how it goes. But when Bill walked into that office for the very first time as president, that note was waiting for him," Clinton said, before reciting the letter's last lines.
You will be our president when you read this note. I wish you well. I wish your family well. Your success is now our country's success. I am rooting hard for you.
"That's the America we love," Clinton said.