Clinton And Sanders Battle Over The Real Ideological Direction Of The Democratic Party
As Sanders extended his argument about Wall Street and campaign money, Clinton finally landed a blow on him in a debate setting on the ideological message — making a lengthy case that there were other progressive priorities beside economic ones.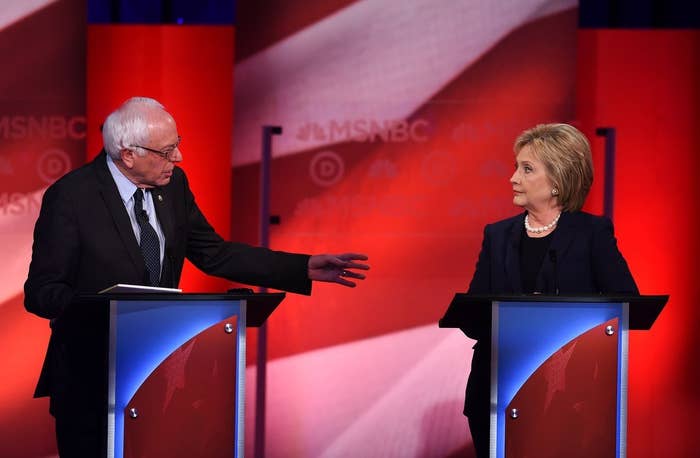 DURHAM, N.H. — The great "who's the true progressive" debate continued Thursday night ahead of the New Hampshire primary here as Bernie Sanders and Hillary Clinton argued over the definition of progressivism, talking semantics and tearing down one another as less than pure lefties.

This, in a surprising turn, wasn't bad news for Clinton.
For the first time in an eight-month race, she was able to really puncture the attack from Sanders, a Democratic socialist, on the topic of liberal purity. Sanders and his supporters have used the Vermont senator's ideological message and combative voting record in Congress to suggest he's the candidate who can't be bought or moved to the middle.
The conversation over progressive values and records, the one liberals have been looking for, came early in the Democratic debate here in Durham — the first one-on-one face-off between Clinton and Sanders. The candidates have agreed to three more debates following the primary here on Tuesday.
In recent weeks, Clinton has argued that she and Sanders share the same ideological goals. The difference, she says, is a matter of execution. "I'm not interested in ideas that sound good on paper," but won't make it in "the real world," Clinton often tells voters at her events, most often referencing Sanders's single-payer health care plan as a "pie-in-the-sky" idea.
"I am a progressive who gets things done," Clinton told an audience of 600 voters at the University of New Hampshire at the start of the MSNBC debate. "And the root of that word, progressive, is progress." (Clinton said the word "progressive" 15 times during the debate.)
As her campaign aides blasted out an email to reporters headlined, "Bernie's Unachievable Revolution," Clinton turned the question back on Sanders — and his record on guns. "If we're going to get into labels, I don't think it was particularly progressive to vote against the Brady Bill five times."
"I've heard Sen. Sanders's comments," she said, "and it's really caused me to wonder who's left in the progressive wing of the Democratic Party. Under his definition, President Obama is not progressive because he took donations from Wall Street; Vice President Biden is not progressive because he supported Keystone; Sen. Shaheen is not progressive because she supports the trade pact. Even the late, great Sen. Paul Wellstone would not fit this definition because he voted for DOMA."
Later, in her closing remarks, Clinton argued that there were other inequalities beyond income inequality that needed attention.
Sanders has made the case that donations from Wall Street, voting for the Iraq War, and belated support for same-sex marriage are not compatible with the mantle of "progressive." And, in particular, he's cited a line Clinton delivered in an Ohio speech last September. "I get accused of being kind of moderate and center," she said then. "I plead guilty." (The line was in the middle of a point about how Clinton had the skill to work with right-leaning lawmakers to create compromises and, eventually, laws.)
The "moderate" line, referenced by Sanders directly on Thursday night, has been a tough one for her on the increasingly heated primary campaign trail. As polls tighten between the two candidates, Sanders has drawn large support with a message that practicality is just a Clinton codeword for abandoning liberal values. You can't be both a moderate and a progressive, Sanders has said.
Clinton attempted to distance herself from the "moderate" line on Thursday, accusing her rival of taking the quote out of context.
"Cherry-picking a quote here or there doesn't change my record of having fought for racial justice, having fought for kids rights, having fought the kind of inequities that fueled my interest in service in the first place," Clinton said.
This week in New Hampshire, the long-running debate over progressivism reached a fever pitch when a pointed Sanders quip about the "moderate" quote was shortened and repeated on cable news: "Some days, yes," went that version of Sanders's response to the question, Is Hillary Clinton a progressive? (He also added, "except when she announces that she's a proud moderate. And then I guess she's not a progressive," but that was given less attention.)
Throughout the first half of the debate — perhaps the most heated of any yet on the Democratic side — Sanders was forced to spend his speaking time on the defensive over the question of what it means to be progressive.
"I think it's important that, look, I understand Sen. Sanders really trying to distinguish himself," Clinton said. "I understand that, that's what you do in campaigns, but at the same time let's not be — in, I think, an unfair way — making an accusation, or making an attack about where I stand and about where I've always stood."
Clinton turned to her right to address Sanders directly. "It is fair to say, senator, that in your definition, as you being the self-proclaimed gatekeeper for progressivism, I don't know anyone else who fits that definition, but I know a lot of really hard fighting progressives in the Democratic Party who have stood up time, and time again against special interests, against the powerful on behalf of those who are left behind and left out."
The moderator offered Sanders time to respond, then suggested the candidates move to other topics.
"That's right," Sanders said. "I mean, instead of arguing about definitions, let's talk about —"
Clinton interjected.
"Well, you began it yesterday with your comments!" she said, referencing his "some days" remark.
And then Sanders returned to something he did throughout the debate, to applause. "What we should do," he said, "and one of the things we should do is not only talk the talk, but walk the walk. I am very proud to be the only candidate up here who does not have a Super PAC, who's not raising huge sums of money from Wall Street." He hammered into the Wall Street issue again and again.
But was he setting the bar for what it means to be a progressive too high, or too Sanders-specific, a moderator asked?
"No, not at all," Sanders said. "What we have got to do is wage a political revolution where millions of people have given up on the political process, stand up and fight back, demand the government that represents us and not just a handful of campaign contributors."
Toward the end of the debate, when a moderator invited Sanders to criticize Clinton over her progressive failings — this time for supporting the death penalty — Sanders demurred.