Clinton And Her Supporters Reassure Each Other As Race Tightens
A common refrain over Labor Day weekend in Iowa and New Hampshire for Hillary Clinton: Hang in there. The candidate's big advantage has slipped in the two early states — though she continues to frame the race as a choice between her and the Republicans.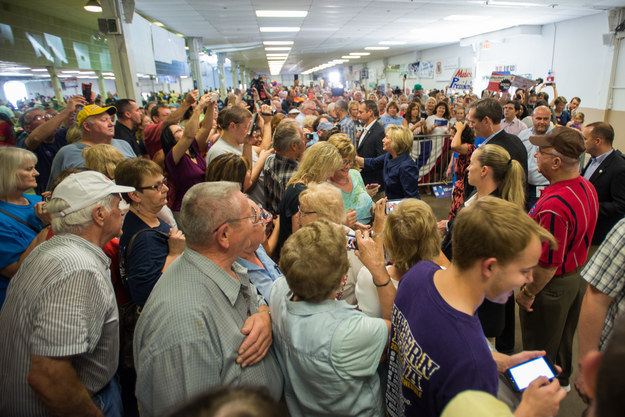 BURLINGTON, Iowa — It was the last of nine campaign stops in three days. Her voice was hoarse from so much talking. And by the end of her Labor Day swing through New Hampshire and Iowa over the three-day weekend, aides worried she might be sick — or at least worn down. After her final event at a small park in the town of Burlington, as Hillary Clinton stepped over the line of haybales dividing her from the crowd, a man approached, leaned in, and offered some words of encouragement.

"Hang in there, Hillary," he said. "We really like you."
It was a message Clinton heard often as she traveled to six towns and cities in the two early-voting states, capping off a difficult summer for the campaign: Clinton's lead in New Hampshire has been erased by Bernie Sanders, her poll numbers and favorability ratings have dipped over questions about trust and authenticity, and she continues to face scrutiny for a personal email account she used as secretary of state. Clinton and her aides have framed Labor Day as a sort of reset moment for the campaign — or, as Clinton said at the start of the weekend, a turn "toward the finish line."
In the early states, supporters sought to reassure Clinton that they were in the fight with her. The man in Burlington was one of several who told Clinton to keep it up as she moved into a more challenging phase of the campaign.
In Cedar Rapids, at the center of a thick crowd following Clinton at a labor day picnic, one woman yelled, "You give 'em hell!" Clinton reached out and grabbed her hand. "We will! We will!" she said. In Portsmouth, N.H., another woman told Clinton to keep her head up. "Stay strong and don't let them get you down," she said. And at her event there — a "Women for Hillary" rally overlooking South Mill Pond — Sen. Jeanne Shaheen endorsed Clinton to a crowd as a candidate who won't "shrink from a fight": "Hillary," Shaheen said, "is as tough as they come."
"I know that I'm just really getting warmed up," Clinton said at the stop in Burlington. "It's only Labor Day."

Clinton, meanwhile, seemed to reassure her supporters right back. She made sure to tell nearly every crowd over the weekend that, setbacks aside, she is up for the fight.
"I know that I'm just really getting warmed up," Clinton said at the stop in Burlington. "It's only Labor Day."
When a woman approached the candidate in downtown Portsmouth to say she'd been a supporter in 2008, Clinton told her this campaign would be different. "We are going to do it this time," she said.
Although Sanders, the U.S. senator from Vermont, has mounted a serious, well-organized challenge to win the Democratic nomination — particularly in New Hampshire — Clinton cast the "real choice" as one between her and Republicans: "I am criticizing the Republicans on a very regular basis because I want the American people to know what the real choice is," she told reporters during a press conference in New Hampshire.

There was no direct talk of the Democratic primary, or her opponents — only reminders from Clinton that a strong nominee would be needed to take on the Republican Party next November.
"I have no illusions about how hard all of this will be. Because the other side has already said they will spend, do, or say whatever it takes to win," said Clinton in Burlington. "And they have a particular concern about me. I take it as sort of a compliment to be honest, right? Because they know I mean what I say. And I want you to know that."
Donald Trump, in particular, has been "throwing a lot of heat my way," Clinton noted in Portsmouth on Saturday. "That is fine. I can take it." The next day, in Cedar Rapids, she said of the Republicans, "It is going to be a fight. Make no mistake about it."
Clinton added that, in Iowa, where she holds a solid lead against Sanders, the caucuses could serve as a crucial "message" to the other party: "that we're coming after those Republicans and their allies who would turn the clock back on America."
"I am a proud Democrat," she said at her last stop. Then added: "I am a true Democrat."
It was perhaps the closest Clinton came over the weekend to acknowledging her closest competitor in the Democratic primary. Sanders, who has long described himself as a socialist, is a registered Independent. (Just last month, he attended his first Democratic National Committee meeting.)
Clinton acknowledged that, although operationally her campaign has focused on the early primary states — and on, as her aides often say, "taking nothing for granted" — her messaging is directed, exclusively, on contrasts with Republicans.
"It certainly is clear that my campaign is focused on the Republicans," Clinton told reporters in Portsmouth. "That's who I talk about. That's who I criticize. Because I think they've earned it. I am very pleased to be running my campaign on the issues that I think are important to the American people."
Last week, in an interview with NBC, when Clinton said it isn't enough to "wave your arms and give a speech," the Sanders campaign suggested the comment had been aimed at his large rallies. "I think they're getting nervous," Sanders said over the weekend.
Clinton denied any reference to Sanders. (She has not, in fact, said his name once publicly on the campaign trail.) "First of all," she told reporters, "I was talking about Donald Trump." On her Democratic opponents more broadly, Clinton said she looked forward to "chance to debate," and suggested she'd be open to participating in more than the six already on the calendar. Other Democrats, including Martin O'Malley, the former governor of Maryland, have argued that the schedule is limiting and favors Clinton as the frontrunner.
"I debated a lot in 2008, and I certainly would be there with lots of enthusiasm and energy if they decide to add more debates," said Clinton. "We will have a chance to debate, however many times we get that opportunity."
Heading into the fall, Clinton's aides hope to shift public focus away from the email controversy that still occupies headlines. In an interview with the Associated Press on Monday, Clinton called the investigation "a distraction, clearly," but said it has not hurt her campaign.
"You know, I take seriously what I want to do as your president. And I know that, you know, it's summertime," said Clinton later that day in Burlington. "It's kind of hard to focus on the kind of things that I've been talking about. "But we're gonna keep talking about them."
Her senior strategist and pollster, Joel Benenson, told reporters last week on a campaign conference call that, even amid the developments of the summer, the campaign believes that not much has changed for Clinton: "Where we see the race right now is fundamentally unchanged from where we've been before." And In New Hampshire, where Sanders leads in several polls, they always expected "a tight race," Benenson said.
"That's the nature of races in New Hampshire."
Clinton, of course, knows that first hand. "I am going to work as hard as I can to earn every vote in the New Hampshire primary that I possibly can earn," she said over the weekend. "I remember very well in 2008, I faced a similar situation. I worked really, really hard to make sure people knew what I was saying and what I stood for."
"That's what I'm going to do again."