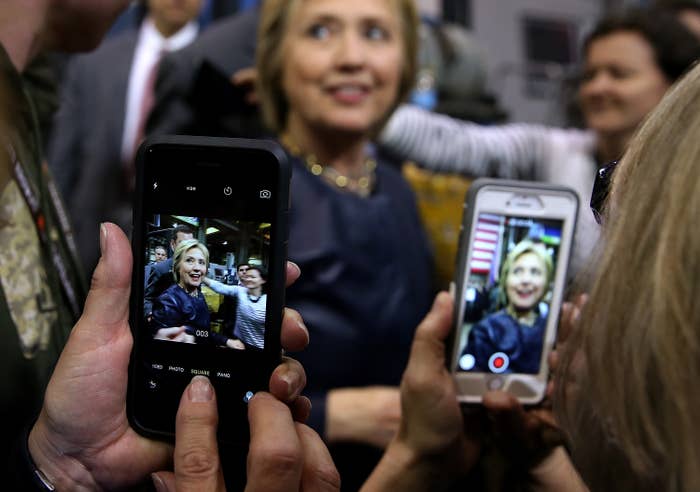 CLEVELAND — The largest women's organization in Democratic politics has tasked a group of filmmakers, actors, directors, and other creative types with the mission of motivating and mobilizing a chunk of the electorate that has yet to coalesce behind Hillary Clinton's bid to become the first woman president: young women.
The group, EMILY's List, assembled what they're calling a Creative Council to make the "millennial" case for Clinton and other Democratic women on the ballot this fall with collaborations on videos, digital campaigns, and events, an official said Sunday.
The some 20 council members include Lena Dunham, the writer, director, and actress; Shonda Rhimes, creator of the television series Scandal and "Grey's Anatomy; Uzo Aduba, the actress who plays Crazy Eyes on Orange is the New Black; Padma Lakshmi, host of Top Chef; and a mix of other figures from Hollywood and Democratic politics, such as Steve Kerrigan, the party's former executive officer. Dunham will co-chair the council alongside Paul Bernon, a former finance co-chair for Gov. Deval Patrick.
The Washington-based nonprofit, which seeks to recruit and elect pro-choice women, has worked alongside several other independent groups to bolster the Clinton campaign from the outside. The council is their latest effort in support of the former secretary of state's bid to win the broad support of women voters.
Clinton already counts women among a coalition of people of color and older voters. But in many states, she has struggled to wrest young women in particular away from Bernie Sanders. Exit polls in Iowa and New Hampshire, for instance, showed Sanders winning more than 80% of women under 30 in both states.
Stephanie Schriock, the president of EMILY's List, said the Creative Council would be able to target these younger voters through the "non-political industries."
Dunham, in a statement provided by an EMILY's List official, also said that reaching out beyond Washington would be the way to get young women to Clinton's side. "Our beltway-focused political dialogue is not the way to do it," Dunham said. "So we're reaching out to influential entertainers and industry executives who can speak to the rising American electorate and communicate the stakes in 2016."
For the first time ever, according to Emily's List, millenials will outnumber baby boomers at the polls in November. The council will debut in New York on March 17.