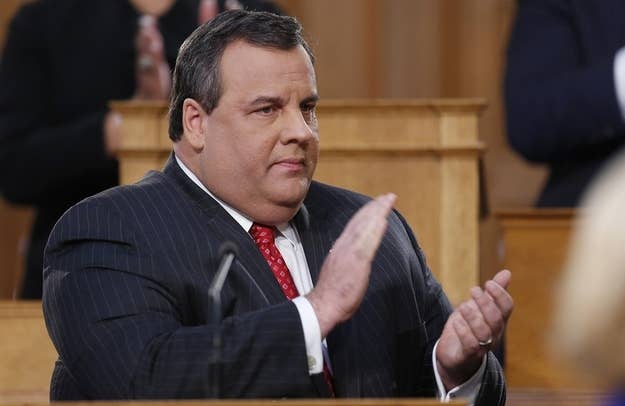 WASHINGTON — Gov. Chris Christie paid tribute Thursday night to President Barack Obama, thanking him for his help in successfully passing the Hurricane Sandy aid bill in January, and continuing the unlikely public alliance between the Republican and Democrat.
Delivering his keynote speech at a New Jersey Chamber of Commerce dinner, Christie thanked Senators Bob Menendez and Frank Lautenberg, also in attendance, before he added, "I will end the political portion of this program by thanking the President of the United States."
Christie's praise for Obama was met with a round of applause from an audience of as many as 900 New Jersey lawmakers and political operatives from both parties, gathered in the Marriott Wardman Park ballroom for the Chamber's annual "Walk to Washington" event in the nation's capitol.
Christie told the crowd was invited to the White House to discuss the Sandy aid package about three days before the president was set to send his proposal for the bill to Congress.
"I won't talk about how our conversation went — that's between me and the president," said Christie. "But I'll let you all know it was a lot of fun."
The governor did say that during the half-an-hour meeting, he and the president were not able to agree on "a specific number" for the aid package. "I won't say what the number was," Christie added.
"Finally, he was walking me to the door of the Oval Office, and I grabbed his arm…I said, 'Mr. President, you give me this number today, you got a deal.' He said to me, 'That's a lot of money, governor.' And I said, 'Yeah, but we'd have a deal! And if you do it with me today, I got Cuomo's proxy, and you don't have to deal with him again,'" said Christie, speaking of Andrew Cuomo, the governor of New York.
"That may have made it more tempting," Christie said, to the great delight of the New Jersey-heavy audience.
"I want to thank the president — he's been extraordinary," the governor added.
In concert with Christie's remarks on President Obama, the message of the governor's keynote was one focused on bipartisanship — on what Christie called "principled leadership, but also leadership that gets things accomplished."
Governor Christie, who has enjoyed 70-plus-percent approval ratings since Hurricane Sandy swept through his state in October, is up for reelection this fall. The only current threat to Christie's second term is state Senator Barbara Buono, the only Democrat who has declared her candidacy in this year's New Jersey gubernatorial race.