Chris Christie On Border Crisis: "Be Straightforward And Deal With It"
The Republican governor talks immigration, same-sex marriage, and LeBron James at a conference in Nashville. A rare exchange with the national press.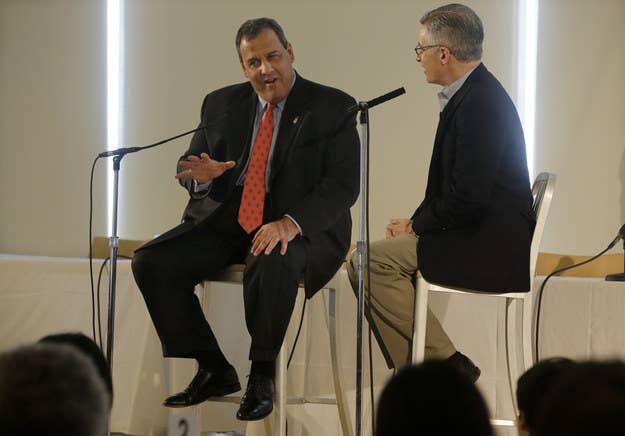 NASHVILLE — Gov. Chris Christie said on Friday that the rush of unaccompanied minors across the U.S.-Mexican border is rooted in a "failure to act decisively in Washington" on immigration going "back to the Bush administration."
Christie would not say whether he thinks the children, who number in the thousands, should be deported. "I'm not going to get into all that," he said.
He called for action from President Obama and members of Congress, but did not elaborate on what response he believes should be taken to address the thousands of undocumented immigrant children now being housed at various government shelter facilities.
"Again, that's Washington's job to figure these things out."
The governor made the comments on Saturday afternoon during a question-and-answer session with reporters at the Nashville Omni hotel, where he appeared at a meeting of the National Governors Association. "My frustration is that there's an obvious problem that exists in the country," he said. "Everybody sees it in this latest episode with the children. It's just another example of the problem that we have in the country. We need to be straightforward and deal with it."
"They need to deal with this issue. And the fact is, they haven't. And they haven't for a long time, going all the way back to the Bush administration," Christie said. "And this is just another symptom of that failure to act and make decision."
Christie said he had not seen any effects from the border crisis in his state, New Jersey, where he was elected to a second term last year. Christie, who dealt with the scandal over lane closures on the George Washington Bridge early this year, has said he'll make a decision about a presidential bid after the midterm elections.
The governor touched on a number of national topics in the press gaggle, including same-sex marriage ("The country will resolve this over a period of time"), the return of basketball star LeBron James to Cleveland ("Good for LeBron"), and the Republican fight to repeal Obamacare ("I don't think the conversation's over").
On the Affordable Care Act, which Republicans have voted dozens of times to repeal, Christie said the party should focus on "putting forth our alternatives for what should be a better health care system in this country."
"I think we all know Obamacare's not working," Christie said. "But the fact is, Republicans need to be talking about what we should be doing as well. And I think that's the positive way to be having this conversation moving forward."
"It must start from a position of repeal, but it has to be repeal and replace with what. It can't just be about repeal, it has to be what else you're going to do as a party."
Christie rarely engages with the national press at events like the National Governors Association meetings. At the conference last year, held that August in Milwaukee, Christie waved off questions from reporters in the hallways with a curt, "We're not here to talk about that kind of nonsense," or, "Enjoy Milwaukee like I'm going to."
On Saturday, following a closed-door meeting with other governors, Christie spent just short of 15 minutes with reporters in the Omni. When members of the press raised some topics, however, Christie declined to comment at length.
He would not talk much about the Hobby Lobby Supreme Court decision, in which the court ruled that the contraception mandate under the Affordable Care Act violates the religious freedom of some employers.
"Are you worried about the impact of the Hobby Lobby decision on women in New Jersey," one reporter asked.
"No," said Christie.
"Why not?"
"Because I'm not."
"No," he added. "I'm not worried about it at all."
After another round of questions, an aide said, "We have time for two more." Christie looked at the huddle of reporters. "Or if you don't," he said, "I have time for zero."