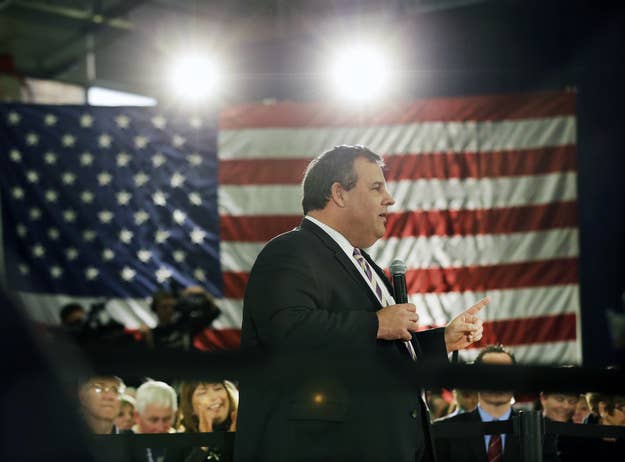 Just two days after federal gun control legislation foundered in the U.S. Senate despite bipartisan backing, Republican Gov. Chris Christie outlined a gun control proposal of his own late Friday afternoon at the New Jersey State House — but so far, the plan isn't sitting well with members of either party.
Even the ever-popular Christie — whose approval rating hasn't dipped below 60% this year, and whose reelection this fall is widely considered a lock — is having trouble selling his gun proposal inside and outside the state, a reflection of just how tricky the politics of guns can be.
Democrats and gun control advocates in the state angling for tough legislation in the wake of last year's mass shooting in Newtown, Connecticut, say the legislative package doesn't go far enough, and that it focuses too much on mental health and not enough on firearms. Meanwhile, Republicans looking toward 2016 believe the proposal will haunt Christie's possible presidential bid with conservative primary voters three years down the road.
The conflicting response to the proposal is just a taste of the tough politics of gun control — and of the tension between Christie's personas as a straight-talking blue-state Republican, and a national party front-runner who could lead the pack in a presidential primary.
"He can't go in to Florida and say, 'I did this gun control thing. Fuck you, this is how I roll,'" said Rick Wilson, a Republican strategist based in the early primary state who worked on Rudy Giuliani's 2008 campaign.
"It doesn't work that way. You can't sell Mr. Gun Control in Florida and Texas and Georgia. Primaries don't work that way," Wilson said, arguing that Christie's reputation as an independent Republican maverick won't play in states outside the Acela corridor. "Even touching gun control is disqualifying for those voters."
And on the other side of the aisle, Democratic Governors Association spokesman Danny Kanner said the proposal was a transparently cynical ploy to cater to the left-leaning constituents he'll need to get reelected in New Jersey, without actually addressing the issue of gun violence.
"He's trying to play both sides here, but he's ineffective in doing it," said Kanner. "He's siding the National Rifle Association while attempting to appease New Jerseyans, who overwhelming want gun safety reform. He knew he would have been punished, which is why he put forth this cosmetic proposal that substantively does very little."
The proposal, modeled after the recommendations of a violence task force Christie convened the month after the shooting at Sandy Hook Elementary, includes measures that would strengthen the state's existing background check requirement; ban future purchases of the Barrett .50 caliber rifle and identical weapons; require parental consent for minors seeking to buy violent video games; and make it easier to mandate mental health treatment.
When he outlined the legislation Friday, Christie stressed what he called "the root causes" of violence, highlighting the aspects of the proposal that wouldn't necessarily restrict existing gun owners. "Ensuring that there are common-sense safety measures when it comes to purchasing guns and enforcing appropriate and aggressive penalties for those who violate gun laws is not enough," said Christie. "This is about violence control."
Christie's emphasis on "root causes" piqued the attention of state Democrats who say the governor should have embraced the tougher gun control measures already passed by the Democratic-controlled state Assembly in February. In particular, advocates cited bills for required background checks for private gun sales, mandatory safety training, and a ban paring down the size of high-capacity magazines from 15 to 10 rounds.
"It absolutely does not go far enough," said Nicola Bocour, the project director for the state gun control group, Ceasefire NJ. "These are good proposals, but the focus was largely on mental health. He can also pass strong gun legislation. It doesn't have to be one or the other — you have to focus on guns themselves."
Bocour compared the proposal to legislation approved in nearby states like Connecticut, New York, Maryland, and Delaware, where governors made a push for new gun control laws after the Newtown shootings.
"We're in a state where we're surrounded by states that are taking action with the exception of Pennsylvania, but even in Philadelphia, they have a mayor who has been so forceful on this issue," said Bocour. "So a lot of eyes are on us. People would have been upset had he not done anything at all, but New Jersey's views on this are so strong that people are realizing that this is not enough."
"In terms of preventing gun violence, it's much less to the point," added Ed Gross, chair of New Jersey's Bergen County Coalition to Prevent Gun Violence.
Democratic state Assembly Speaker Sheila Oliver said she would consider the governor's suggestions in the state legislature, but suggested, too, that the proposal lacked teeth. "If there are worthwhile concepts we will certainly consider them," Oliver said in a statement released Friday. "My concern with the governor's plan at this point is not so much what's in it, but what may not be."
But State House aides cite Christie's point, made at the announcement Friday, that New Jersey's gun control laws, which he called "stringent," are already some of the toughest in the country. With an assault-weapons ban in place and an existing 15-round magazine limit, the Garden State gets high marks from national gun control groups like the Brady Campaign to Prevent Gun Violence. The group's state "scorecard" gives New Jersey a 72% grade, second only to California.
That New Jersey already has strict gun laws made Christie's proposal even more confounding for Republicans operatives outside the state who more than expect the governor to jump in the presidential race in three years' time.
"To me, it's a very difficult political calculus to understand," said Wilson. "He should have said to the legislature, 'You get nothing, we already have some of the strongest laws in the country and there are bigger fish to fry.'"
Political observers in both parties identified one measure as unnecessary: The ban on the Barrett .50 caliber rifle, a gun that looks like a sniper weapon, costs thousands of dollars, weighs more than 30 pounds, and is rarely involved in day-to-day crimes.
Asked Monday whether that particular weapon had been used in any crimes in the state, Lt. Stephen Jones, the director of communications for the New Jersey State Police, told BuzzFeed, "We wouldn't have stats on everyone's shootings, but I am not aware of any with that caliber weapon."
The gun has been banned in California and New York, and as a result, Barrett has said they won't do business in those states; the rifle company did not respond to multiple requests for comment about whether they would proceed with the same policy in New Jersey if Christie's proposed ban is in fact successful.
Popular conservative blogs have already diagnosed the legislation as bad news for Christie in a possible 2016 primary. As early as Friday afternoon, headlines rolled across the far-right blogosphere: "Christie bailing out on gun rights?" asks Hot Air; "Christie 2016? Hmm," says Town Hall.
But the National Rifle Association, more influential than any conservative website, has not yet weighed in on the proposal and did not respond to a request for comment Monday. Because he did not fill out the pro-gun lobby's questionnaire during his first gubernatorial campaign, Christie has not yet received an NRA grade or score.
Christie, though, has long voiced a support for some of the basic gun control measures that failed to pass the Senate last week. He said in 1993 during his campaign for state Senate that the issue that inspired him to get into the race was a "recent attempt by certain Republican legislators to repeal New Jersey's ban on assault weapons." More recently, he attacked the NRA in January for a negative television ad funded by the group that referenced the president's two daughters. Christie called the spot "reprehensible," prompting conservative backlash from certain corners of the Republican Party.
And in a 2009 interview with Fox News' Sean Hannity, Christie seemed to shock the host when the interview turned to gun control.
"Listen," Christie said on the show. "I favor some of the gun control measures we have in New Jersey."
Hannity's response: "Bad idea."
As with Hannity's quick dismissal, Wilson said the NRA and right-wing facet of the party may not "waste their time" with the New Jersey governor after last week's gun control proposal.
"Christie in their mind is probably a problem that solves itself. The Republican Party is not replete with northeast liberal and moderate leaders looking to be competitive in red state primaries," he said. "And I love Christie. I think he's terrific. He's the best possible outcome for Republicans in New Jersey, but that doesn't mean anything nationally."