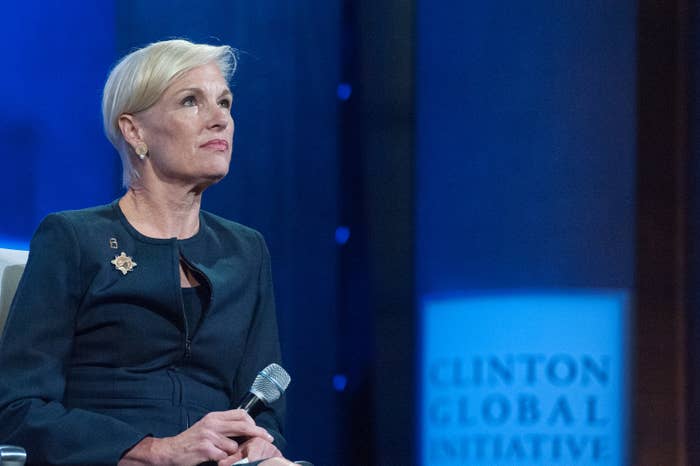 Planned Parenthood's Cecile Richards is planning to step down from her role as president after more than a decade at the helm, according to two sources familiar with the matter.
She has served as the president of the women's health and reproductive rights organization since 2006. Richards, 60, has informed at least some members of the organization's board of directors, one of the sources confirmed.
In a statement provided Wednesday afternoon, a Planned Parenthood official said, "Cecile plans to discuss 2018 and the next steps for Planned Parenthood's future at the upcoming board meeting," which is scheduled for late next week.
Her departure would mark a significant change for the country's most prominent abortion rights group, a set of linked organizations known as the the Planned Parenthood Federation of America and its political arm, Planned Parenthood Action Fund. Richards was the face and voice of both, as Republicans in Congress have tried repeatedly to cut their federal funding.
During her time as president, Richards greatly expanded the organization's fundraising and organizing capabilities — and helped raise its profile through celebrity-oriented campaigns and increased political participation. Over the past decade in particular, Democrats have further embraced abortion rights as a central part of the party's platform — a shift that can be credited in large part to Planned Parenthood's increased prominence under Richards.
The Planned Parenthood official did not comment on Richards' future. She has been working on a memoir, titled Make Trouble, which is scheduled to come out in April.
On Thursday night, asked about the plans to step down as president during an interview on The Daily Show, Richards said she was "not here to make any announcements or pronouncements today." When asked if she could see herself running for office some day, she said, "I don't know what my future holds, but I do know I've been fortunate enough to be kind of a troublemaker my whole life; I was raised by a troublemaker, the late great governor of Texas, Ann Richards — and, as my friend, Congressman John Lewis, would say, good trouble, I hope. So whatever I do, in my lifetime, I've always been incredibly privileged to be able, I hope, make a difference in the lives of folks who may just need a break. So that's my hope for my future."
Richards' plans come at a tumultuous time for abortion rights activists and contraceptives access. In its first year, the Trump administration has peeled back state funding protections for Planned Parenthood, thanks in part to a dramatic tie-breaking vote cast by Vice President Mike Pence in March, his first in office. In October, the administration also rolled back an Obama-era rule requiring most employers to provide contraception insurance coverage, which Planned Parenthood had a heavy hand in crafting. That decision is on hold, however, after a federal judge in Pennsylvania granted a nationwide preliminary injunction on the new rules.
As the largest abortion provider in the country, Planned Parenthood has long been an obvious target for anti–abortion rights politicians and members of Congress. Removing Planned Parenthood's federal funding was on a list of four promises President Trump made to anti–abortion rights organizations to secure their support during the presidential election.
Richards has also led the organization through major scandal, following the release of secretly recorded and heavily edited videos made by anti–abortion rights activist David Daleiden in 2015. The videos accused the organization of profiting off of the sale of fetal tissue to procurement firms and labs for scientific research. These videos launched five congressional investigations and more than a dozen state investigations into Planned Parenthood, none of which found evidence of wrongdoing. Just last month, the Justice Department sent a letter to members of Congress requesting their records from those investigations, a sign that the Trump administration may be taking another look at the issue.
Richards is also on the board of the Ford Foundation, and previously served as the president of America Votes, a coalition of national Democratic Party–affiliated organizations. She is the daughter of the late Texas Governor Ann Richards, a legend in Democratic politics. Before joining Planned Parenthood, she served as deputy chief of staff for House Minority Leader Nancy Pelosi.
This is a developing story. Check back for updates and follow BuzzFeed News on Twitter.