Candidates Make The Case Against Cory Booker
It's everyone else against Booker in the first New Jersey Senate debate. The Newark mayor, meanwhile, declares a "clear victory" as he leads in the polls by 40 points.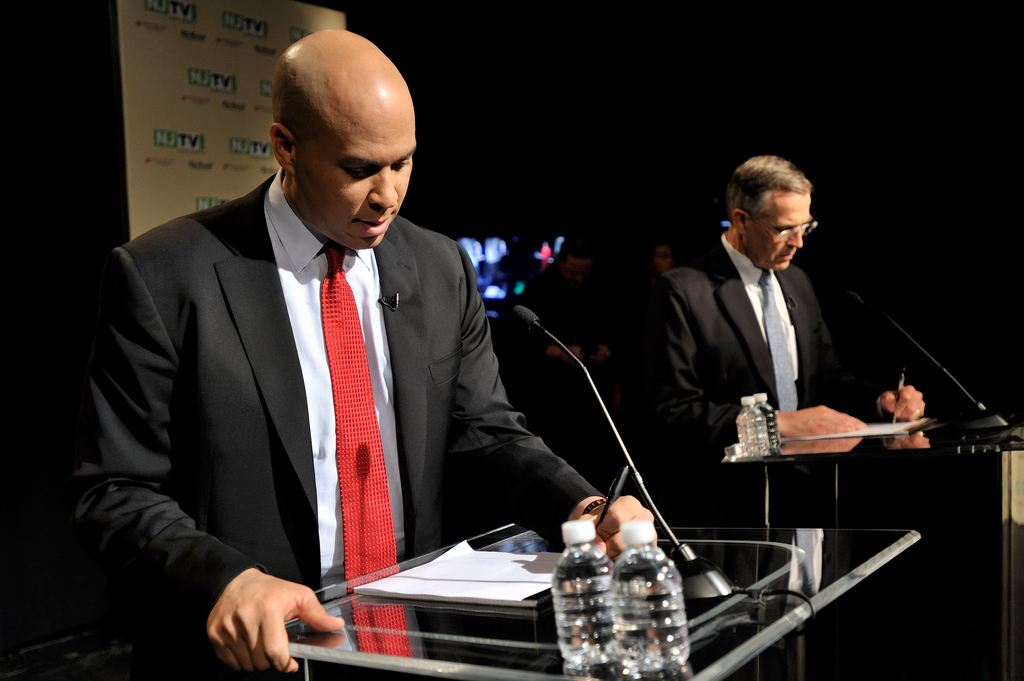 MONTCLAIR, N.J. — At the first debate in the New Jersey special senate election Monday night, Cory Booker was the clear focal point, as the other three Democrats vying for the nomination worked overtime to differentiate themselves from the Newark mayor.
Booker, standing alongside Assembly Speaker Sheila Oliver and Reps. Frank Pallone and Rush Holt in an empty television studio on the Montclair State University campus, cast himself as a Washington outsider who was willing to work across party lines, citing his collaboration as mayor with Republican Gov. Chris Christie.
"He and I have got to work together to get things done. That's what you've got to do as a United States senator," said Booker, contrasting his record with what he described as partisan gridlock in Congress. "What I think we need in Washington is a different type of experience, not more Washington experience."
The questions at the debate, hosted by NJTV, touched on a range of topics including U.S. relations with Russia, the National Security Agency, and the Affordable Care Act. The candidates agreed largely on policy matters, though Pallone and Holt criticized Booker's views of education, specifically his support of school vouchers. But with little else to argue about, the candidates took aim at Booker's celebrity, while Booker characterized the two congressmen as creatures of the Beltway culture frustrating voters around the country.
"I do think you've seen two different types of leadership tonight," the mayor said, adding that Holt and Pallone have a combined 40 years of experience in Washington.
Holt, meanwhile, led the debate with a swipe against Booker's national popularity, saying that he does not know Mark Zuckerberg, the Facebook founder who gave Booker a $100 million donation for the city school system; that he does not have millions of Twitter followers, as Booker does; and that he does not run into burning buildings, as Booker famously did last year.
A physicist who has served New Jersey in Congress for more than 14 years, Holt made his case to voters in part "as a scientist," arguing that if you "start with the facts you can actually get things done in a divided polarized system in Washington."
Pallone argued that New Jerseyans needed "an experienced legislator" in the Senate and cast doubt on whether Booker's years as mayor of Newark qualified him for the job.
The congressman also highlighted the endorsement he's received from Lautenberg's family members. "They talk about me as the go-to guy," he said. "Like Sen. Lautenberg I will never compromise my principles."
After the debate, which lasted for about an hour and a half, Booker's camp said it was clear the Newark mayor had won the evening. His campaign released a statement Monday evening with the headline, "Cory Booker Wins U.S. Senate Debate." A spokesman, Kevin Griffis, told reporters later in the press filing room that Booker "put forward a vision and drove it all night long," he said. "We thought it was absolutely a clear victory."
The primary election in the race to succeed Sen. Frank Lautenberg, who passed away earlier this year at the age of 89, is in less than two weeks. Booker is leading the other candidates by more than 40 points in most polls.