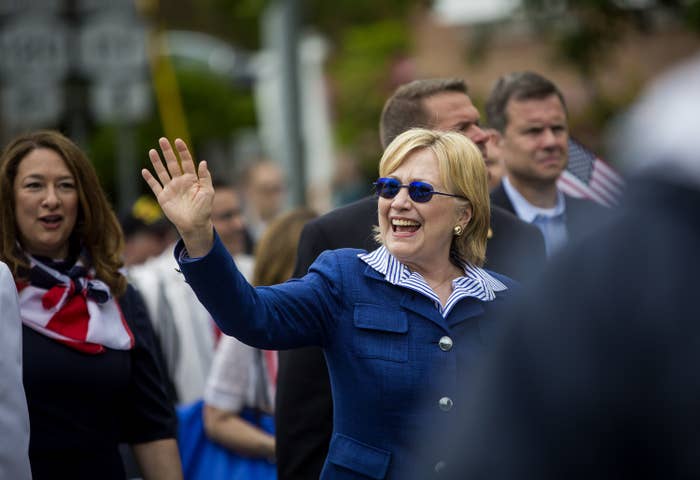 In a memo to top supporters, Hillary Clinton's top official sought to clarify the campaign's response to a new report from the State Department inspector general and move past a controversy that has dogged the candidate now for 15 months.
The 600-word letter from John Podesta, Clinton's chairman and longtime adviser, addresses the IG report's various findings, but comes back to a single point again and again: that Clinton knows the use of a personal email server was a "mistake."

"And she has taken responsibility for that mistake," Podesta wrote to several hundred of the campaign's most active supporters and financial backers.
The memo, obtained by BuzzFeed News, went out by email over Memorial Day weekend, five days after the release of the highly critical IG report. The investigation, separate from an ongoing FBI inquiry, concluded that Clinton failed during her tenure as secretary of state to comply with record-keeping policies.
In the days after the IG's findings became public, Clinton made appearances on four television networks to push back on the report as nothing new. "There may be reports that come out, but nothing has changed," she said. "It's the same story."
(The IG report included some new details of how Clinton's email arrangement was set up, including correspondence from within the State Department.)

The Podesta memo takes a more contrite posture, reminding backers three separate times that Clinton has called the email setup a mistake and continues to do so in the wake of the IG report. "The secretary has once again acknowledged this was a mistake," Podesta writes. "If she could go back, she'd do it differently."
Podesta also takes up one of the report's key findings: that Clinton's email practices did differ significantly from past secretaries of state, contrary to the candidate's frequent argument that, broadly, her email use was not "unprecedented."
Clinton used a non-government account to conduct State Department business, as did former secretary of state Colin Powell. But no other former secretary of state has maintained government correspondence on a private home-based server.

Although Clinton argued again in a Univision interview on Wednesday that her use of a personal account was "not at all unprecedented," the memo from Podesta alludes to the distinct aspects of her arrangement. At the time, he writes, "she believed she was following the practices of other secretaries and senior officials."
The IG report concluded that Clinton had an "obligation" to discuss such an arrangement with State Department officials, including for security reasons, but found "no evidence" that she "requested or obtained guidance or approval to conduct official business via a personal email account on her private server."

The report came as an unwelcome development for Clinton's campaign, just days before officials expect her to clinch the Democratic nomination when polls close on June 7. The email scandal, dragging into its second year, has not helped Clinton fight the perception that she is untrustworthy or too often mired in controversy.
"We understand the questions about Secretary Clinton's email practices," Podesta writes in his memo. But, he adds, "voters will look at the full picture of everything she has done throughout her career. We have faith in the American people."
Read the full memo below:
To: Interested Parties
From: John Podesta, Campaign Chair
Date: May 28, 2016


---


As Hillary Clinton nears the point where she will officially clinch the Democratic nomination for President, we intend to spend the coming months focused on the issues of greatest concern to the everyday lives of working families.

However, we know that our opponents will continue to try to distract us with attacks, including on issues like Secretary Clinton's use of personal email while at the State Department.

Since last year, Secretary Clinton has said her use of a personal email server was a mistake. And while there have been ongoing reviews of this matter, the completion of the Inspector General's examination gets us one step closer to resolving this.

While the rules surrounding use of a personal email account were clarified after Secretary Clinton left office – and the Inspector General recommends the State Department take measures to even further clarify them – the Secretary has once again acknowledged this was a mistake. And she has taken responsibility for that mistake – including in many interviews she's done since the report's release.

What she thought would be a convenient way to communicate with family, friends and colleagues – by using one email account for both her work related and personal emails – has turned out to be anything but convenient. If she could go back, she'd do it differently.

Parts of the report underscore what Secretary Clinton has said all along about her email practices as Secretary of State. For instance, the report confirms Secretary Clinton's email account was well-known by many State Department officials throughout her tenure, and there is no evidence of a breach of her email server.

Had Secretary Clinton known of any concerns about her email setup at the time, she would have taken steps to address them. She believed she was following the practices of other Secretaries and senior officials.

What has also been missed in a lot of the discussion is that the report brings to light the longstanding and systemic problems in the government's electronic recordkeeping systems.

Secretary Clinton believed her emails to and from officials on their state.gov accounts were automatically captured and preserved in the State Department's electronic system.

It was not until the Department contacted her in 2014 that she learned this was not the case. And since then, she has taken unprecedented steps to ensure public access to her emails -- providing the Department with all of her work-related emails, totaling 55,000 pages, and calling for their release.

Secretary Clinton also agrees with the Inspector General's recommendations that electronic recordkeeping practices and policies need to be upgraded. Printing out 55,000 pages of emails is not a good use of time or resources, nor should it be the standard for preserving records given technology available to us today.

There is a lot at stake in this election. This week Donald Trump officially clinched enough delegates to become the Republican nominee. That means an unqualified loose cannon is within reach of the most powerful job in the world.

While we understand the questions about Secretary Clinton's email practices, we are confident that voters will look at the full picture of everything she has done throughout her career. We have faith in the American people. They know we have to be focused on solutions that will make a real difference in people's lives.

Hillary Clinton will continue to dedicate her campaign to getting results on behalf of America's working families. She rejects the strategy of pitting Americans against each other in favor of an approach that recognizes how much stronger we are when we come together. With your help, we will take that message across the country and earn a great victory this November.