Bill De Blasio, Confident But Cautious, Says He Expects A Run-Off
The frontrunner looks ahead to a run-off as he soaks up the pre-primary spotlight. "If I'm gonna meet voters, our friends in the media have to give us a little room."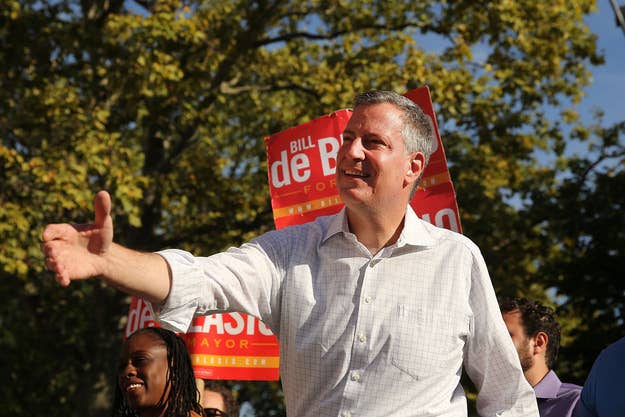 When Bill de Blasio arrived at an Upper West Side grocery store for a meet-and-greet — his first of the day, and one of his last before polls open in New York City on Tuesday — he said he wanted just one thing: "to meet as many voters as I can."
But de Blasio, the late-breaking frontrunner in the Democratic mayoral primary, had trouble meeting more than a dozen Monday outside the Fairway on Broadway and West 74th Street — he had too many reporters around him.
"Make a path, please!" a campaign staffer shouted. As photographers elbowed to get a better shot and reporters closed in further on the principal, voters looking for a handshake ambled around the periphery of the crowd. The de Blasio swarm all but blocked the West side of Broadway and prevented more than one shopper that afternoon from sampling Fairway's outdoor grapes, dates, and berry stands.
"Peter?" de Blasio called to an aide. "Can you help? If I'm gonna meet voters, our friends in the media have to give us a little room." The reporters took a step back, but the candidate remained surrounded. "I got no flow here! I got no flow!"
When a staffer finally steered an elderly woman inside the ring of reporters, de Blasio hollered, "A voter! How are you!"
The hectic Upper West Side scene would have been hard to imagine even a few months ago, when de Blasio seemed destined to stay lagging in the polls behind Christine Quinn, Bill Thompson, and, at one point, Anthony Weiner. At the height of the former congressman's campaign, the press flocked to his events daily, or to Quinn's, though sometimes only to ask about Weiner. Now, on the eve of Tuesday's primary, de Blasio has a comfortable lead over all three candidates. He may even avoid a run-off election — he would need to clear 40% of the vote — though he said Monday he and his campaign expect one.
"We assume that there's going to be a run-off," he told the gaggle of reporters. "I think as a matter of planning, first of all, you have to assume it. We're going to be ready first thing Wednesday morning."
"The numbers are very positive, but you just can't be caught flat-footed. You have to go with the assumption that a run-off is the most likely outcome, and everyone on our team has to be ready for three weeks of intense work up until run-off day."
But de Blasio, who is leading his rivals by an average of 16 points in the polls, said he was confident despite a small decline in polling since his campaign peaked at 43% of the vote in a Quinnipiac survey last month. "We feel very good about where we stand," he said. "Every poll is a little different. Some polls include those who are leaning — some don't. We obviously first and foremost believe our own research."
"Equally important, we have an extraordinary operation that's in gear right now," de Blasio said of his field operation. "That's going to be very, very present tomorrow. So we're convinced that we're going to do very well."
De Blasio, campaigning alongside his 18-year-old daughter, Chiara, left the Upper West Side for two other Manhattan meet-and-greets that day — one in Washington Heights, and the other in Harlem. The candidate appeared later Monday night on MSNBC's All In With Chris Hayes.