Bill Clinton Says Foundation Will See Changes If Hillary Clinton's Elected
"There will clearly be some changes and what the Clinton Foundation does and how we do it. And we'll have to cross that bridge when we come to it."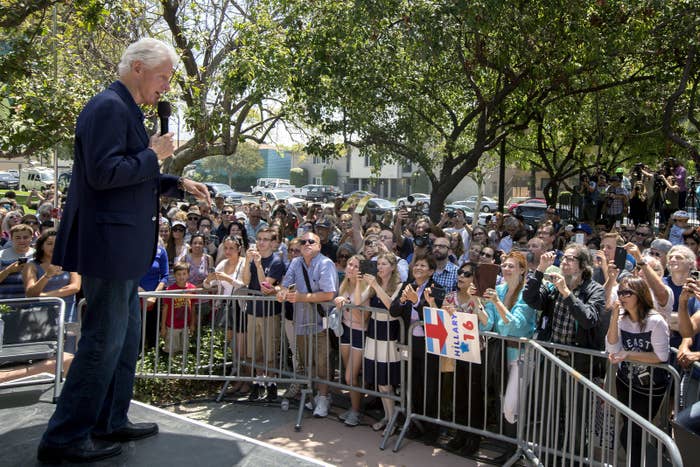 Bill Clinton said Tuesday he would make "some changes" to the Clinton Foundation should his wife become president, so as to avoid "potential conflicts."
In his first interview in more than eight months, the former president told Bloomberg TV that he and his wife would ensure that the foundation would be able continue its work without benefiting from or interfering with the White House.
"If she wins, we'll have to think about it. There are clearly — politics is different from what I do," Bill Clinton said in the interview, held in Atlanta as part of "CGI America," an annual Clinton Global Initiative event. "You have to be careful to avoid actual potential conflicts."
"We'll think very clearly about it, and we'll do the right thing," he said, "and explain it to the american people."
Clinton said he and his wife, who effectively secured the Democratic nomination last Tuesday, would hold off for now on laying out what those changes would entail.
"First, I don't believe in counting your chickens before they hatch," he said. "Let's see how this election unfolds. There will clearly be some changes and what the Clinton Foundation does and how we do it."
"And we'll have to cross that bridge when we come to it."
For the four years that Hillary Clinton served as secretary of state, the foundation agreed to certain restrictions to avoid conflicts of interest or the appearance of influence. Last year, officials disclosed that the foundation had continued to accept funding from foreign governments during Hillary Clinton's State Department tenure, including one donation in apparent violation of the agreement with the Obama administration.
Questions about the foundation, and the nexus of power, money, and influence that surrounds the former first couple, have already weighed on Clinton's campaign this year.
Donald Trump has repeatedly seized on the Clinton Foundation, characterizing the family initiative as scandal-plagued and its connections as unsavory.
On Monday, in a post on Facebook, he called on the Clintons to "immediately return" donations from Saudi Arabia. Since its founding, the foundation has accepted $10 to $25 million from the Kingdom of Saudi Arabia, according to the Wall Street Journal.
On Tuesday, Bill Clinton described the work of the foundation in simple terms: "I just try to get partners together and make something good happen."