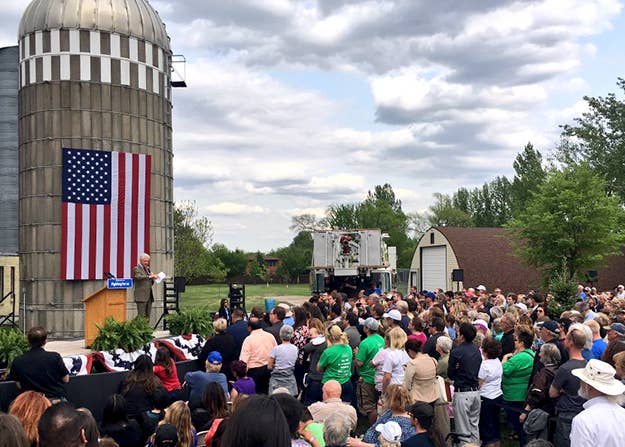 FARGO, N.D. — At a campaign stop here in the red state of North Dakota, Bill Clinton warned against Republican efforts to "delegitimize" his wife, invoking the conspiracy theories that engulfed his administration following the suicide of White House aide Vince Foster in 1993.
"It's what they do!" Clinton said late Friday afternoon from the stage at Rheault Farms, appearing at the campaign's first public event in North Dakota, which holds its Democratic caucus on June 7.
"Now, I know the Republicans have been mean to her. They say terrible things. You gotta respect them. They're good at this. They delegitimize the people they don't like," Clinton told the crowd.
In 1998, Hillary Clinton famously accused the Republican Party of a "vast right-wing conspiracy" amid questions about her husband's fidelity. Last year, as she faced questions about her use of a private email server during her time at the State Department, both Clintons framed the controversy as partisan, linking it to the "the same kind of barrage" that engulfed the couple during the 1990s.
"They aren't in the habit of attacking people they aren't scared of. They try to sucker-punch the rest of us into nominating people they think they can really devour if they get a hold of them," Clinton said, in an apparent reference to Bernie Sanders.
"You think the stuff they say about her is bad? They accused me of murder," he said to laughter from the crowd.
Foster's death in the summer of 1993 ultimately fueled the controversy surrounding the Clinton White House, becoming part of a string of scandals that led to the Monica Lewinsky investigation and the impeachment of the former president. Hillary Clinton, however, was more often linked to theories surrounding Foster.
"I mean, our memories are short," Bill Clinton said Friday. "It's what they do! I wish they'd quit. I wish they wouldn't. It's not good for America."
Donald Trump has referenced Hillary Clinton's email setup repeatedly on the trail, and has branded his likely Democratic opponent "Crooked Hillary" in speeches and tweets. Outside her events in red states, protesters have repeated the line back to the candidate, chanting "Hillary's a Crook." (On Friday, during a speech to the National Rifle Association, he tried out a new name, in reference to gun control proposals: "Heartless Hillary.")
Last fall, as Trump held to the top of the primary polls, Bill Clinton attributed the businessman's success in part to his skill as "a master brander."
"They did the same thing for me," he said, citing his 1992 presidential race. "I had a guy the other day send me a copy of the San Francisco Examiner on June 23, 1992 — so, four and a half weeks from today, right on the calendar — after I'd won the nomination. It said, 'Bush and Perot in fight for the election. Clinton not a factor' — showed a map showing me with nine electoral votes."
"That estimate was about 370 electoral votes short of what happened and what the American people did," he said.