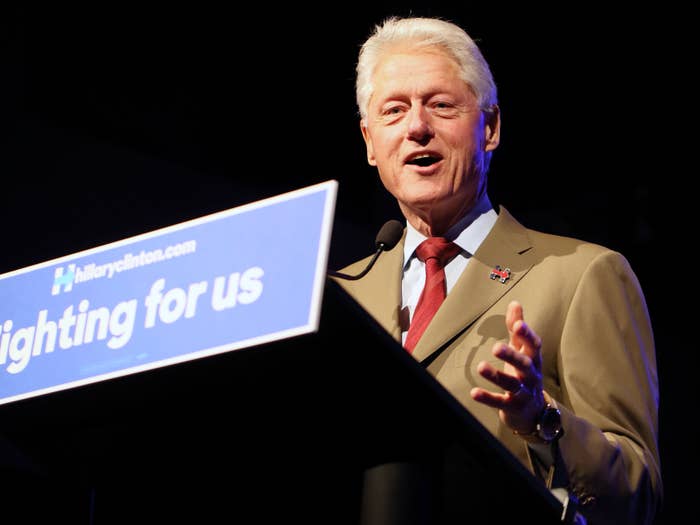 SANTA FE, N.M. — Five different times, aides tried to drag him away from the booth where Josh Brody, a 24-year-old supporter of Bernie Sanders, was holding forth about all that had gone wrong in the 1990s: welfare, NAFTA, Wall Street.
"Other people are waiting," one staffer said, stepping forward.
"I think we're gonna agree to disagree here, guys," he tried again.
"All right, Mr. President. These folks are waiting," a second aide said.
But for more than 30 minutes, Bill Clinton stayed to argue every point, turning a routine retail stop at Tia Sophia's, a New Mexican restaurant here in Santa Fe, into a one-on-one debate with Brody, a recent graduate of New York's New School, who said he supported Hillary Clinton's Democratic challenger. "For the next few weeks — then I'll be a Stein supporter," he added of Green Party candidate Jill Stein.
The encounter on Wednesday was emblematic of a presidential election driven by questions about the politics of the 1990s — and the legacy of the Clinton years. On the campaign trail, when confronted with a voter on the rope line or a heckler in the crowd, Clinton is often unwilling to let his record go undefended.
But the protracted back-and-forth was also a testament to Clinton's view — one he repeats often on the trail — that politicians and their opponents don't spend enough time listening to one another anymore. This spring, after an encounter with activists from the Black Lives Matter movement, Clinton vowed to try to close that gap. "I realized finally I was talking past [the protester] the way she was talking past me," he said. "We gotta stop that in this country. We gotta listen to each other."
The conversation here began when Clinton approached Brody's booth. The young Sanders supporter, a Santa Fe native, appeared to decline a handshake with the former president, instead posing a question about "aid to families with dependent children."
It didn't take long for Clinton and Brody to dive deep into the 1990s, sparring about welfare reform and education spending, New Democrats and New Deal Democrats, and the former president's Wall Street legislation, which Brody likened to "a golden parachute straight from the Treasury Department."
"It's a nice little narrative," Clinton shot back.

Beside Brody, three friends ate their egg dishes in silence.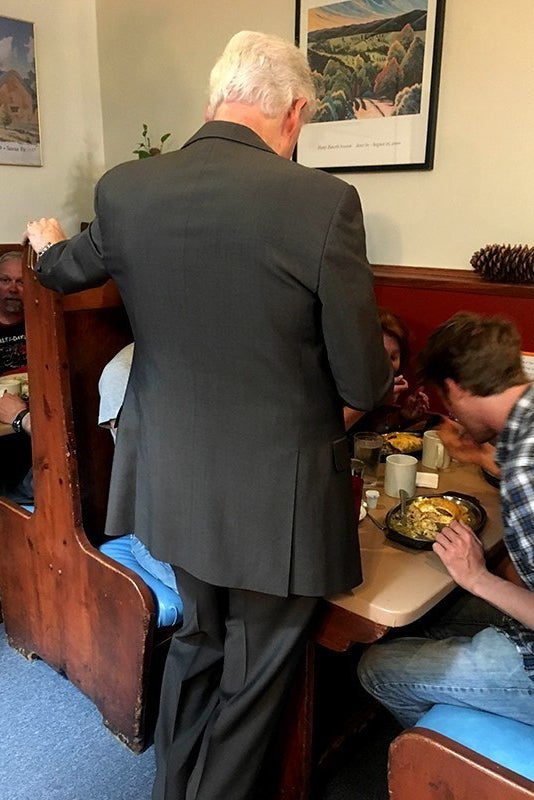 The Sanders voter told Clinton that his administration had drawn down investments in "basically" every agency, naming the Department of Education in particular.
"I doubled education," Clinton replied.
"If you go from the beginning to the end of your term, each of these departments have shrunk," Brody said.
"That's just wrong. I doubled education," Clinton said. (Reached by email later on Wednesday, a spokesman said Clinton had been referring to federal spending and dollars allocated to college aid.)
"You have cherry-picked facts, which contradict the truth," the former president added.
Clinton stood over the booth, looking directly at Brody. Aides hovered nearby, still hoping to nudge the former president on to other voters in the restaurant.
"If you never have to make a decision, then you can go back to the past and cherry-pick everything [for a] narrative that is blatantly false," Clinton continued. "What you're saying is false."
"Seems like your narrative," Brody responded, his voice louder than Clinton's, "is that you did the best job that you could have possibly done from the most progressive standpoint that you possibly could have had."
"No," said Clinton.
"When the reality is you campaigned as a New Democrat," Brody said, referencing the former Arkansas governor's centrist platform in 1992. "And you said, we're gonna basically move away from the old Democrats, the New Deal–style Democrat. So that's what a lot of us want. So this is a philosophical difference."
"No," said Clinton. "It's a rhetorical difference, too."
He seemed to make one last attempt to win over Brody.
"If you really want what you say you want, the one thing you gotta do — and I'm pulling for you — the one thing you've got to do is to get everybody who votes for president to vote in the midterms," Clinton said, going on to praise the Dodd-Frank finance bill and remind Brody that Donald Trump "wants to repeal it."
"I'm on your side," Clinton said.
"You have a limited number of choices, and you do what you can to help the largest number of people. It is very hard," he added, starting to step away from the table. "If the best thing to do is just say no and lob bombs, you don't get anything done."
Brody wasn't satisfied. "That's like Margaret Thatcher. There's no alternative. I mean, you make choices, you have no other options…"
Clinton was almost to the next booth. "You always have a choice," he said, turning back to get in one last point — this one about Brody's candidate, Bernie Sanders.
The 2007 immigration bill, he said. "Hillary said yes. Her opponent said no... You always have a choice."