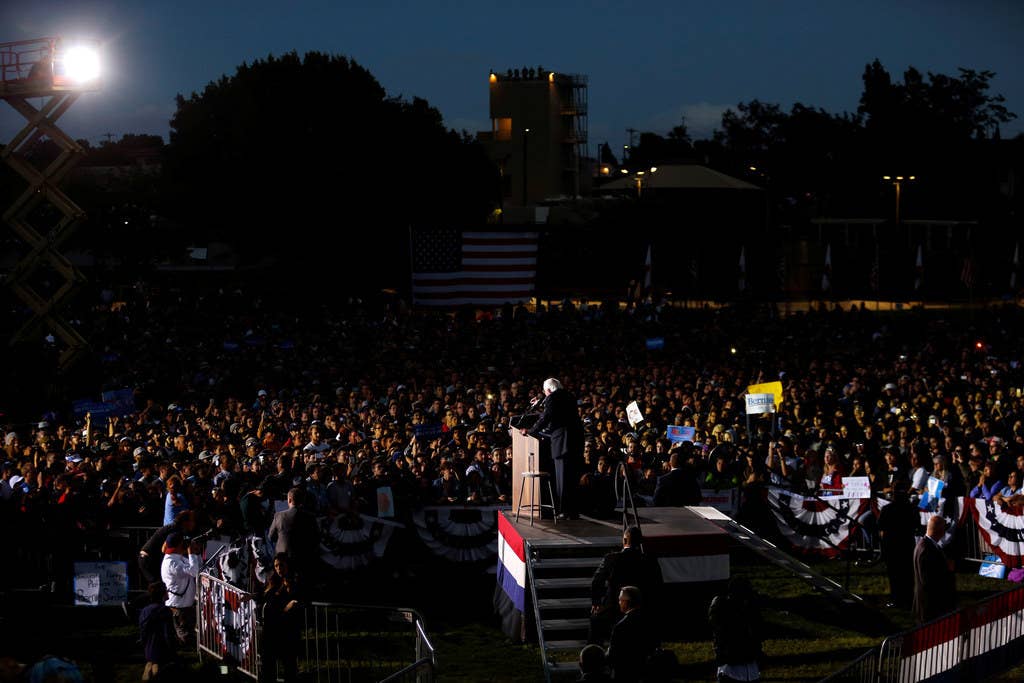 Bernie Sanders may be focused on the road to June 7. But inside and outside his presidential campaign, some supporters, former aides, and current staffers are already moving on to the next big question: What happens to his "political revolution"?

Over the last month, Sanders backers have started jockeying for a say in, and piece of, the assets, influence, and energy that have driven the Vermont senator's rise. A former Sanders adviser, Zack Exley, has co-founded an effort aimed at coordinating a nationwide slate of progressive House and Senate candidates. A volunteer and longtime organizer, Patrick DeTemple, has circulated a draft proposal urging the candidate to drop out after the June 7 contests and transfer his movement to a new entity. And overlapping groups of current and former aides are discussing who will retain Sanders' massive email list, the campaign's most precious asset, and for what kind of project.
For all the talk of the future, however, the Sanders legacy remains uncertain, even amid the chaos on display in Nevada last weekend. Those closest to Sanders insist that the senator himself remains focused on the final contests. The question of what's next, they say, should and will be his alone to answer, how and when he wants to answer it.
"The only person who will decide what comes after voting ends is the senator," said a senior Sanders campaign adviser. "Anyone who actually knows him knows that he is focused on winning the nomination and making sure as many people as possible get to hear his message."
"There will be a lot of wannabes who think they have all the answers. It would be best if they let the senator decide that," the senior Sanders adviser said.
The campaign dismissed the recent draft proposal, which received write-ups in the New York Times and Politico, as irrelevant to the senator's focus, and provided an email showing that DeTemple, the Berkeley-based volunteer, wrote the three-page memo with feedback from Michael Ceraso, the state director in California who parted ways with the campaign. DeTemple, a 64-year-old organizer who worked for Barack Obama in 2008, said he solicited advice from around two dozen people in addition to Ceraso.
The memo is titled "After Winning on June 7th Bernie Sanders Should Suspend his Campaign and Launch an Independent Organization to Defeat Donald Trump." In the document, DeTemple advises that Sanders form a large independent expenditure committee that would register young voters with an eye toward down-ballot races: "Call it Revolution 2016 or another name that best speaks to base and message and its focused task over the next five months might be to mobilize voters under 30."
The point of the memo, DeTemple said on Saturday, was not to insert himself into Sanders' next project, so much as start a conversation where there was none.
"I thought, if I can do something to prompt a discussion around this issue, then yeah let's do it. If there had been anything else — a series of talking points, or a position put forward, or any kind of initiative along those lines from the campaign — I wouldn't have done it," DeTemple said. "But there is no evidence that I can see of that."
Ceraso, the former state director who worked with DeTemple in California, described the "Revolution 2016" proposal as one of several informal ideas for the Sanders machine now under development from a tangle of people inside and around the campaign.
"If you ask any field organizer, they have an idea for what this should look like," one former Sanders staffer said. "Folks have competing visions for it."
"There are a lot of different factions in Bernieland with different opinions of how the thing should go," said Ceraso.
In interviews this week, current and former Sanders aides said the yet unplanned "new thing," as several supporters called it, revolves around the future of the campaign's large email list. Aides have not divulged the size of the database, but Sanders claims 2.4 million donors alone, and his list of names and addresses is likely far larger.
"It all comes down to that list, and the power around the list and the money around the list, for the inner circle," Ceraso said. The "grassroots side," he added, is more interested in building on the progressive "movement" associated with Sanders's candidacy.
Nearly everyone who's touched the Sanders campaign seems to have an opinion on the matter, backers said. "If you ask any field organizer, they have an idea for what this should look like," one former Sanders staffer said. "Folks have competing visions for it."
According to senior campaign officials, though, what's lost in all the outside prognosticating, is Bernie Sanders. Although the math indicates that his path to the nomination has virtually closed, the senator is described by his senior staffers as loathe to discuss much in the way of plans beyond the primaries and caucuses on June 7 in California, North Dakota, South Dakota, New Mexico, New Jersey, and Montana.
Still, supporters like DeTemple worry that without developing a well thought-out plan now, the energy and power surrounding the Sanders campaign could end up lost — or subsumed by the disorder that overwhelmed the Nevada Democratic Convention last weekend. "There's no post-game plan," as one former Sanders staffer put it.
Howard Dean, the former governor whose 2004 candidacy has been compared to this year's unexpected progressive surge, warned that the Sanders legacy now depends on how well the senator steers his millions of supporters and shapes his next move.
"That will depend on what happens in the next few weeks," he said in an interview, describing Sanders' potential reach as "10 times bigger" than his own 12 years ago.
"If this ends up as a pitchfork fight, he's basically going to have a relatively small group of deeply entrenched supporters who nobody will pay any attention to," said Dean, an early endorser of Hillary Clinton. "He could become a major force in the Democratic Party. But you can't do that by basically spitting at them. And I think he knows that."
Sanders' defiant response to the aftermath of the Nevada state convention, where the chairwoman of the state Democratic Party received death threats after dozens of the senator's delegates were deemed ineligible, came as a signal that diplomatic maneuvering may not be his campaign's top priority. "It goes without saying that I condemn any and all forms of violence, including the personal harassment of individuals," Sanders wrote in a press release, which went on to charge that the state party had prevented "a fair and transparent process from taking place."
"Bernie is going to have to say something," Dean said of the Nevada incident.
"I don't think that's going to be the Bernie Sanders legacy," said one person familiar with conversations among Sanders aides, speaking of the return to sharp-elbowed campaigning after Nevada. "Of course this groundswell is good for the Democratic Party. Of course it's a good thing. They just haven't figured out what to do with it yet."
The tone set by Sanders after Nevada was divisive among his supporters, but more than a week after the state's raucous state convention there were signs that sharp rhetorical attacks on the Democratic establishment could become a significant part of his post-campaign legacy. In a CNN interview broadcast Sunday, Sanders openly endorsed DNC chair Debbie Wasserman Schultz's primary opponent in her Florida congressional district. On Sunday, Sanders used his powerful email list to raise money against Wasserman Schultz in the race, telling his supporters ousting her would "send an unmistakable lesson about our political revolution."
Sanders isn't the first to try to turn a progressive insurgency into a lasting powerful liberal infrastructure. Some Sanders supporters also worry about repeating the mistakes of other groups that have also attempted to convert progressive energy into policy or political victories, including MoveOn.org and the Progressive Change Campaign Committee.
"Those groups are respected but seen as largely ineffective — 'lame' was the word used by one person familiar with conversations within the Sanders organization."
Efforts launched by past insurgent candidates — Dean's Democracy For America, formed from the remnants of his 2004 bid; and Obama's Organizing For Action, built to be the president's "permanent campaign" in 2008 and his policy arm in 2012 — are not seen by many Sanders supporters as appropriate models for after the primary.
Those groups are respected but seen as largely ineffective — "lame" was the word used by one person familiar with the conversations within the Sanders organization. The feeling among some supporters is that Sanders in particular can forge a new path that keeps the pressure on Democrats to pursue parts of his progressive revolution.
Dean, who founded DFA after his campaign, said Sanders's perch in the Senate will be a good one. "This is tricky. It's not the same as running a campaign," he said.
In his view, experienced organizers who understand policy and grassroots politics make the difference. "But Bernie's in a very good position to do this, if he wants to, because it's just about broad-brush stuff," he said. "It's not about nitty gritty policy. That's why OFA couldn't work. It's very hard to argue in favor of a president's policy because his policy has to be incredibly nuanced. Bernie doesn't have to worry about nuance."
"He just has to have people who are on the ground running things," Dean said. "This is complicated stuff."