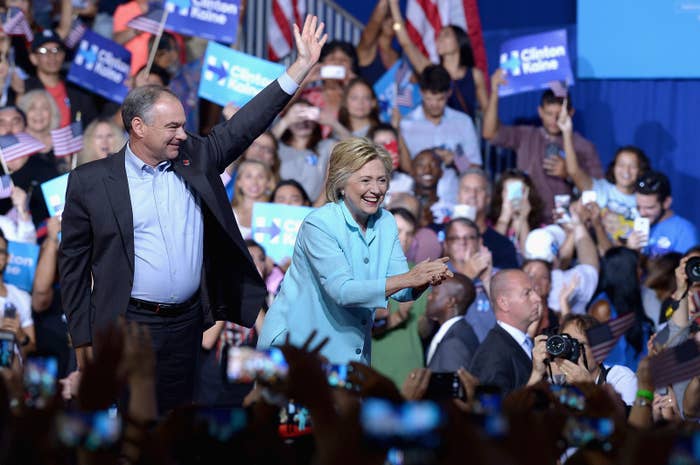 PHILADELPHIA — Bernie Sanders' campaign manager repudiated a fledgling grassroots effort by progressive activists at the Democratic National Convention to challenge Sen. Tim Kaine as the party's vice presidential nominee.
"It's very divisive," said Jeff Weaver, the top strategist, as he walked the floor of the hall at the Wells Fargo Center where Sanders is set to speak Monday night.
"She's the presidential nominee. If Bernie were the nominee, would you want the conservatives trying to nominate our vice president? So, that's what I would say."

Rumblings of a possible anti-Kaine effort came to light on Monday morning amid a splintering Democratic Party: On Sunday, DNC chair Debbie Wasserman Schultz resigned after leaked emails revealed a pro-Clinton bias among party officials, and on Monday, Sanders supporters booed their own candidate as he tried to rally his base toward Clinton and Kaine in the name of defeating Donald Trump.
Since Clinton announced Kaine as her running-mate, progressives have raised concerns about a number of his positions — namely, his support for the Trans-Pacific Partnership trade deal and for easing some regulations on community banks.
"He's as uninspired a centrist as you know," said Dr. Jill Stein, the Green Party candidate whose bid has seen an uptick in support from Sanders voters. "A Wall St. proponent and a proponent of the Trans-Pacific Partnership. Say no more."
Activists from the Bernie Delegates Network, a newly formed effort boasting 1,250 Democratic delegates, first floated the idea of challenging Kaine on Monday.

Norman Solomon, the group's national coordinator, told reporters on Monday morning that he would be working to gather 300 delegate signatures to introduce a new vice presidential nominee, but also acknowledged that the effort has no chance of success.
"We're not delusional," Solomon said. "We know Tim Kaine will be the nominee."
— Additional reporting by Mary Ann Georgantopoulos