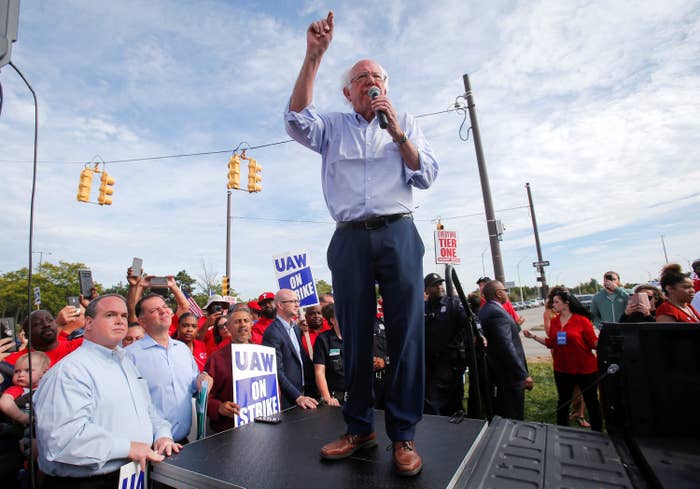 Bernie Sanders had been in Congress for four years when, toward the end of his 1994 reelection bid, he caught a cold.
He stayed on the trail, and a few days later the cold went away. But the hoarseness in his throat didn't. For months, he had trouble speaking. His voice sounded gravely — "unnatural and strained." There were times when it rasped so much he had trouble finishing a sentence. He drank water constantly. He looked for a "natural cure": homeopathic remedies, cough drops, "all kinds of weird teas." There were articles about it in the local papers, some on the front page. His wife, Jane, and his advisers told him it was becoming a problem. Reporters started asking if he had throat cancer. Really, as he recalls in his 1997 book, Outsider in the House, there was a "benign nodule" on his vocal cords. The doctors recommended surgery — an idea that Sanders, then 54, hated fiercely. He'd never had health problems in his life, let alone surgery, which would require at least three days away from delivering speeches on the campaign trail.
"Being sick," Sanders writes flatly in his memoir, "is not part of my life."
The Vermont independent has a deep distaste for much about modern politics: He hates when campaigns are treated as sport and refuses to engage in "political gossip." For years, he prided himself on never hiring a "slick Washington insider consultant." But Sanders is also highly attentive to the realities of modern politics. He knows the way something plays. And in 1996, during his next reelection campaign, this time against a well-funded Republican opponent, he knew the story about his voice was playing badly. With great reluctance, after seeing two separate specialists, Sanders agreed to have the surgery.
"If people think that I am in poor health, I'm not going to win this election," he writes.
More than 20 years later, in the middle of his second presidential campaign, Sanders is bedridden in a Nevada hospital after doctors performed a procedure to open a blocked artery. He's had to step off the campaign trail, halting his typically relentless schedule of town halls and rallies. And in Iowa, he's postponed a $1.3 million television ad, his first of the race.
At age 78, just as they did at age 54, two things he hates are converging: real physical limitations, and a focus on his health and personal life that will distract from his "political revolution."
On Tuesday night, Sanders first noticed some chest pain during a campaign event in Las Vegas. According to a brief statement released the next morning by Sanders' longtime top adviser, Jeff Weaver, doctors found a blocked artery and successfully inserted two stents. "Sen. Sanders is conversing and in good spirits," Weaver said. "He will be resting up over the next few days."
He remains in Las Vegas, where his wife flew to meet him on Wednesday, an official said.
Sanders and his aides are both understanding of, and highly sensitive to, questions about the candidate's age and the way voters perceive his presence and energy at events. In between events, he'll make it a point to play basketball at a high school gym or shoot baskets at a local arcade. At parades, he'll speed through crowds, leaving younger staffers and reporters panting after him. He sets a breakneck pace on the road, scheduling four or five events in one day. Often nights end at a roadside restaurant — Applebee's or Outback Steakhouse — before his small motorcade keeps driving to the hotel closest to his next morning's first event. (Sanders prefers to stay up late, not wake up early.)

Late this summer, Sanders' aides started tracking the campaign's schedule of events compared to that of three other major Democratic candidates: Joe Biden, Elizabeth Warren, and Kamala Harris. The experiment of sorts, maintained in an internal spreadsheet, according to a copy of the document, showed that Sanders outpaced all three, even when including Biden's and Harris's fundraisers. (Sanders and Warren have abstained from high-dollar fundraising events.)
"It's not age, but it's vitality," as Weaver once put it.
So on Wednesday, Sanders' aides and supporters worked quickly to dispel concerns about his health. The thing that was bothering him most, they said, was having to step away from the trail. One of his top advisers, speechwriter David Sirota, sent out a newsletter update titled "BERN NOTICE: When You See The Word 'Stent' — Remember Medicare for All."
But some inside the Sanders operation were rattled by the news. Within hours of Weaver's statement, the campaign had pulled its television ad from the air in Iowa, the state that kicks off the Democratic primary in February and will be particularly crucial for Sanders. The campaign was set to spend $1.3 million to air the ad for two weeks, hitting every media market in the state.
Asked if the ad will air when Sanders returns to the trail, a spokesperson declined to comment.
A Periscope video from Tuesday evening showed the candidate ask a senior aide for a chair — an unusual request for Sanders — during a campaign event at a Las Vegas restaurant, according to the New York Times. The Sanders campaign normally livestreams campaign events, but the video of the event is no longer online. According to a cached webpage on the Internet Archive, the campaign also removed footage of the event from its YouTube page.
A Sanders spokesperson said the videos will remain offline.
"[The] campaign trail is not conducive to good health habits," Sanders said in an interview last month on The Dr. Oz Show, noting he gets about five or six hours of sleep a night. "What I try to do is walk. I'm a big walker. When I was a kid, growing up right here in New York City, in Brooklyn, I was a cross-country runner, and a pretty good miler, and I have good endurance."

Earlier this year, Sanders hit his head on the edge of a glass shower door in South Carolina, his campaign said, and received seven stitches. For a few days, he wore a large bandage on his forehead.
In January 2016, during his first run for president, Sanders released a letter from Dr. Brian P. Monahan, the attending physician of Congress, attesting to Sanders' "overall very good health." The office has treated Sanders for more than two decades. Monahan wrote that Sanders had been treated over the years for gout, elevated cholesterol, superficial skin cancers, and had at one point received surgery for a hernia.
In the interview last month, Dr. Oz asked Sanders if he'd experienced any significant health issues since last releasing his medical records.
"I, thank god," Sanders said, "I have been very healthy in my life. I've had some issues, but I've been very healthy."
He's said he will release updated medical records this year.
For much of Sanders' life, his most serious health issue was the nodule on his vocal cord.
After that surgery, he says in the 1997 book, he was forced to remain silent for four days.
"I was very well behaved. They told me not to talk," Sanders writes. "So, breaking the habit of a lifetime, I didn't."