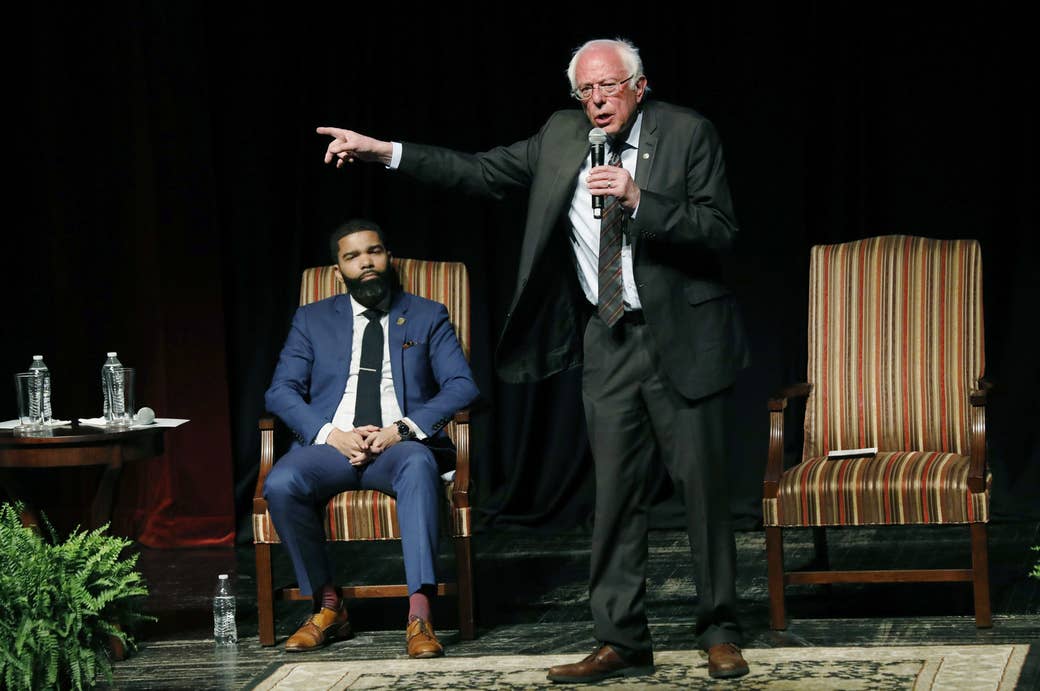 On the 50th anniversary of the death of Martin Luther King Jr., Bernie Sanders was in Jackson, Mississippi, to talk about economic justice. It was here, in a state with the highest percentage of black residents in the country, where Sanders registered one of the worst performances of his presidential campaign, losing all 82 counties, by a total of 66 points.

Two years later, on Wednesday night, there were cheers of "Feel the Bern!" in the hall as Sanders and the city's mayor, Chokwe Lumumba, discussed King's legacy.
But midway through the event in downtown Jackson, an uncertain silence fell over the audience.
"The business model, if you like, of the Democratic Party for the last 15 years or so has been a failure," Sanders started, responding to a question about the young voters who supported his campaign. "People sometimes don't see that because there was a charismatic individual named Barack Obama, who won the presidency in 2008 and 2012.
"He was obviously an extraordinary candidate, brilliant guy. But behind that reality, over the last 10 years, Democrats have lost about 1,000 seats in state legislatures all across this country."
It's a criticism of President Obama's tenure that Sanders and plenty of others have made before. But the time and place for the remark — 50 years to the day after King's assassination, at an event to discuss that legacy — quickly shook loose old frustrations among Democrats who watched the senator struggle in 2016 to connect with black voters and speak to issues of racial justice.
Jeff Weaver, Sanders' longtime top strategist, said that people were misreading the senator's comment. "What Bernie was doing last night was praising the power and significance of the Barack Obama presidency, while at the same time pointing out that the national Democratic Party has had a lot of failures over the last 15 years, as evidenced by our loss of state legislative and congressional seats."
"One is not the cause of the other," Weaver said.
An Obama spokesperson declined to comment. But privately, former Obama lieutenants and other Democrats knocked the timing of Sanders' criticism, considering his words on the Democratic Party a criticism of Obama's own leadership. One texted that Sanders' words were "dumb as hell."
"Bernie's comments were tone-deaf and will not help him with communities of color, especially black folks," said Joshua DuBois, a strategist who led Obama's faith-based initiative. "On that hallowed day, our focus should've been on the transformative legacy of Dr. King and how we can come together to continue King's fight against systemic racism and injustice — not attacking the legacy of the first black president, who fought against many of the same things Dr. King fought."
Bakari Sellers, a South Carolina Democrat who emphatically supported Hillary Clinton in 2016, told BuzzFeed News that he and black Democrats have had patience with Sanders as he's sought to better understand the role that race plays in the United States, even as Democrats have pushed Sanders to not just rely on the narrative that he marched with King in the 1960s.
To Sellers, anyway, Sanders' time is up.
To "dismiss with utter arrogance and lack of self-awareness the first African African president," he said on Thursday, is "just the height and epitome of arrogance and lack of self-awareness."

Sellers argued that Obama's legacy encompasses not just his work as president from a policy perspective, but his symbolic importance. He alluded to the photo of a boy touching Obama's hair in the White House to see if it felt like his. "Bernie Sanders doesn't understand how that photo is emblematic of the hope of many African Americans and that it speaks loudly to who Barack Obama is."
Speaking by phone on Thursday, Weaver fired back at Sanders' critics. Sellers, he said, was attempting to sow "racial division" by "deliberately misinterpreting" the senator's remarks. ("My father was shot because of racial [division]," responded Sellers, whose father was shot during what became known as the Orangeburg Massacre in 1968. "[Weaver] should find another line of attack, because I will not dignify that.")
The episode, and the fast and sharp response, offers another reminder of how tense Democratic politics continue to be, especially around issues of race and economics, as the party decides its direction after Clinton's loss two years ago.
In 2016, the 76-year-old Vermont senator struggled to attract wider black support with his message about wealth and income inequality, which he cast as "the great moral issue of our time," "the great economic issue of our time," and the "great political issue of our time" — often, critics said, at the expense of highlighting issues of race.
And in the lead-up to the first caucuses and primaries, he fumbled a series of tense confrontations with young black leaders protesting against police violence and race's effect on mass incarceration. To his critics, Sanders' lack of experience — coming up in politics in Vermont — and near lack of black voices among his senior campaign staff left him flat-footed on the intersectional political analysis young activists craved.
Now, as Sanders contemplates another run for president in 2020, he and his advisers face pressing question about whether his political revolution's message, and its messenger, can attract a large enough coalition of voters to win the Democratic nomination.
If former campaign aides still hang on to one frustration from 2016, it's the perception that Sanders can't connect with the black community. His pollster, Ben Tulchin, can still recite exit polling figures showing his gains with black millennials. His former press secretary, Symone Sanders, published a Washington Post op-ed headlined "It's Time to End the Myth That Black Voters Don't Like Bernie Sanders." And his top aides are quick to point to a series of Harvard-Harris polls showing the senator as the most popular politician among black voters.
Sanders, in the months since 2016, has cultivated a closer relationship with leaders like Al Sharpton and Jesse Jackson. He's been a more frequent presence at events like Wednesday's town hall in Jackson. And advisers insist that the Democratic primary, and the activists he met along the way in 2015 and 2016, did set off a real change in the senator's thinking on racial justice.
"It's not Bernie's fault, but the circumstance he was faced with [in 2016] is that he took on this image as this [exemplar] of progressivism when the progressive community tends to marginalize black concerns," said Rev. Al Sharpton in an interview last week. "He was the progressive candidate and he incurred some wrath from all of us because of that."
Tulchin, the senator's pollster, described criminal justice and mass incarceration as relatively new issues for Sanders. "Yes, he took guidance from us on that front, because he recognized that Vermont is not at the epicenter of the criminal justice crisis, in terms of police misconduct problems. He understood that he had to absorb new areas," Tulchin said. "But it is part of his worldview — I mean, the guy started in the '60s as an activist in the civil rights movement getting arrested, right?"
On Wednesday night, in a brief interview backstage as he autographed campaign posters, Sanders said he saw the "fight for justice" as one for "racial justice" and "economic justice," citing one of King's last efforts, the Poor People's Campaign aimed at mobilizing workers across different racial backgrounds. "That's what King's life was about," the senator said. "We gotta move forward, fight against racism at the same time as we fight for economic justice."
Still, early in his political career, and at times during the 2016 campaign, Sanders was reluctant to embrace any view of left-leaning politics that did not put class and economic inequality at the forefront. "The real issue is not whether you're black or white, whether you're a woman or a man," he said in a 1988 interview. "The real issue is whose side are you on? Are you on the side of workers and poor people or are you on the side of big money and the corporations?"
"He was unconsciously unskillful on issues of race," said the executive director of the Vermont Partnership for Fairness and Diversity, Curtiss Reed Jr., who has observed Sanders for years in his home state. "His framework is income inequality and economic justice. He sees that as the all-inclusive tent."
It made for a steep learning curve in 2015, as a new generation of young black leaders staged protests at campaign events across the country. One of the first major actions, at the annual Netroots Nation conference for liberal activists in July of that year, left Sanders and his team shaken. The candidate on stage before him, Martin O'Malley, had already bungled an exchange with leaders from the Black Lives Matter movement, telling the activists concerned about police brutality and mass incarceration that "all lives matter." When Sanders came out afterward, the moderator immediately asked him to address the topic at hand. "Whoa, whoa whoa whoa whoa," Sanders said. "Let me talk about what I want to talk about for a moment."
After protesters interrupted him with chants of "say her name" — referring to Sandra Bland, a black woman who'd recently died inside a Texas prison after a traffic stop — Sanders stopped talking and paced the stage. "Listen, black lives of course matter. And I've spent 50 years of my life fighting for civil rights," Sanders finally said. From the crowd, someone shouted back, "What are you doing about it now?" The protracted exchange left campaign aides "demoralized" and "devastated," an operative present recalled. Sanders, the person said, was "pissed."
Though Clinton won the nomination on the strength of black support, she, too, struggled with the same kinds of interactions with protesters, who objected to her use of the term "super-predators" and her support of the crime bill in the 1990s. In the wake of the 2016 election, those critiques of the 1990s, and the way politicians talk about issues of racial inequality and injustice, have become a standard feature of American political life, especially as President Trump continues to single out black politicians and protesters.
The experience was a new one for Sanders. On a trip to Seattle in August 2015, Black Lives Matter activists interrupted two events in one day. The next day, in a meeting with Don't Shoot PDX, a Portland group loosely affiliated with Black Lives Matter, Sanders repeatedly answered questions by referring the activists to his campaign website. ("He said: 'I don't know you and u don't me, so you have to read my website, you can go on [there] and see my work and judge me from that,'" one attendee recalled in a Facebook post about the meeting.)
Around that time, the candidate brought on Symone Sanders to serve as his national press secretary and one of the first black faces of his campaign. During her first week on the job, she said, she told Sanders that he had to treat racial inequality and economic inequality as "parallel issues" — a suggestion she said he ran with. "I [told him], you know, economic equality is an issue. It's something we need to address. But for some people it doesn't matter how much money you make, it doesn't matter where you went to school, it doesn't matter what your parents do. It doesn't matter that Sandra Bland had a job and was on her way to teach for her alma mater. It doesn't matter. None of that matters."
By the time his campaign aides scrambled to release a detailed criminal justice platform on Aug. 9, Sanders was still struggling. In a September meeting with Campaign Zero, a movement formed out of the Ferguson protests, activists asked Sanders why, in his opinion, there were a disproportionate amount of people of color in jail for nonviolent drug offenses. Sanders, seated across the table, a yellow legal pad at hand, responded with a question of his own, according to two people present: "Aren't most of the people who sell the drugs African American?" The candidate, whose aides froze in the moment, was quickly rebuffed: The answer, the activists told him, was no. Even confronted with figures and data to the contrary, Sanders appeared to have still struggled to grasp that he had made an error, the two people present said.
In a statement to BuzzFeed News, Bernie Sanders said he "clearly misspoke" during the meeting:
During this extremely important meeting three years ago, where I learned a great deal, we had a very open discussion about the issues of systemic racism and the intersection of race and class. I am grateful to the participants in this meeting for engaging with me. The experiences and perspectives they related were incredibly impactful on me as a person and as a presidential candidate. While I clearly misspoke and had more to learn with regard to the causes of this problem, we all came to the meeting understanding what is absolutely true: the criminal justice system is broken and disproportionately arrests and jails African Americans. I am thankful to the participants for their work and willingness to have the kind of discussions that we need to have in order to move forward as a country. I intend to continue having conversations with activists and experts about how we, as a nation, create the society all of us deserve.
Ahead of a possible 2020 campaign, Sanders' inner circle remains largely unchanged: His closest advisers include his former campaign manager, Weaver; his media consultant, Tad Devine; and his wife, Jane Sanders. Some note that his operation now includes Ben Jealous, the former NAACP president now running for governor of Maryland, as well as Nina Turner, a prominent Sanders surrogate who is now running his political organization, Our Revolution.

"Candidates need to figure out how to include black women at the top, and to my knowledge he hasn't met with the new guard or the old guard of black women — and that's what needs to happen if they want to create a viable plan."
"Anybody that thinks they'd like to throw their hat in the ring for 2020 has to understand that you will never get anywhere close to the presidency without black women," said Symone Sanders in an interview last month. "Candidates need to figure out how to include black women at the top, and to my knowledge he hasn't met with the new guard or the old guard of black women — and that's what needs to happen if they want to create a viable plan."
On Wednesday night, seated beside Lumumba, the 35-year-old mayor who came into office last year, Sanders talked about King's focus later in life on connecting the fight for integration and civil rights with issues of income inequality. "All of us know where he was when he was assassinated 50 years ago today," the senator said. "He was in Memphis to stand with low-income sanitation workers who were being exploited ruthlessly, whose wages were abysmally low, and who were trying to create a union. That's where he was. Because as the mayor just indicated, what he believed — and where he was a real threat to the establishment — is that of course we need civil rights in this country, but we also need economic justice."
Backstage after the town hall, Sanders said that these are issues he's always discussed, whether or not people were paying attention. "Don't get me going on the media," he said.
"You're running against somebody who's known by everybody, whose husband was very popular in the African American community," he went on. "How many people in Mississippi knew who the junior senator from Vermont was when I began my campaign? Wanna guess? Five percent? Ten percent? But by the time the campaign ended, we were doing much better."
But had the campaign changed him at all — or the way he talks about racial justice?
Sanders cut in. "It's not a question of talking about it. It's not phraseology. It's what you're gonna do about it," he said. "You learn and you grow. If you're not smarter tomorrow than you are today, then you're not doing a good job. So coming to Mississippi, coming to Alabama, to Flint, Michigan — did I learn something? Did I change as a part of that? Of course I did."
But how, exactly? Sanders didn't answer the question.
"You're asking about me. And I'm not important. What's important are the kinds of policies that we need to transform this country. OK?"