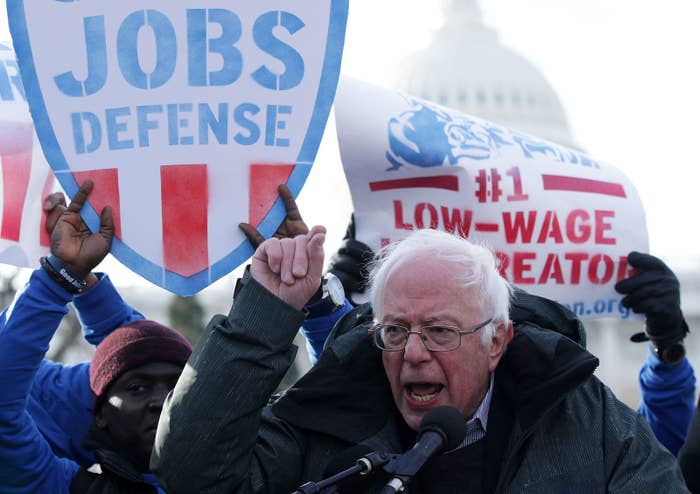 The latest project from the staffers and activists who worked on Bernie Sanders' 2016 campaign, #WeWillReplaceYou, presents Democratic lawmakers with a stark choice: oppose Donald Trump at every turn, or face a primary challenger who will.
One progressive who has yet to back the group's aims is Sanders himself.
Through a spokesman, the Vermont senator declined to say whether he supports the strategy behind #WeWillReplaceYou, founded last week by campaign alums and activists. Sanders' political organization, Our Revolution, also declined to comment when asked whether officials there agree with the idea of unseating incumbents.
One month into Trump's presidency, Sanders and other party leaders are navigating new and difficult terrain as activists push a view of "resistance" defined in absolute terms, threaten lawmakers with primaries, and embrace tactics they readily compare to the Tea Party movement that upturned the Republican Party eight years ago.

Demands for oppositional purity have emerged as a new rallying cry on the left, driving a wedge between grassroots activists and Democrats who remain open to pieces of Trump's agenda, vote for his cabinet nominees, or argue broadly that elected officials have a responsibility to find common ground with any president.
#WeWillReplaceYou, the Sanders outcrop, is the first group to seize directly on those demands, asking progressives to "pledge to support primary election challengers against Democrats who won't do everything in their power to resist Trump."
In interviews after their launch, #WeWillReplaceYou leaders outlined plans to pressure Democratic members of the House and Senate on every vote and policy item — and eventually, said co-founder Claire Sandberg, on an impeachment push.

"We think that it's time for Democrats to start seriously considering impeachment," said Sandberg, who served as digital organizing director on the Sanders campaign. "If that takes shape, we'll want to see Democrats across the board support it."
"There's no middle ground anymore. This is a moment of black or white," said another co-founder, Jessica Pierce, an organizer based in North Carolina.
But under the terms set by #WeWillReplaceYou, not even Sanders clears the test.

The self-described Democratic socialist, now a member of Sen. Chuck Schumer's leadership team, voted for three of Trump's cabinet picks, including Secretary of Homeland Security Gen. John F. Kelly and Secretary of Defense Gen. James Mattis. Sanders also voiced an early willingness to working with Trump on infrastructure, trade policy, and drug costs, arguing in January that it didn't make "sense to say, 'No, we're not gonna work in any way in any form with the Trump administration."
Trump's first four weeks in office, of course, have since hardened opposition. Democrats have fiercely condemned his move to place a ban on refugees and travel from seven majority-Muslim countries, and they have led the charge for a comprehensive investigation into revelations about his associates' contacts with Russian officials.
Still, organizers behind #WeWillReplaceYou said they haven't seen enough, describing any Democratic collaboration as unacceptable, whether a vote for a cabinet pick or an offer to speak with Supreme Court nominee Neil Gorsuch.
Sandberg, the co-founder, acknowledged that no Democrat in Congress — not even Sanders — currently meets their demands for wholesale "non-compliance."
The point of the project, she said, is to start pushing Democrats toward the grassroots' vision of opposition well in advance of primary season. ("The most effective threat is one you don't have to follow through on," the group's website explains.)
"It was very strange to see so many people who are in the Democratic Party establishment react with just horror," Sandberg said, citing criticism that the strategy could cost valuable seats in red states like Missouri and West Virginia, where Democratic Sens. Claire McCaskill and Joe Manchin are up for reelection.
"I'm honestly surprised that they're surprised. Whenever thousands of people [are telling Democrats to] do more to fight Trump — there's an implicit 'or else.' We're just making that 'or else' explicit."
It's a threat activists had already started to embrace.
Last week, a forum for candidates vying to chair the Democratic National Committee came to a sudden halt when a group of six activists — not aligned with #WeWillReplaceYou, they said later — rose from their seats and unfurled a large white banner: "DEMS: #RESIST TRUMP," it warned, "OR BE REPLACED."
One of the protesters, 24-year-old Natalie Green, called out questions to Tom Perez, a DNC frontrunner, asking the former labor secretary if he would supporting primary challengers to run against incumbent Democrats "who refuse to fight" Trump.
Perez did not answer the question directly, telling Green instead that he valued the party's "big tent" and the tradition of locking arms after "spirited debate." (It's currently DNC practice to remain neutral in House and Senate primaries, though Perez did not mention that policy.)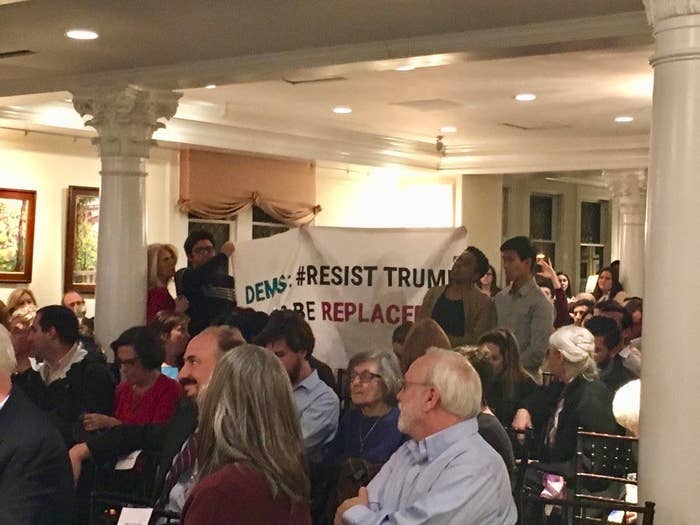 Green, a regular at marches and protests near her home in Washington, D.C., said Perez's response had been disappointing. "It's a question that's going to be so critical in the next couple years," she said afterward. "But I think we made it clear that we will not be silenced. We will make sure that we do everything we can to hold Democrats accountable — and that will include running primary challengers."
The exchange between Green and Perez is one poised to replay itself again and again between activists and party leaders. Some Democrats describe the split as the party's next central internal strife, replacing the ideological fights that defined 2016 with a new struggle "between those who resist and oppose, and those who accommodate and appease," as operative David Brock put it early this year.
The battle lines are not unfamiliar to either party.
Under Barack Obama, the Affordable Care Act spawned a movement to pressure lawmakers on the right, with the conservative Heritage Foundation's political action committee threatening Republicans who wouldn't commit to a full repeal.
Relative to Tea Party upsets, however, liberals have seen less success unseating Democratic incumbents. Two high-profile attempts to replace a sitting senator — Connecticut's Joe Lieberman in 2006 and Arkansas' Blanche Lincoln in 2010 — did not end with progressive victories. (After losing his primary, Lieberman ran as an independent and kept his seat. And though she scraped through her primary, Lincoln went on to lose badly to the Republican in the general election.)
Whether #WeWillReplaceYou can successfully recruit and run winning primary challengers is a question the group's leaders describe as still a ways off. (The group has no full-time staff, just a team of volunteer activists that Pierce, one of the co-founders, described as "a coalition of the willing" and "a hybrid of love.")
In recent years, liberal activist groups have concentrated on open-seat primaries, not incumbents. The Progressive Change Campaign Committee, an aggressive outfit based in Washington, hews to the belief that even if progressive candidates don't win their primaries, they've succeeded in pushing the field to the left.

Last week, PCCC co-founder Adam Green welcomed the news of #WeWillReplaceYou with a statement of firm support for the project and for a party that fights Trump "boldly, consistently, and effectively."
"Ideally," he added, "there would be no need for primaries against incumbents."
Outside Your Bubble is a BuzzFeed News effort to bring you a diversity of thought and opinion from around the internet. If you don't see your viewpoint represented, contact the curator at bubble@buzzfeed.com. Click here for more on Outside Your Bubble.