AMES, Iowa — For 20 minutes on Sunday night, inside the Lied Recreation Athletic Center at Iowa State University, activity comes to a sudden halt. Students on the rock wall glance across the room, suspended in midair. A pickup game stops. And from the lobby, a crowd forms to watch as Bernie Sanders walks past a line of ping-pong tables.
"I used to play ping-pong and basketball," he says. "I had a life! Now look."
On Day 3 of a nine-state swing to campaign for Democrats across the country, Sanders is here to play H-O-R-S-E with two local candidates, J.D. Scholten and Deidre DeJear — except tonight the letters are V-O-T-E. Scholten, a former professional baseball player who is running against Rep. Steve King in the state's 4th District, quickly dispatches with his opponents, but Sanders hangs around the court for a while, putting up shots on the right-side corner. One goes in. Then another. And another. "See," says DeJear, Iowa's Democratic candidate for secretary of state, "you just needed to warm up."
Sanders, with genuine frustration, remarks that he's not the player he used to be, then heads for the exit. A white Ford Transit van is waiting outside the athletic center to take him to the airport, where he and his staff will fly to Wisconsin — the next stop on a 2018 tour that has already taken him through Indiana, Michigan, South Carolina, and Iowa.
"BERNIE!" a young man calls after him as he leaves. "Are you tired yet?"
The senator shouts back without stopping: "No! I'm just waking up."
By now, Sanders is used to questions about his age and a new generation of leaders in line to take control of the Democratic Party. ("I'm very blessed with my health," he tells Politico.) But he and his team of advisers view this week's tour across the country — with the crowds and their response — as proof it's time to ramp up, not scale down.
His trip to campaign on behalf of Democratic candidates is scheduled much like a presidential campaign swing — with long hours and late nights, big rallies, small meetings with local activists and union workers, unscheduled stops along the way, a team of advance staffers ready to greet him in every state. For the former presidential candidate, who ran against Hillary Clinton until the final primary in June 2016, it's a show of the kind of nationwide infrastructure and enthusiasm that few other potential Democratic presidential contenders could rival at this early stage of the 2020 race.
At 77, Bernie Sanders might say he's old, but he will never tell you he's tired.
On the tour, built to drive Democratic turnout in college towns and liberal pockets of red states like Iowa and Arizona, Sanders is greeted as part celebrity, part familiar face. "You've always been there for us," a laid-off worker tells him at one of his first events in Bloomington, Indiana. "You're like me. You don't give a shit what people think about you."
Earlier in the day, after a rally with Liz Watson, a Democrat running in Indiana's 9th District, he leads supporters to an early-voting polling place about 15 minutes away. The 0.6-mile walk down East 7th Street, near Indiana University, is instant chaos. A police siren wails. Students sprint over from the rally, cheering and chanting. A walking jazz band appears and follows along. When the senator passes one young woman, she begins to cry. Students dart in and out of the thickening crowd, running up the road to catch up to Sanders, narrowly avoiding parking meters and signposts. When they make it to the Monroe County election office, a line to vote is already forming down the block.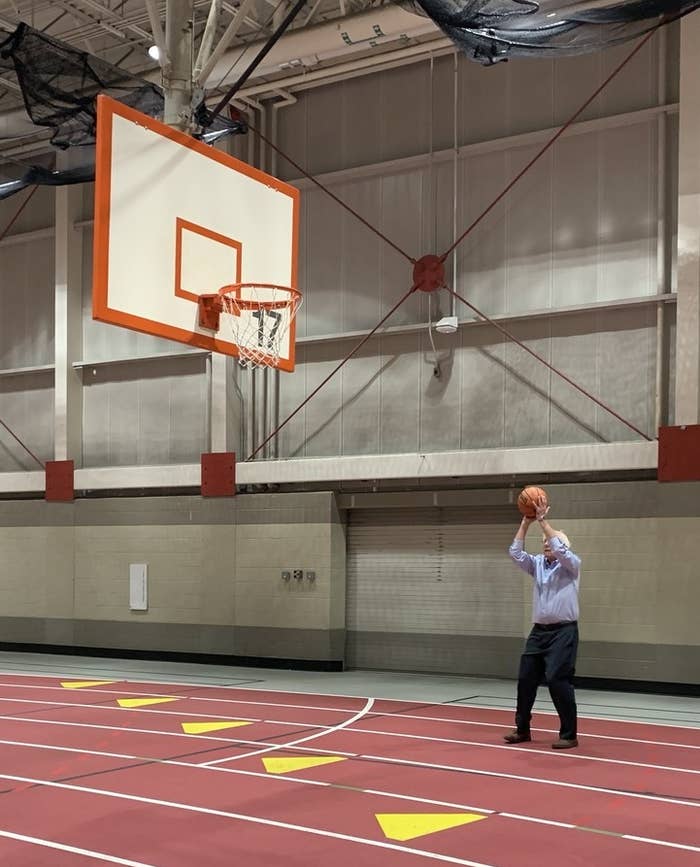 From there, Sanders continues on to two more events in Bloomington before flying to Ann Arbor, Michigan, where he speaks to two overflow crowds and a full auditorium. Late that night, he lands in South Carolina. The next morning, when his top adviser, Jeff Weaver, appears on CNN to talk up the tour, the segment ends with a graphic on the screen: Age on inauguration day in 2021, it reads, with photos of Donald Trump (74), Joe Biden (78), and Bernie Sanders (79). "Has his moment passed?" the host asks.
Weaver is ready with his reply. "It's not age, but it's vitality. You should talk to your own CNN reporter and other reporters who were trying to keep up with him as he led hundreds of people to the polls...They were all huffing and puffing, and he was doing great."
On the road, Sanders is obsessive about how many people are following his tour via Facebook and Twitter. Of the staff he's brought along with him, nearly half are dedicated to video and social media. At every stop, they chase after him with a camera. Everything is filmed and livestreamed and tweeted. As soon as Sanders gets in the van, or on the plane, the first question for his staff is always the same: "So, what are the numbers?"
He doesn't just want to know that 3,000 people attended his rally in Bloomington. He wants to see how many likes are on the Facebook post about the rally. He wants to know how many people they are reaching — by the hour. He wants to hear which videos are performing well, and about which issues. His aide will usually show him on a laptop, which Sanders reads by holding the machine in the air, screen close to his face. He is very aware that a Social Security event at a public library in Indiana may draw a crowd of 200 people in the room — but that 200,000 people are following along online.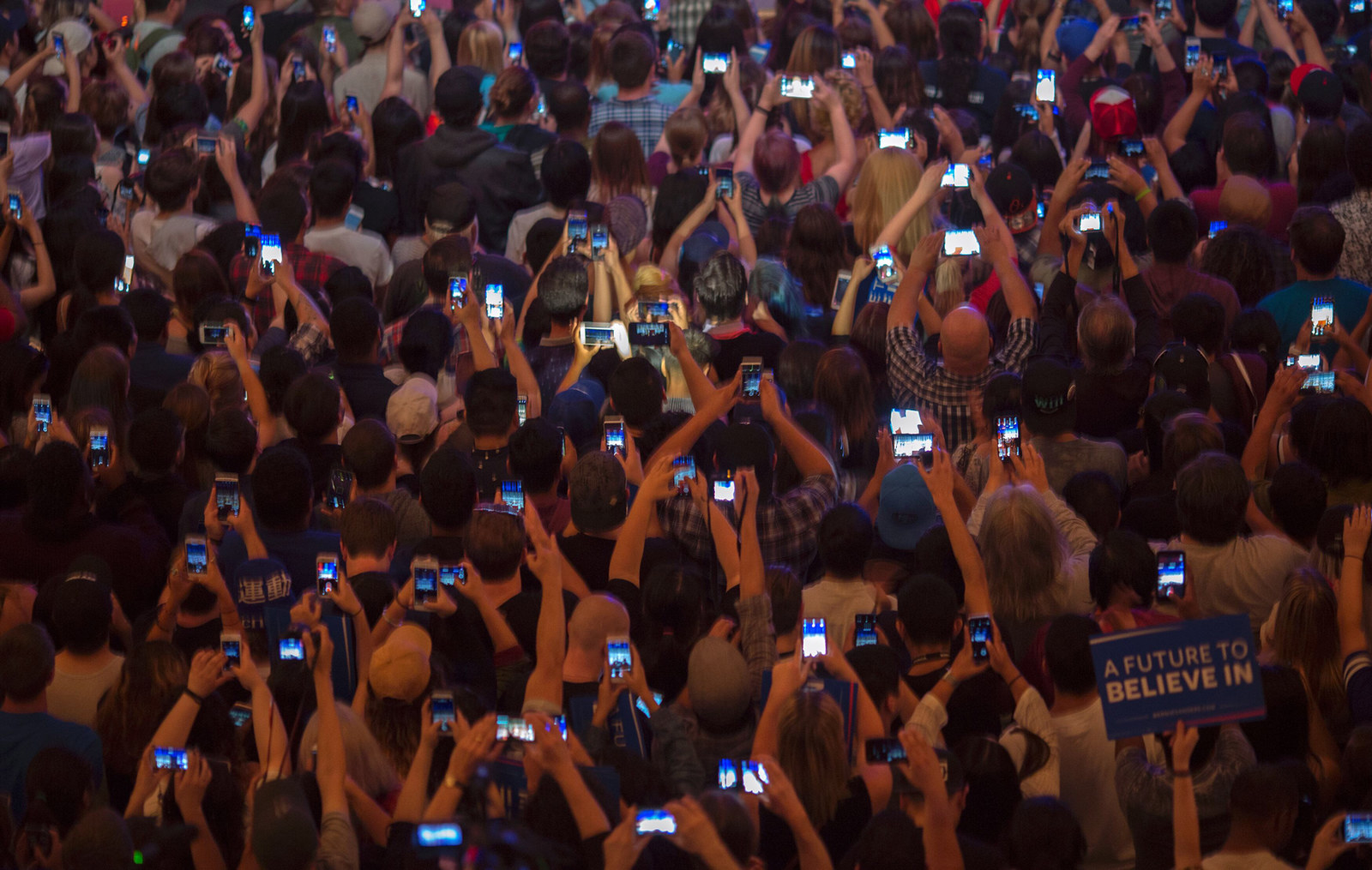 Aides estimate that Sanders is reaching 5 to 6 million people per day on this tour.
For the senator, those numbers are not only a measure of enthusiasm. They are "accomplishments," he says during an interview between stops in Iowa. "So if you're gonna ask me about some of my proudest accomplishments in the last two years — we have done three town meetings that I've gotten between a million and 2 million viewers. The ability to talk about our issues, directly to people, is extraordinary."
He is particularly interested in how his reach compares to traditional news outlets. And is equally concerned as any major publisher, it seems, about changes to Facebook's algorithm to boost the presence of friend-to-friend exchanges in its News Feed.
"This is not like the US Postal Service, where you have a list of people, and you write to Jeff Weaver" — the senator points across the table to his former campaign manager — "and then Jeff is gonna get the letter," Sanders explains. "Many of the people who are on our page are not getting our message, and that bothers me very much."
"Ari! Ari." He turns to Ari Rabin-Havt, another senior adviser. "What did we get? A million and a half, 2 million people watching that income inequality town meeting?"
"A million and a half — 1.6 million," Rabin-Havt answers.
"We had far more people than CNN that night," says Sanders.
The tour, and every livestream, tweet, and Facebook post from it, show the Sanders political revolution at a new and uncertain inflection point. The Vermont senator, who is also up for reelection in his home state next month, believes he is winning the debate on ideas, but now his job is to convince people to do something about it. The man who built his 2016 campaign on a message about a rigged, oligarchical, and corrupt system spent the weekend telling voters to stop "moaning and groaning" and vote.
On the subject of the 2020 election, and whether he decides to run again, the most important question on his mind, as he describes it, is what kind of candidate is best positioned to beat Donald Trump. If the answer isn't Sanders, aides say, he won't run. (On Twitter, one notes, Sanders sees Trump as his biggest "competitor.")
"Jeff and I were just talking about this the other day. I think when you look at the kind of candidate who can beat Trump, you're probably looking at the battleground states," he says, citing a recent poll in Florida. "Probably what you're looking at in terms of beating Trump is what candidate could do well in those battleground states, and that is the ability to speak to working people — whether they're black or white or Latino."
"As I think about this thing, am I thinking about which candidate is the strongest in order to beat Trump? Yes, of course." Is it the number one question? "I think it is, yes. And we've got some great candidates. I know all of them. And they're really good. But I think the question that all of us are going to have to sit down and determine is—" Sanders pauses. "Trump is — he is a liar. He's a tough candidate to take on. So we have to go with the best candidate."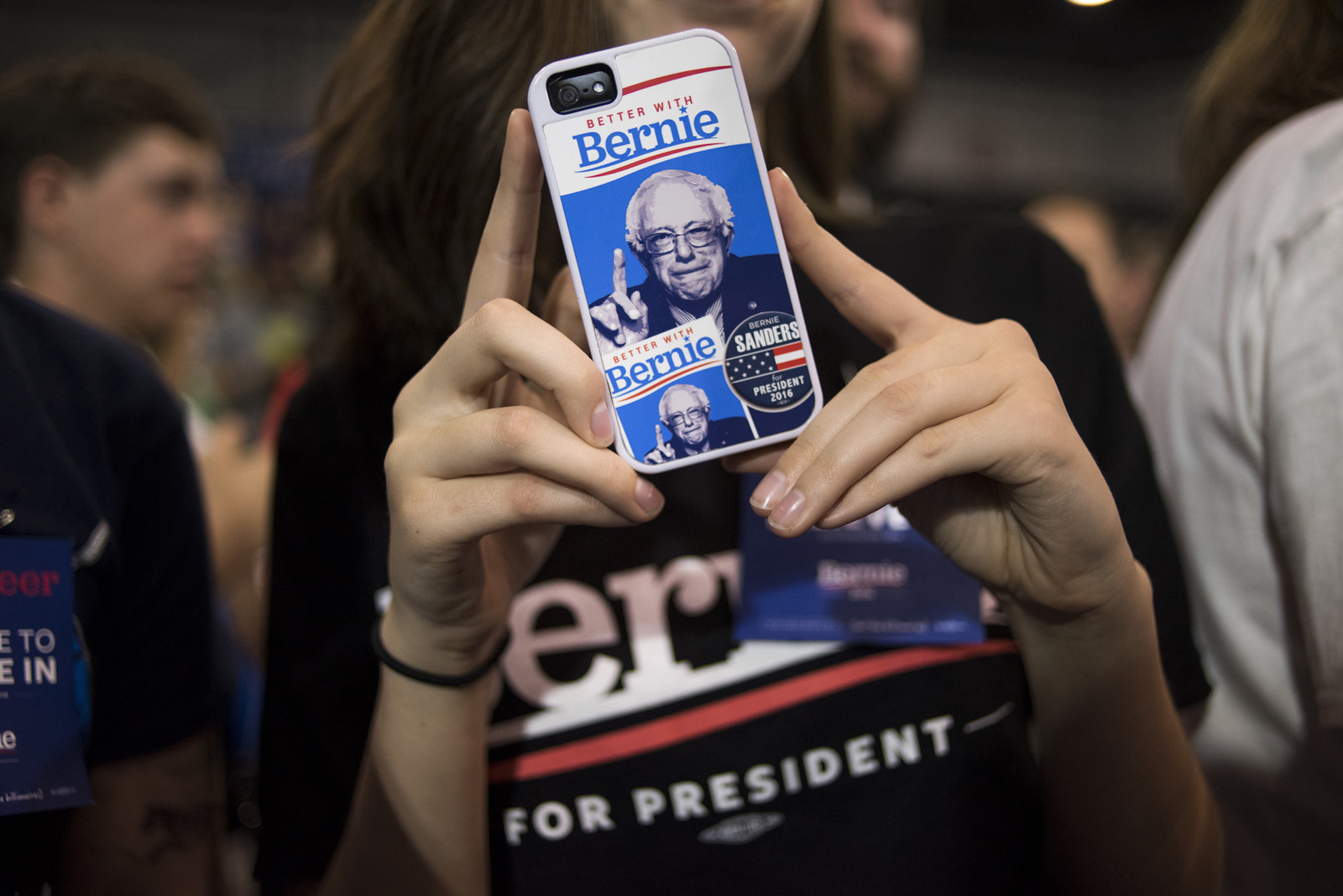 On the trip, watching Sanders, there are points at which you wonder whether he really wants to do this again. In Indiana, he leaves a meeting with laid-off workers, many of whom are in tears after sharing their stories with Sanders, only to be asked moments later in an interview about potential 2020 rivals like Kamala Harris and Cory Booker. ("What the media likes is new new news," he says. "Am I frustrated? No. I'm used to it.") In South Carolina, where he lost the primary to Clinton by more than 47 points in a struggle to win over black voters, Sanders had to defend his decision to come to the state after some Democrats suggested that his presence only did damage to the state ticket. ("It's funny," he told a crowd of about 900 people. "I was told there were no progressives in South Carolina. I was told no one would show up to a gathering like this.")
But there are far more moments where Sanders doesn't look like a guy who's slowing down anytime soon. On a perfect fall day in downtown Ames, he flashes a rare smile, grinning as he leads a parade down Main Street. At the University of Michigan, when the rally fills the school auditorium, he takes the stage and pauses to take in the crowd. And after meeting with a group of local voters on Sunday, he can't stop talking about how he met a woman who works full-time as a college professor but has to work nights at Target to make ends meet: "That is what media should be focusing on. That is the news."
"I love doing this."
"Look," he says. "What we can say without fear of hesitation is there are some people, Democrats and Republicans, whose mommies and daddies told them when they were at the country club that they were born to be president. That was not the case. My parents, who are both deceased now, would not believe that I am a United States senator."
"So no, I don't look in the mirror and say this was the guy who was destined to become president."
Some people do, of course.
"Yes," Sanders says. "Yes, they do." ●

CORRECTION
J.D. Scholten's name was misspelled in an earlier version of this post.