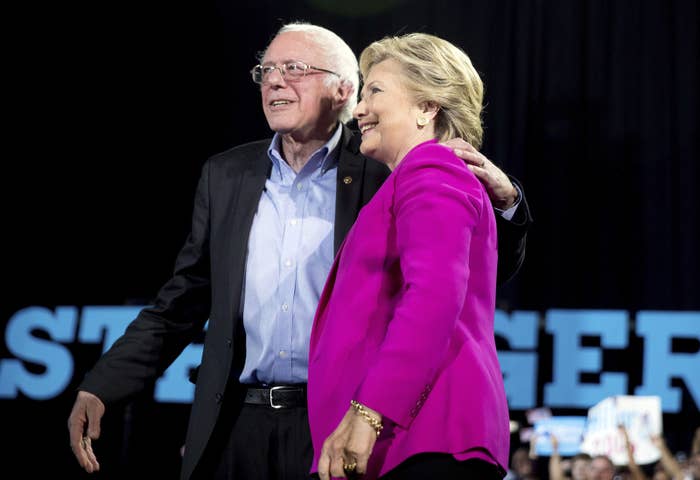 A top Bernie Sanders official is asking Democratic leaders, including Hillary Clinton, to sign a draft letter recommitting to vastly shrinking or effectively eliminating the party's controversial "superdelegates" system — and ultimately changing the presidential nominating process.
The Sanders ally, his former campaign manager, Jeff Weaver, is in talks with Clinton's team about the letter, and also plans to solicit signatures from House Minority Leader Nancy Pelosi, Senate Minority Leader Chuck Schumer, Democratic National Committee chair Tom Perez, and DNC vice chair Rep. Keith Ellison, according to two people familiar with the undertaking.
The effort to make Democratic primaries more fair — a process that has spanned two years, two committees, and dozens of arcane rules about how to make changes to the rules — is nearing its long-awaited end. Next month, the party's Rules and Bylaws Committee convenes to begin drafting the final language that DNC members will or will not approve in a vote this summer.
At stake is the future of "superdelegates," the 700 or so party leaders entitled to cast votes as "unpledged delegates" for the candidate of their choosing.
"We believe that the passage of these reforms is a fundamental and necessary step in re-establishing faith with those who have lost confidence in the Party as a vehicle for change," reads the draft of the letter, obtained Friday. "Now is the time to go forward, not backward."
Weaver declined to comment. A spokesperson for Clinton also declined to comment when asked whether the former Democratic nominee would sign her name to the letter. When contacted, Pelosi and Schumer aides said they hadn't been aware of Weaver's letter.
A DNC spokesperson did not respond to a request for comment.
Weaver's draft letter — meant to lock in public support for shrinking that system — would show Clinton, Sanders, and other party leaders reiterating their commitment to proposals put forward during the 2016 Democratic National Convention. It was there, in Philadelphia, that officials from the two rival campaigns formed the Unity Reform Commission, a 21-member committee tasked with proposing specific changes to rules around delegate allocation, caucuses, and primaries — a set of compromises hashed out by Clinton and Sanders allies ahead of the convention.
Among them was a proposal to effectively reduce superdelegates by about 60%.
Under the existing system for choosing a Democratic nominee, candidates vie for "pledged delegates" by competing in caucuses and primaries, which award delegates based on performance. Later on, at the convention, superdelegates or "unpledged delegates" can vote for however they want. Superdelegates include the 447 members of the DNC; Democratic governors, US senators, and members of Congress; and "distinguished leaders" like former presidents, vice presidents, and party chairs.
The Unity Reform Commission proposal would strip just DNC members of their superdelegate votes during the first and main round of voting at the convention. (In the rare case of a second round of voting, all superdelegates would be unbound, free to support any candidate.)
The superdelegate debate, led by Sanders supporters who felt the system unfairly favored Clinton, has now moved to the DNC's Rules and Bylaws Committee, where officials put forward a final set of proposed rules changes.
Committee members remain divided on the idea of a 60% reduction: Some, like longtime party leader Leah Daughtry, support eliminating superdelegates altogether on a first ballot convention vote.
Others see superdelegates as a crucial part of the primary system — a safeguard against nominees like President Trump, said one Rules and Bylaws member, Elaine Kamarck, a DNC member who has studied presidential politics for years.
Kamarck has backed the original Unity Reform Commission proposal, but also made clear that she believes that, in the long term, more so-called peer review by veteran party leaders produces stronger presidential nominees. In a forthcoming study for New York University's law journal, she said, she will propose a number of changes to the nominating system, from an increase in superdelegates to a new pre-primary endorsement process where the party's top elected officials would meet with the candidates, question their positions, and issue votes of confidence or no confidence. Candidates who fail to meet a certain threshold would be barred from debates or from a spot on the ballot, depending on how the party decided to structure the system, she said.
"This whole idea runs completely counter to where the public is," Kamarck admitted, referring to the broad support particularly among Sanders supporters for a reduction in superdelegates. "However, if the Trump presidency crashes and burns and takes the GOP with it, which is not unrealistic, this dialogue will start."
When the Rules and Bylaws Committee meets next month in Washington, members will also weigh whether changes should be made to the DNC's rules, or to its charter document — a distinction that will determine the vote threshold needed at a final vote later this year. Rules changes require a simple majority of DNC members. Charter changes, considered to be more permanent, require a two-thirds majority.