At His Rally, Andrew Cuomo Basically Endorses Hillary Clinton
"I hope she does something really, really, really big."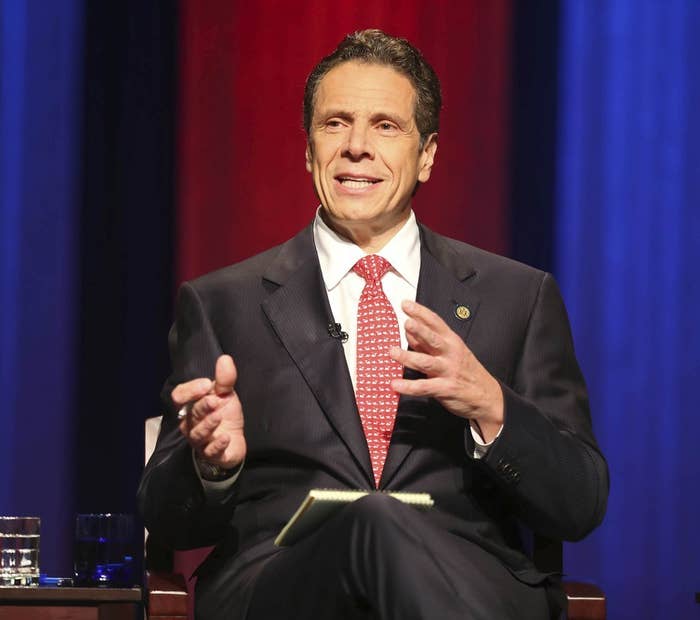 Gov. Andrew Cuomo put out any last flickers of speculation that he might run for president against Hillary Clinton when he shared the stage with the former secretary of state at a rally for his reelection campaign late Thursday morning.
"I hope she does something really, really, really big," said Cuomo at the start of his speech here inside a Manhattan hotel. He took the stage just after Clinton, who was greeted as she stepped up to the podium with loud "2016" chants.
The nod to the Clinton campaign for president many Democrats expect was one of the clearest signals from the New York governor, who has considered running for president himself, that a bid for higher office is unlikely as ever in 2016.
"How much do we miss having Hillary Clinton in New York?" he said.
The remarks came the morning after a gubernatorial debate in Buffalo, where Cuomo promised to serve another full four-year term if reelected next month.
Cuomo, who is poised to win a second term handily next month, has never ruled out a White House bid. But running against a longtime friend like Clinton — he worked as her husband's housing secretary in the '90s — has always been improbable.
The "Women's Equality" event, attended by about 500 supporters at the Grand Hyatt hotel in Midtown, was the first time Clinton has appeared at a campaign event for Cuomo. Bill Clinton has appeared at multiple Cuomo events in the past.