As Polls Tighten, Clinton Camp Huddles State Directors, Reassures Supporters
In recent days, on calls and in talking points, officials on Clinton's campaign have conveyed a simple message to backers on the ground in the early states, especially in Iowa: Trust the plan. This weekend, senior staffers and the campaign's state directors met for a retreat in Connecticut.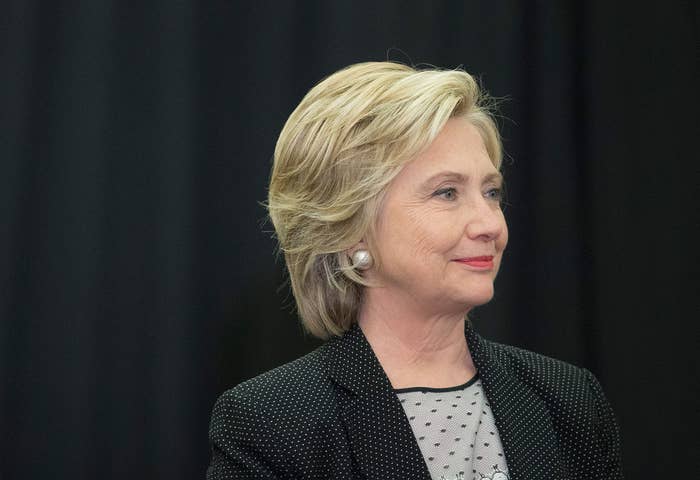 As their candidate polls second for the first time in Iowa and New Hampshire, Hillary Clinton's team is seeking to convey a single message to supporters on the ground: Trust the plan.
Last week, Clinton's campaign manager, Robby Mook, called Iowa backers to offer words of resolve and reassurance, highlighting the organizing infrastructure they've built in the caucus state. On Thursday, her aides circulated fresh talking points on the lagging polls, casting the lull in Iowa as the historical rule, not the exception, for candidates who go on to win.
And over the weekend, members of Clinton's senior staff convened in Connecticut for a team retreat with top operatives from each of the first four caucus and primary states. New Hampshire and Iowa — and to a lesser extent South Carolina and Nevada — command a large share of the campaign's time, money, and manpower.
The retreat, confirmed by two people with knowledge of the gathering, comes as Clinton looks to reverse a series of recent setbacks: Bernie Sanders has diminished her lead in the early states, and the email controversy still hangs over the campaign following Clinton's apology this month for the personal account she used as secretary of state and the "confusion" it caused.
Even as the Democratic primary tightens, Clinton's strategy remains unchanged: to invest in field programs across the four states that kick off the race in some 20 weeks. The retreat, attended by the operatives in charge of each state, reflects a continued commitment to bolstering the organizing-heavy strategy that Mook, Clinton's campaign manager, has made his trademark.
"We are organized and mobilized to win the primary, first and foremost. That is our focus," Mook said, briefing reporters on the campaign earlier this month. "That's what we're here to do."
Across the four states, Mook said, the campaign has opened 27 offices and worked with 23,000 volunteers who have made calls or door-knocked more than 1.35 million households. "We're very proud of that," he said.
Those attending the Connecticut retreat included members of the senior staff, based in Brooklyn, along with Matt Paul, Mike Vlacich, Clay Middleton, and Emmy Ruiz, the state directors in Iowa, New Hampshire, South Carolina, and Nevada, respectively.
In the five months since Clinton joined the race, her campaign has held several retreats for senior staff. At at least one past gathering, aides asked Jeremy Bird, a top organizer for Barack Obama's presidential campaigns, to lead the meeting, according to a person familiar with the setup. (Bird, Mook's close friend and former colleague, remains at his consulting firm, 270 Strategies.)
In the case of Iowa — where Clinton has hired 78 full-time organizers and established as many as 11 regional offices — advisers have made a particular effort to put supporters and surrogates at ease.
On Thursday, as a new Quinnipiac poll put Sanders ahead of Clinton by one point, Mook held a conference call with state backers to tell them "how pleased he is with the organizational efforts," said Jerry Crawford, a prominent Clinton booster in the state. Mook, said Crawford, also told those on the call that he would be committing even more resources to the Iowa team. "Which has been the plan all along," said Crawford.
That day, the campaign also drafted two pages' worth of talking points touting Clinton's field program and endorsements — and noting the historical precedent for their slipping poll numbers. Frontrunners, Clinton aides argue, often falter at this point in the caucuses before bouncing back.
In September of 1999, for instance, Bill Bradley overtook Al Gore in New Hampshire. Clinton aides also cautioned that, at the time, political reporters claimed the shifting horserace polls had sent the vice president's campaign into a state of upheaval. Four years later, the talking points note, John Kerry trailed Joe Lieberman and Howard Dean before moving ahead in December.
Over the weekend, as Team Clinton assembled in Connecticut, Crawford was right on message, detailing the campaign's robust field program and the tough go that Kerry had in the fall of 2003.
The Des Moines lawyer and longtime Clinton supporter said he recently made the trip to every regional Clinton office in Iowa. "What I learned was what I suspected to learn, which is that our organization is the best that has ever been put together on a presidential campaign in Iowa," he said. "There is no Sanders organization. There is no O'Malley organization. And it's too late for there to be a Biden organization."
"It will be a blessing in disguise," Crawford said of the challenge from Sanders.
"The age old mantra in Iowa is organize, organize, organize — then get hot at the end. We're doing the 'organize, organize, organize' part right now."