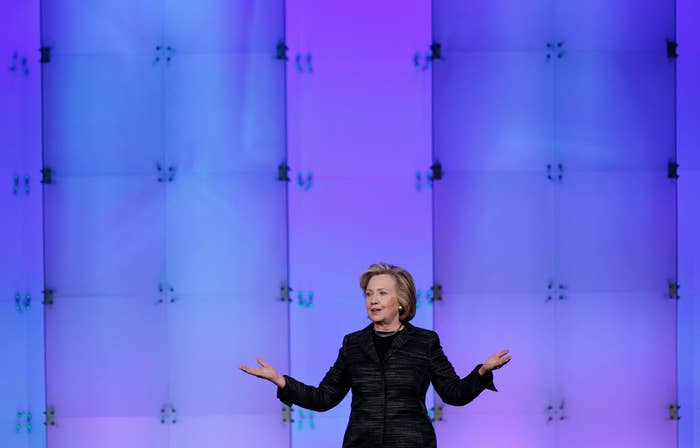 The State Department asked, and Hillary Clinton's reply was swift and seemingly thorough: She handed over a massive cache of emails, totaling 55,000 pages, in response to the administration's request last year that former secretaries of state make their official correspondence available for government record.
Late Wednesday, Clinton said she wanted to release those emails.
"I want the public to see my email," she wrote on Twitter. "I asked State to release them. They said they will review them for release as soon as possible."
But an undisclosed number of pages from the email account that Clinton used exclusively during her four-year tenure as secretary will remain private.
The State Department does not have access to the full archive of messages from Clinton's personal account, which she used in lieu of government email. Instead, officials have been given the 55,000 pages selected by her aides during a review process that open government experts say lacked sufficient oversight.
The messages excluded from the State submission were identified as strictly personal in nature by Clinton's office, where aides have already started work on the presidential campaign she is expected to launch this spring.
Clinton's staff has not provided an estimate of the number of emails sent during her term at the State Department that were not a part of the disclosure.
On Monday, the New York Times revealed the existence of the personal account, registered to a "clintonemail.com" domain. The discovery set off a spate of questions — from Republicans, open government advocates, even some Democrats — about whether the use of personal email was legal, secure, or sound.
But others have directed their criticism at the opaque process by which Clinton's aides sorted work-related emails from personal correspondence — a review that effectively determined public record with no apparent outside oversight.
"It's somewhat ridiculous that we are trusting the decisions of private citizens hired by this person to preserve the country's records," said John Wonderlich, policy director of the Sunlight Foundation, a government transparency nonprofit.
"Would we even know if they destroyed things?" Wonderlich said. "We wouldn't."
After reviewing the tens of thousands of pages, Clinton's staff sent the State Department "anything that pertained to her work," according to an aide.
"So if she emailed with her daughter about flower arrangements for her wedding, that didn't go in," the Clinton staffer said.
It is not clear how Clinton's small retinue of aides handled murkier cases.
A Clinton spokesperson did not respond to questions on Tuesday about which aides conducted the review and for how long the process lasted.
"How do we know that the review and selection of emails to transfer to State was done correctly and in good faith?" said Steven Aftergood, who directs the Project on Government Secrecy at the Federation of American Scientists.
Aftergood said a "trusted third-party" should perform an independent review.
"Maybe everything is fine, which would be great," he said. "But it would be nice not to have to rely on mere assurances."
The request for Clinton's emails came as part of an effort last year to collect correspondence from former secretaries of state "for proper preservation," said Marie Harf, a deputy spokesperson at the State Department. Officials specifically requested all "federal records," including "emails related to their work."
Clinton is the only former secretary to have fulfilled the request so far, Harf said.
At a press briefing on Tuesday, Harf conceded that she did not know if the State Department had been given every single responsive document.
"She has taken steps to preserve those records by providing the State Department with the 55,000 pages," said Harf. "It sounds to me like that has been completed."
"She provided a large amount, those 55,000," she said.
A reporter pressed, asking, "But just say it's everything if you think..."
"Well, how can I," Harf said. "I'm not in her email."
At the briefing the next day, Harf assured reporters again that the selection of emails had been careful and comprehensive: "Her staff has said that is everything."
Clinton's successor, John Kerry, is the first secretary of state to rely primarily on a "state.gov" email, officials said. Clinton's staff also points to Colin Powell, a former secretary who also relied on a personal account. Another, Condoleezza Rice, has said she rarely used email during her tenure at the State Department.
"Nothing nefarious was at play," a Clinton aide said this week.
"She had a Blackberry, she used it prior to State, and like her predecessors she continued to use it when she got to State. This was not bucking the system. This was in keeping with exactly what former secretaries had done."
But while at the State Department, Clinton did not take steps to have her personal email account preserved. Since 2009, the National Archives and Records Administration has required agency employees to ensure that all work-related email be "preserved in the appropriate agency record-keeping system."
The National Archives said on Tuesday that its staff had reached out to the State Department to ensure the records had been "properly identified."
Wonderlich, the official with the Sunlight Foundation, still described Clinton's approach to government email as a "system she made for herself."
"The best we can do now is to have it not happen again," he said.