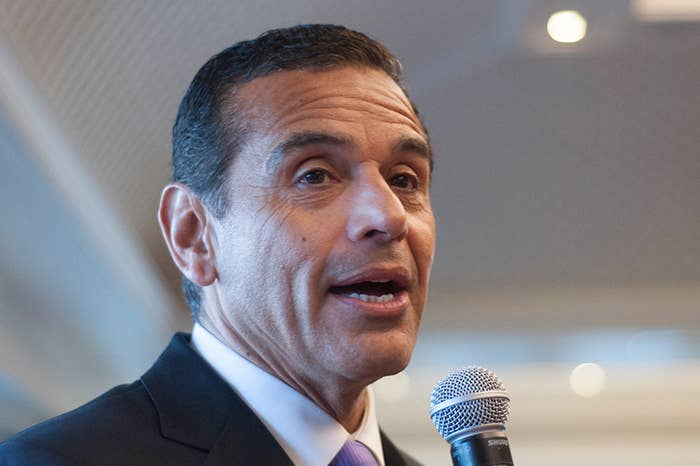 After Barbara Boxer announced she would retire from the U.S. Senate, an unsettling rumor — by all official accounts false — made its way into the political circle of Southern California's most promising candidate: Antonio Villaraigosa.
It went something like this:
Up north, at a secret meeting of the minds, a deal had been brokered between the top two politicians in San Francisco. Kamala Harris would run for Senate, and Gavin Newsom would run for governor. Depending on the telling, the attendees of this conclave included some mix of both candidates, plus Boxer, Dianne Feinstein, Nancy Pelosi, and John Burton, the state party chairman.
People close to Harris, the California attorney general, and Newsom, the lieutenant governor, have dismissed the story as false and mocked it as ridiculous.
But two weeks ago, in the days after Boxer's announcement, the rumor just hit on grievances that Villaraigosa associates had already been feeling: that the race was being decided for him. For Villaraigosa — the former mayor of Los Angeles who'd always envisioned a campaign for governor, not Senate — the Boxer seat was initially something of a personal matter.
To forgo a Senate campaign, according to interviews with Villaraigosa's friends and supporters, would be a capitulation to the "coronation," led in their eyes by the same consultants who ran the mayor's races in the past, but are heading Harris's Senate operation from their firm, SCN Strategies, based in San Francisco.
Two weeks later, the indignation has faded, and his interest has become far more serious, supporters said. He has spent recent days working the phones unremittingly, assessing support from donors, and conferring with strategists from one of Washington's top Democratic consulting firms: SKDKnickerbocker.
Villaraigosa has yet to set up a political committee, and hasn't formally raised money, paid staff, or commissioned polling as of Friday. Only unofficially has he received help from SKDKnickerbocker officials, including managing directors Hilary Rosen and J.B. Poersch, according to three people familiar with the arrangement. (Rosen used to work in California and has been close to Villaraigosa for years. Poersch used to head the Democratic Senatorial Campaign Committee.)
Villaraigosa met with SKDKnickerbocker on Thursday during a trip to Washington, one of the sources said. Later that night, at a dinner for the U.S. Conference of Mayors, the volunteer who played "body man" for the night, trailing Villaraigosa from table to table, was an SKDKnickerbocker senior vice president.
The D.C. firm is helping Villaraigosa think through the realities of the campaign — and the hurdles he faces against Harris, a big national name who commands an advantageous electorate in Northern California, where more people vote.
On Thursday, Villaraigosa's odds got worse.
Tom Steyer, the climate activists and billionaire considering a run, announced he would sit out the race. The move leaves Harris with a broader base to stand on, and Villaraigosa with a narrower path forward in a top-two primary. (Steyer would have drawn votes from Harris, and perhaps even spent money against her.)
On Thursday, Villaraigosa wouldn't talk much about the news.
"I really don't have anything else to say right now," he said in Washington. "I can tell you that I called him within a minute or two of receiving word."
For now, Villaraigosa is said to be moving ahead with his same plans.
"Since he expressed interest publicly, his resolve to jump into the Senate race grows by the day," said Fabian Nuñez, a former state assembly speaker and among the friends with whom Villaraigosa has kept in close contact this month.
"He loves public service," said Nuñez. "He misses it immensely."
Former Gov. Gray Davis said he doesn't anticipate an imminent decision from Villaraigosa. "It's perfectly reasonable to expect this will take 30 or 60 days before he'll be comfortable deciding what he'll do."
"He was on a governor's track," said Davis, who said he spoke recently with both Harris and Villaraigosa. "If you're on one track and then all of a sudden an opportunity for a different track presents itself — you consider it."
Garry South, a California operative who said he has talked at length with the former mayor this month, summed up Villaraigosa's recent line of questioning like this: "What would I think of the Senate? What could I do in the U.S. Senate?"
But as he considers running, the race is moving ahead without him.
Harris has already amassed endorsements from two state leaders and three U.S. Senators in an ongoing attempt to deter challengers.
This week, in an apparent effort to slow those endorsements, some Villaraigosa supporters pushed a spate of stories about early support for Harris: The endorsements, lawmakers argued in the articles, could strip a Latino candidate of a fair shot at the seat.
During his trip to Washington, Villaraigosa also spent part of Wednesday and Thursday on Capitol Hill, speaking with members of the California delegation, according to sources familiar with the meetings. He also sought time with some of the lawmakers who have expressed interest in running for the Boxer seat.
Up until Thursday, when Steyer bowed out of the race, fundraising was the big concern for Villaraigosa. He'd have to raise as much as $20 million, and would almost certainly face heavy opposition from teachers unions.
"Both state affiliates would vigorously oppose him because of his education policies," said Josh Pechthalt, the president of the California Federation of Teachers.
Villaraigosa has a long and knotty history with the unions that first ruptured in 2005, when he pushed for mayoral control of the city's schools.
He has since become a leader on the kinds of education policies that unions fight against. He also counts as friends such donors as Eli Broad and Reed Hastings, who could potentially support a Senate campaign. Last fall, three sources said, Villaraigosa strengthened his relationships in the education community when he helped raise money and court donors for the independent group supporting Marshall Tuck, the failed candidate for California superintendent of public instruction.
Asked about the fundraising challenges, one Democrat advising Villaraigosa said, "He's not gonna run if he doesn't think he can raise the money."
More important, some friends argue, is whether Villaraigosa "has it in him."
"Is it in him to go out there and campaign the way he likes to campaign? He's a dogged retailer," said Nuñez, the friend and former assembly speaker. "I would argue that polling numbers and popularity contests are less important for Antonio."
"He does well as an underdog. Always has."