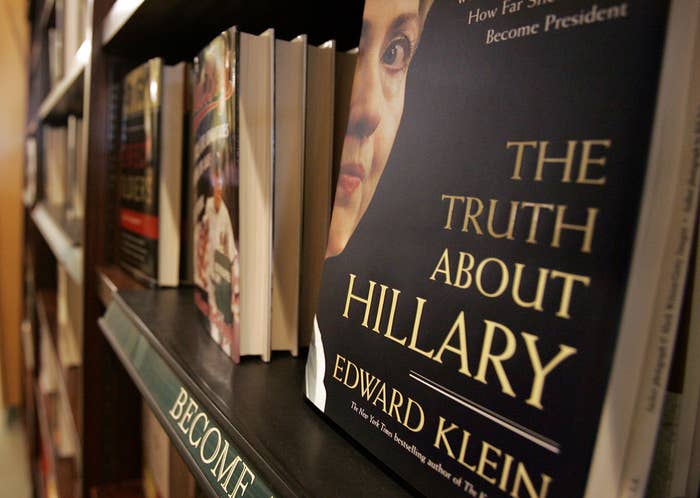 Best-selling conservative writer Ed Klein has split with HarperCollins, a major publishing house and subsidiary of News Corp, over an upcoming book that is said to chronicle the "deep rivalry" between the Obama and Clinton families.
Klein's new book, titled Blood Feud, will now be released by the movement publishing house, Regnery, his agent and new publisher said.
Two publishing sources blamed the contract termination on Klein's reporting, which has been called into question in the past by his subjects and the political press. Klein's agent and publisher would not comment on the reasons for the split. Both said their author left HarperCollins's William Morrow imprint by choice.
But the feud is an early sign of the new challenges facing an unsteady conservative book business — and of the stakes accompanying a reborn anti-Clinton industry.
Klein, who edited the New York Times Magazine during a period in the 1970s, is the author most recently of The Amateur, a deeply critical portrait of President Obama, whom Klein casts as "arrogant" and "completely inexperienced."
The book was published by Regnery.
Klein's reporting has been widely disputed, notably with his 2005 book, The Truth About Hillary: What She Knew, When She Knew It, and How Far She'll Go to Become President. The book indulged in, among other things, unsubstantiated rumors that Clinton is a lesbian. (The New York Times reviewer described it as "a lazy, cut-and-paste recycling of other people's work," while a conservative New York Post columnist called it "trash" motivated by a "greedy hunger to separate millions of conservative book buyers from their hard-earned 25 bucks.")
Klein drew the title for his most recent book from a private conversation he outlines in dramatic detail between Bill and Hillary Clinton. "Barack Obama is an amateur!" the former president allegedly exclaims to his wife. Bill Clinton's spokesman immediately denied the remark, calling Klein a "known liar."
Regnery released The Amateur during Obama's reelection campaign. It spent six weeks at the top of the New York Times best-seller list, and has sold more than 230,000 hardback and paperback copies, according to Nielsen BookScan.
In September 2012, after the Obama book's successful run, Klein inked a deal with the HarperCollins imprint William Morrow for two books. One would expose the "networks of power and influence that control the left-wing political agenda"; the other would cover next Democratic nominee for president. HarperCollins announced the deal in a press release touting the author's "deep sources" and his book's "jaw-dropping revelations."
But on Monday morning, in the trade publication Publisher's Weekly, Regnery quietly announced they would release Klein's next book, Blood Feud, on June 23.
Two publishing sources said Klein's contract with HarperCollins had been terminated over concerns about the reporting quality. One said problems occurred when the manuscript underwent a standard legal vetting process this spring.
A HarperCollins spokesperson would not answer questions about Klein's contract.
The publishing house was still promoting the book late last year, when it released its Winter 2014 catalog. The catalog said the Klein project, then still untitled, would come in at 288 pages, set for hardback and audiobook release on April 22.
Klein, reached by phone on Monday, referred questions to his agent, Ryan D. Harbage, and publisher, Regnery president Marji Ross. Both denied that Klein had left HarperCollins over a dispute about the reporting for the project.
Klein has worked with multiple publishers during his 18-year career in books. But his move from Regnery to William Morrow of HarperCollins, for an advance rumored to be as high as $1 million, was seen as a boon to Klein's next projects.
"It was Ed's decision to leave Harper, not the other way around," said Ross, who also oversaw the publication of The Amateur at Regnery. "Harper/Morrow did not request to 'cancel' it. Ed requested to be released."
Book contracts are not easily cancelled. Most often, agreements between authors and publishing houses can be terminated when a manuscript is long overdue. But canceling for other reasons — including quality of the book, or disagreements between the writer and the publishing house — is more difficult, and less common.
Ross said that Klein requested the termination of his contract within the last 10 days, and signed a new deal, for two books, with Regnery within the last week.
"We are very excited to be publishing Ed's next book," Ross said, calling it "very well sourced and well-documented." She said she has read the manuscript "thoroughly," and promised that Klein's reporting on the Clinton-Obama rift would "definitely make news" when it is released this June.
Ross also confirmed that Blood Feud, and the reporting therein, is the same book Klein had been working on while under contract with HarperCollins.
"I can imagine why some folks in New York might be uncomfortable with some of the revelations in the book, but we are not," Ross said. "We are extremely careful to make sure our books are accurate, but we are not afraid to ruffle a few feathers along the way."
Harbage, a Brooklyn-based agent at the Fischer-Harbage Agency, would not comment on the reasons that drove a split between Klein and HarperCollins.
"It was Ed's decision to move to Regnery," Harbage said.
"Ed has published eight nonfiction books, with a few different publishers. They've all been best-sellers. His only book to debut at No. 1 was published by Regnery."