Anthony Weiner, The Sudden Frontrunner, Shrugs Off New Polling
The former congressman is at No. 1 — and confident as ever. "All I can say is hang on till January. Help is on the way."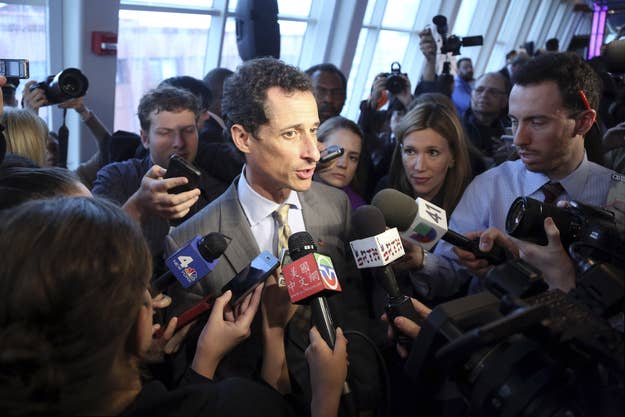 After polling put him ahead of the pack for the first time in the New York City mayoral race, Anthony Weiner played the role of frontrunner Tuesday evening, while insisting that his sudden status as top contender "doesn't change anything."
Weiner leads with 25% of the Democratic vote over City Council Speaker Christine Quinn's 20%, putting his five-point edge just above the margin of error. The survey — conducted by The Wall Street Journal, NBC New York, and Marist University — marks the first time Quinn has fallen to second place.
The former congressman, who launched his improbable comeback campaign for mayor just four weeks ago, did not imbue the polling with much significance when questioned about it by a gaggle of reporters outside St. George's Episcopal Church, where he and four other candidates attended a forum on public housing.
"Look, in many ways, it doesn't change anything," Weiner said, surrounded by a heavier-than-usual crowd of cameras and outstretched mics. "We're gonna keep talking about ideas for the middle class and those struggling to make it, and it certainly does seem that that conversation about ideas, that people are responding to it."
(A statement released by Weiner's spokeswoman, Barbara Morgan, was similarly reticent. "This won't change our focus one bit," the statement began.)
Weiner was also reluctant to comment on the details of the polling, which shows his campaign leading among both male and female voters, as well as with blacks, Latinos, and Asians. "I don't buy the idea that you take the electorate and you chop it up into pieces of a pie," he said of the demographic results.
Later, as Weiner left St. George's, a reporter who had missed the gaggle asked again how it felt to be frontrunner. "I already answered that question," he responded. When she insisted, Weiner said, "It's OK, you didn't miss much."
Weiner may have done little to acknowledge the notable shift in the race, but he did appear confident and newly energized at Tuesday's forum, as if invigorated by his new spot at No. 1.
The event, hosted by the tenants rights group, "Our City Our Homes Coalition," took place in the 90-degree heat of the Rutherford Place church, where attendees packed into every pew. The mayoral hopefuls on stage — city public advocate Bill de Blasio; Comptroller John Liu; former board of education head Bill Thompson; former Bronx borough president Adolfo Carrión Jr.; and Weiner — agreed on much of the policy discussed at the event: They extoled the importance of affordable housing and denounced the current administration's "Infill" plan to lease underutilized public land to private developers.
But it was Weiner's animated closing remarks — delivered in the voice of a man who thinks he can win — that made his fellow candidates seem a wearier set.
"Ladies and gentlemen, if you like the way things are going, don't vote for me," Weiner began. "I'm gonna say that again: If you like the way things are going, don't vote for me."
Liu, next to speak, ended the night on a stiffer, more dour note. "Thank you very much. It's been a long night so far, and it's not getting cooler, but nonetheless these are issues that are important for us to talk about. And these are the issues that whoever gets to be mayor has to address head-on," Liu said, seemingly not so confident that the "whoever" could be him come November.
Weiner, of course, is sure of it.
After the forum, on the steps of St. George's, a woman from Brooklyn, almost hysterical in tears, approached Weiner about her fight with a landlord.
"Mr. Weiner, I signed a petition so you can get on the ballot," she said, before launching into her own story, talking fast and breathing heavy. "I'm going into foreclosure; I'm fighting with my landlord; the bank is just playing games over and over. You better get in there, because it's not only the big landlords, it's the small landlords."
Weiner, as if to calm her, responded, "Madam, all I can say is hang on till January. Help is on the way."