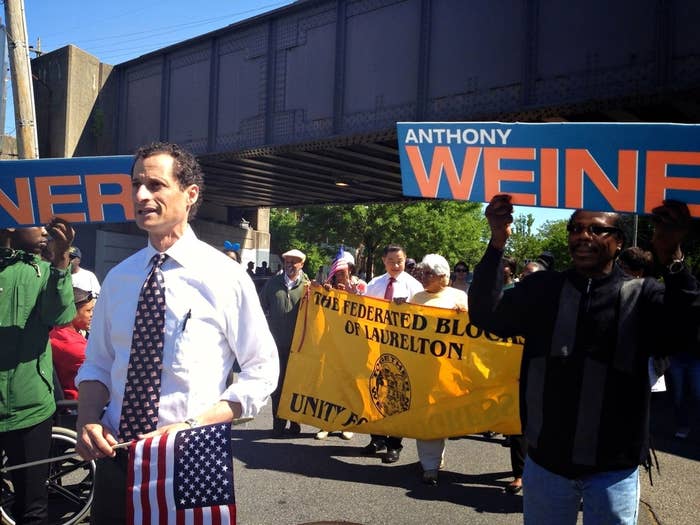 In southeast Queens, at the corner of Merrick and Francis Lewis boulevards, the Laurelton Memorial Day parade is assembling outside a Duane Reade, though you'd barely know it. Just before 9 a.m., when the annual march is set to begin, the parking lot is quiet, and the crowd of Boy Scouts and drummers, residents and veterans, is scattered, waiting for the real parade hubbub to get going.
"Did you think it started at 10?" says one woman, on the phone with a tardy friend.
There's a tacit agreement among early arrivals that not much can start in earnest until the main attraction makes his appearance. Although John Liu and Bill Thompson, two New York City mayoral candidates, are scheduled to march in the Laurelton parade — as are a handful of other officials, including disgraced state Sen. Malcolm Smith, arrested last month on corruption charges — that's not why television satellite trucks stand vigil down the block.
Anthony Weiner is coming.
"That's his people in the silver car," says a Thompson aide, pointing to a dark Nissan Pathfinder, parked in the center of the lot.
The 48-year-old former congressman — who resigned two years ago after sending, and then lying about sending, illicit tweets to strangers — announced late Tuesday that he would run for mayor. Nearly a week has since passed, but Weiner's improbable political comeback is all anybody can talk about in Laurelton on Memorial Day — and the majority opinion is a good one. Unlike his first campaign stop last week, dominated by a large and hungry press corps, Weiner will spend most of the morning with voters who seem to like him — and among a welcome crowd, he is decidedly upbeat and in his element, troubles aside.
"He's human!" says Larry Love, an attendee from Springfield Gardens, almost unprompted when approached. He's at the parade to march for Joan Flowers — a lawyer and former Smith aide running for city council, whose contingent of 35 supporters are dressed in matching white T-shirts and armed with a large tarp sign: "JOAN FLOWERS, The right woman…the right time" — but Love, 52, wants to talk Weiner.
"Somebody just took off their shirt, took a picture, and sent it to another woman? Come on," he says. "Anthony Weiner was an icon even in the black community, and that's why he's gonna take it." And Christine Quinn? "She's make-believe. She's phony. Everything she does, she's trying to please someone else. But Anthony Weiner is everybody."
When Weiner finally arrives, the parking lot comes alive. A flock of reporters circles round, and seemingly on cue, band members start practicing their drumrolls, as the crowd outside Duane Reade thickens.
A TV reporter asks why the candidate skipped the Forest Hills parade Sunday in his old district, New York's 9th — a move that nettled some of his old constituents, according to a report in the Post. "We're still getting our sea legs under us as an organization," Weiner responds. "I love the people of Forest Hills. I owe them everything, and so I'll be sure to get there plenty of times."
Larry Love steps in to greet his guy. "The people in Queens want Anthony Weiner in office," he announces, half to Weiner, half to the cameras still standing by.
"Well, good. Here, tell them. Tell this young lady," Weiner says, pointing to the television reporter.
"He was doing a great job before, and he hasn't done anything that either one of us hasn't done. You know, we're human," Love goes on. "We're human, and then we are elected officials."
Weiner doesn't flinch. He is in high spirits — never mind Love's comments and others that come throughout the day; never mind the press scrutiny, which he appears to relish, or the reporters camped unfailingly outside his Park Avenue apartment; never mind that none of his former colleagues or friends in politics, including Bill and Hillary Clinton, haven't so much as offered a word of support for his campaign; never mind that you'd be hard-pressed to get a single member of New York's smart set to say he can win.
Asked if he's been following the nonstop coverage of his campaign, Weiner says yes, but admits he's a "little bit behind" in his reading. "You guys are having these weird meta conversations without me. My favorite was the papers complaining I didn't do events on my first day because I was doing calls, and then complaining how I created a media tumult the second day. I'm like, 'OK, here you go.' But I don't have any complaints. You guys are just doing your job, and I understand that."
Weiner doesn't have any complaints about his former colleagues, either. While the Clintons have vowed to stay silent on the race altogether — they have connections to several candidates, including Democrat Bill de Blasio, who managed Hillary's 2000 Senate race — other lawmakers have been more forthright. Sen. Chuck Schumer refused twice on Face the Nation Sunday to say a word about his onetime protégé, giving host Bob Schieffer a stern, "I'm not commenting, Bob." And in an editorial board meeting with a local newspaper last week, New York governor Andrew Cuomo said if Weiner is elected, then "shame on us."
But the former congressman says he gets it.
"I understand that I need to prove myself to my colleagues in government just the same way I need to prove myself to the citizens of the city," Weiner says. "I haven't asked a single one of them for support. What I would say to them is the thing I'm saying to the citizens of the city — give me an opportunity, hear what I have to say — but I certainly don't by any means think that they are in a position where they should feel obligated to support me."
The voters in the parking lot, meanwhile, are receptive. One veteran tells him, "You have my vote." Weiner, he adds later, has the "charisma and the knowledge to do the job, and the people behind him," says the vet, who did a 14-month tour in Iraq and asked not to be identified by name. "Whatever happened in your life, people twist it around. They try to put more gravy in the rice."
Another parade attendee, 67-year-old Leslie Faulkner of Cambria Heights, says he admires Weiner's "fire" and nerve.
"If he has the courage to run," Faulkner says, "then I think he has the fortitude to do an excellent job for the city of New York."
Once Weiner has taken enough pictures and shaken enough hands, he shouts to no one in particular, "All right, let's form up!" and takes his place near the back of the parade, now in position on Merrick Blvd.
Next to the white-tee'd Joan Flowers delegation several yards ahead, Weiner's marching bloc looks humorously small. He walks in front of two volunteers — each one holding a narrow blue-and-orange "ANTHONY WEINER!" sign overhead — while his two aides follow alongside. The size of the contingent reflects his still nascent campaign effort, which has more than $4 million in the bank, but remains a small operation. When one voter asks him for a pamphlet, Weiner responds, "Pamphlets? You're lucky we got here. Give us a chance to get up to running speed."
In lieu of supporters or staff, Weiner has a bevy of reporters and cameramen to march with. "Wave! Do something!" says one of the six photographers pacing backward ahead of the candidate, tired of the same shot. "Wave? Do something?" Weiner says. "Why don't you just do an oil painting and take all the fun out of it?" He later ribs a Post reporter, "I have no idea how a struggling newspaper has nine reporters covering us."
But when the parade turns from Merrick to the more residential 225th Street, Weiner has his real fun, striding from one side of the road to the other to shake the hand of just about every onlooker he passes. Once he's finished with his voters, he sprints ahead, his aides scrambling behind him, to catch up with the still-moving procession and regain his spot in line.
When he doesn't run, he shouts.
"I'm Anthony Weiner!" he yells to an elderly woman on her stoop. "I know!" she hollers back. "Everybody knows your face!"
The calls continue, all the way to North Conduit Avenue, where the event comes to a close at Veterans Memorial Triangle.
"Happy Memorial Day!"
"How ya doin', guys?"
"Hello, folks!"
"How are you, dear?"
"Hi folks, I'm Anthony Weiner. I'm running for mayor!"
And the response from more than one Laurelton resident is, simply, "Welcome back."