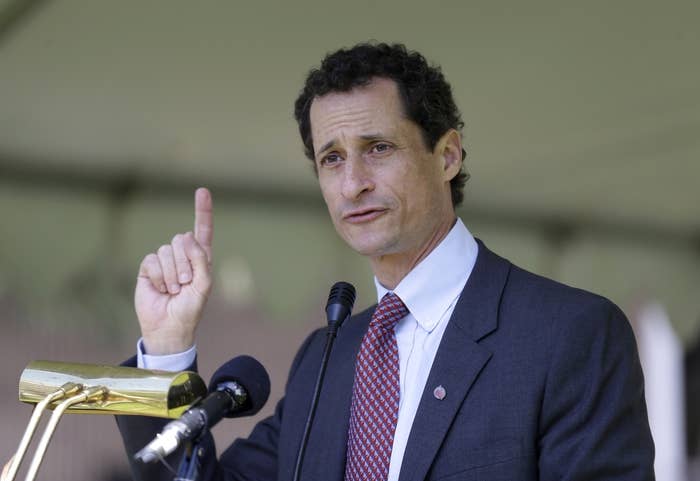 In a hot, cramped basement on Williamsburg's South 3rd Street, where New York City mayoral candidates courted the endorsement of a local progressive organization, voters grilled Anthony Weiner on the Twitter scandal that ousted him from Congress two years ago.
But the comeback candidate, one of several mayoral hopefuls at the New Kings Democrats meeting Wednesday night, was confident as ever.
"If you want to disqualify me for that, then that's your choice. I can't try to convince every single person," he said, when New Kings member Jesse Strauss asked about the illicit tweets that Weiner sent — and then lied about sending — when he was a member of Congress.
"I'm gonna win this election, OK?" said Weiner. "And I'm gonna govern this city really well. And I'm gonna do it based on a foundation of Democratic ideals, and I'm gonna do it on a foundation of progressive values, and I'm gonna do it smart."
Strauss identified himself as a supporter of Bill de Blasio, the New York City public advocate who has cast his campaign as the most progressive in this year's race to succeed Mayor Michael Bloomberg.
"I want, when I get elected, people at least — whether they voted for me or not — to know the ideas that I care about it," Weiner told Strauss.
"But if you don't think I should even be standing here today, I certainly will respect that, I mean, you're supporting another candidate who's not gonna win," he added, sending the room into a fit of laughter and applause.
Weiner spoke to a group of about 40 people, including New Kings members, campaign staffers, and reporters, packed into the Williamsburg basement room. The event was the second endorsement meeting hosted by New Kings, a progressive organization focused on Brooklyn Democratic politics.
Chris Owens, a Brooklyn political activist and former candidate for Congress, also asked Weiner about his illicit tweets — and with rhetoric more unforgiving than Weiner had yet encountered on the campaign trail.
"I have a three-word question: How dare you?" said Owens. "I'm a parent. I've got two sons. I represent the Democratic party. I am outraged and disgusted by you."
"I want to understand how you explain to us how you used a public facility to tweet offensive material to individuals who may have included minors, you did not know," Owens went on. "You then lied about it, and tried to defend yourself, and then you come back — not even four or eight years later; you come back after two years — and you expect us to embrace you because you have good ideas?"
Weiner, in response, accused Owens of "grandstanding" over old politics; in a 2006 congressional race, Owens lost in a primary to then-city council member Yvette Clarke, whom Weiner endorsed at the time.
"Well listen, Chris, you have a right to grandstand, and I have a right to answer the question," said Weiner, raising his voice.
"If my mistakes, and the way I compounded them by being dishonest about them, disqualifies me, then so be it," he added. "But I am still gonna be out there leaning forward and talking about these ideas."
When Weiner was through, Owens nodded his head, though later he wrote on Twitter, "Let's be clear about one thing. I was NOT satisfied with Weiner's response."
Since announcing his campaign for mayor late last month, Weiner has fielded a slew of questions from reporters about his tweets. But the town-hall-style meeting in Brooklyn was the first time voters, rather than members of the press corps, have confronted Weiner about his behavior at a campaign event.
Asked later by reporters about the exchange, Weiner said, "That's the first one I've had during the entire campaign — from a human being, from a citizen. I mean, you guys have asked."
Update: This article has been updated to include a comment Owens wrote about the event on Twitter late Thursday night.