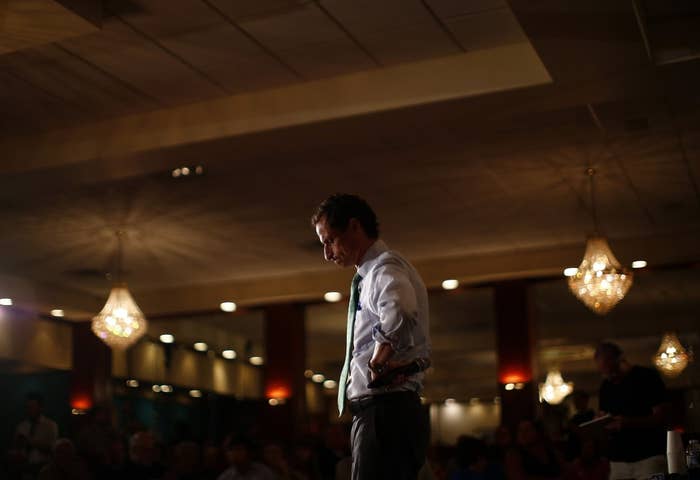 Anthony Weiner hurriedly exited a campaign stop in his home stomping grounds Wednesday, fleeing from reporters during his first appearance since his spokeswoman apologized for an expletive-laced rant against a former intern.
Barbara Morgan, who did not attend the event Wednesday in Weiner's former congressional district, cursed and threatened to sue Olivia Nuzzi, the one-time intern, in an interview with Talking Points Memo. Morgan issued an apology about an hour after the article appeared online.
It's not often that Weiner shies from the press: Since announcing his campaign for mayor of New York City in May, the former congressman has rarely turned away a television camera, or walked past a reporter in silence. But on Wednesday, in the parking lot of the Knights of Columbus Rockaway Council in Queens, where he courted the vote from his old constituents, Weiner fell silent.
After taking three questions from audience members at the Friends of Rockaway Beach meeting, Weiner gave the crowd a "God Bless You!" and beelined for a side door at a brisk pace. A group of about 15 reporters funneled through the exit to chase him, provoking an audible reaction from attendees, who were more focused on the small-scale media frenzy than the next speaker who had by then already taken to the floor.
Once outside, Weiner darted for his tinted SUV without a word.
"Congressman Weiner, can we just ask you a couple quick questions?" one reporter called.
"Where is Barbara!" another shouted as Weiner's car pulled out of the lot.
"Come on!"
"What was that?"
Morgan's comments to TPM, and the uproar that followed the publication of the article, account for the latest upset in the embattled Weiner campaign. Last week, new revelations about Weiner's illicit online behavior — specifically, that he continued to have extramarital relationships with women on the web for more than a year after his resignation from Congress — prompted a sharp drop in polling.
But despite the new scandal, Weiner was well received by voters at the event. The beach community of Rockaway, which was hit badly by Hurricane Sandy last year, was one Weiner "never walked away from," Patrick Clark, a resident and community leader, told him during the meeting. "We're going to see all the different candidates out here, but once one of them is elected, I don't think we're going to see them out here at all — unless it's you."
"I'd like to have a mayor with a controversy rather than having a mayor who we're never gonna see again," said Clark, who has lived in Rockaway for 28 years.
But other attendees felt Weiner, and the bevy of reporters following his campaign, distracted too much from the problems of Rockaway.
After Weiner's SUV pulled out onto Beach 90th Street, reporters stood in the parking lot — some still flummoxed, others already heading home. Inside, three other mayoral candidates — Joe Lhota, John Catsimatidis, and Sal Albanese — were still waiting their turn to speak.
"Can I ask you a question?" said Charlie Ciliberti, a voter who had also come outside to see Weiner's exit. "I want to ask the media a question. This means a lot to us in this neighborhood. We've been through a lot of shit, and everyone runs out like it's over. Everyone wants to see the big show with Anthony Weiner. It's pretty messed up."
"They're all getting in their cars and leaving," he said. "Just watch them all go to their cars."