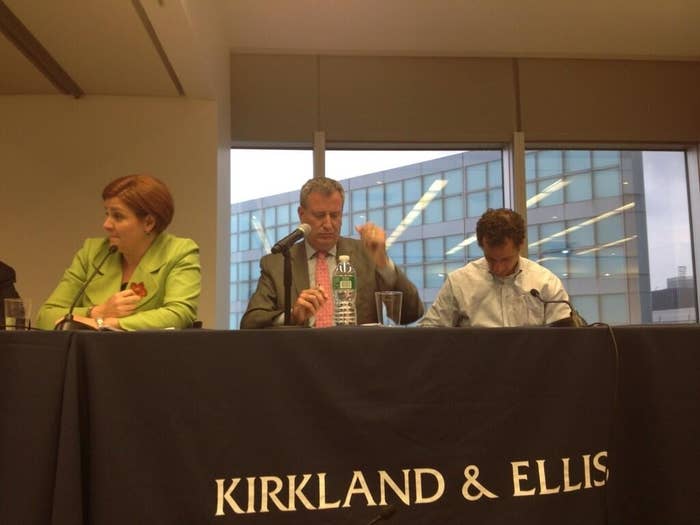 When it wasn't his turn to speak at the New York City mayoral debate Monday night, former congressman Anthony Weiner could be seen glancing around the room, fiddling with his pen, flipping through his notes, checking his BlackBerry under the table, or looking straight ahead — and not at his fellow candidates — as they fielded questions on topics ranging from public-private partnerships to City Hall staff diversity.
Weiner, suffice it to say, didn't seem thrilled to be at the forum.
He appeared alongside five other candidates: former Bronx borough president, Adolfo Carrión, Jr; city comptroller, John Liu; former board of education head, Bill Thompson; city council speaker, Christine Quinn; and city public advocate, Bill de Blasio.
"I did not look bored. How do you think you looked? You were really bored," said Weiner afterward, when asked by a group of reporters about his demeanor during the event. "You were bored, too!"
The forum — Weiner's third since announcing his campaign two weeks ago — will be one of dozens he attends this year as he attempts to make an improbable political comeback as the next mayor of New York City, following his resignation from Congress two years ago amidst an illicit Twitter scandal.
If anything, Weiner appeared to be somewhat removed from the other mayoral hopefuls on stage — not once, for example, did he position his own responses in relation to the other candidates' views — instead engaging in the event only when it was his turn to field a question from moderator Sally Kohn, a Fox News pundit.
When Kohn asked the candidates to address their views on economic equity in the city, Weiner was the last to speak, and notably directed his response to the audience in the room — a group of professionals on the 50th floor of Manhattan's Citigroup Center, a midtown skyscraper home to top hedge funds, consulting shops, and law firms — rather than his colleagues on stage.
"Can I just posit the idea that the average New Yorker is poor today," said Weiner. "So why should you care? You're successful people. You're professionals. You're doin' okay. Your firms, your companies, cannot sustain themselves just dealing with other rich people. You're gonna run out of them sooner or later — there's only so many oligarchs who are gonna by our apartments, there are only so many millionaires who are gonna sue each other."
At one point, Kohn told the candidates that Los Angeles beats New York in city hall staff diversity — 48 percent of top Los Angeles mayoral advisors are people of color, and in New York that figure is below 30 percent; she then asked the candidates whether they would "pledge" to top the rival city as mayor.
On down the line — Carrión, Liu, Thompson, Quinn, and de Blasio — every candidate but Weiner raised a hand. The former congressman, seated at the far end of the table, rolled his eyes at the question and waited for the forum to move on.
Correction: Weiner said, "Can I just posit the idea," when introducing his response to a question about economic equity. An earlier version of this article misquoted that phrase.