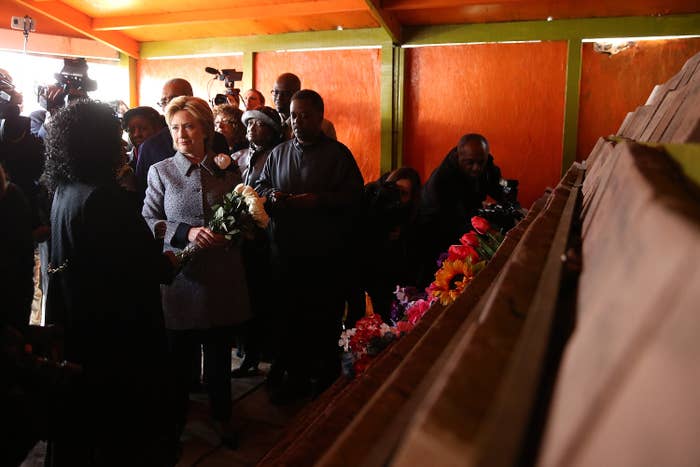 CHICAGO — Across the street from boarded windows and darkened storefronts, standing inside a small lean-to on an empty lot in Chicago's Roseland neighborhood, Hillary Clinton surveyed a display of headstone-shaped bricks.

"It should not be here," Clinton said, holding a bouquet of white roses, purchased for the site by a campaign aide. Each stone showed the name and age of a Chicago child or teenager slain by gun violence. There were 501, and 531 more to make room for. The youngest victim was just 1 year old. "There is no place for what look like small headstones for so many children. We have to do many things, but the first and most important of any nation is to protect and keep safe our children."

The day before polls open here and across four other states, Clinton visited this gang-violence-torn area on Monday afternoon alongside Rev. Jesse Jackson Sr. and Diane Latiker, the community activist and Roseland resident who started the children's memorial in 2007 with 30 bricks purchased from Home Depot.

The campaign stop comes as the city's mayor, Rahm Emanuel, faces record-low approval ratings and a federal investigation into the city's alleged cover-up of a video showing the shooting of 17-year-old Laquan McDonald.

Emanuel, one of Clinton's endorsers and a former adviser in her husband's White House, did not appear with the candidate her campaign stops ahead of the Illinois primary. Aides acknowledge that Emanuel is seen among voters as a polarizing presence in the Chicago metropolitan area, where Clinton could lose a key portion of the vote here. Bernie Sanders is a sharp if recent critic of Emanuel's.
On Monday, the mayor's name was not mentioned. But Jackson referred to the "crisis in Chicago," pointing Clinton to vacant buildings across the street: "Fifty schools have been closed, 50 drug stores, 75 grocery stores," Jackson said.

Clinton stood with Jackson and Latiker near the front of the open structure, addressing reporters alongside six mothers who've lost children to gun violence. Latiker built the memorial after her daughter's friend and classmate, a 16-year-old honor student named Blair Holt, was shot and killed coming home from school on the bus. His mother, Annette Holt, attended the event and spoke with Clinton.

"I wanted to shock my community into seeing how many young people we were losing," Latiker said. "If you take nothing else away from here, this is not America... and nobody wants to talk about it because it's sticky. But blood is sticky."

Clinton has proposed a set of strict new gun laws as part of her campaign, and on Monday she promised to deepen her efforts further if elected president. "Every mother you see here worked so hard to protect her child. And yet we allow this epidemic of gun violence to stalk our streets, our playgrounds, our buses, our schools, our churches," Clinton said. "It is profoundly wrong to see how many children's' lives are ended by senseless, brutal gun violence."
"I have spoken out, I've stood against the gun lobby in every way, but as president, I will increase and intensify my efforts," she said. "I pledge to you in front of this heartbreaking memorial that, as a mother and a grandmother and as a president, if I'm so fortunate enough to be president, I will work every day to save and protect the lives of our children."

Jackson, who has chosen not to endorse a candidate in the Democratic primary, helped facilitate the Monday visit. Clinton told the small crowd here that she wanted to see the memorial to pay tribute to the mothers she's met on this campaign. "I am in awe of their strength and resolve," she said. "As one said to me, they want to turn their sorrow into a strategy and their mourning into a movement — and to do everything they can together to prevent any mother or father, or anyone else, from seeing a name up on those stones."
The group ended with a prayer. Jackson led.
"Stretch our hearts, make us better," he said slowly, as Clinton and the mothers repeated the words back to him. "To be sensitive without indifference to the pain of those who lost their children... Give them the strength to hold on to what they've had, and thank God for what's left... We know if we have the faith, we have the power to see us through... to get back up again, and again, and again."