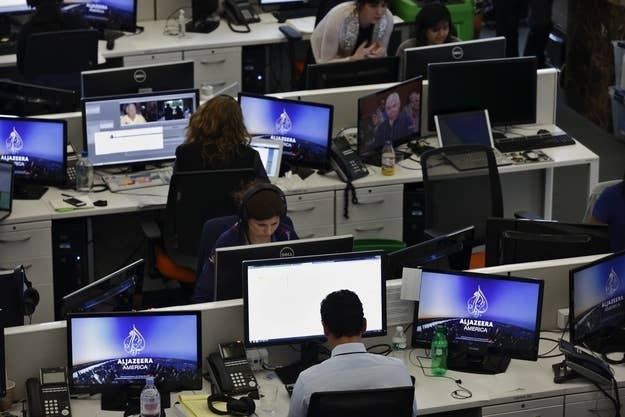 When climatologist Heidi Cullen got a call from Al Jazeera America more than a month ago about a debut segment on climate change already in the works, she figured the fledgling cable news network was out to make a point.
"I got the sense that, as a brand new network, they wanted to distinguish themselves," said Cullen, who appeared alongside two other climate scientists on the first episode of Inside Story, Al Jazeera America's 5 p.m. newscast. The 30-minute program, which focused entirely on climate change Tuesday, equaled nearly half of the coverage devoted to climate change in all of last year on the three network nightly news broadcasts, according to a review by the liberal site Media Matters.
"When they reached out, it was early August," Cullen said. "So this was on the books for a long time. The fact that they decided to do it on the first day was just drawing a line in the sand."
But the new network, which launched Tuesday with a staff of 900 and 12 bureaus across the United States, is privately funded by the royal family of oil-rich Qatar, posing a potential sticking point for climate activists lauding the network's coverage, and for the man who made the cable launch possible: one of the country's leading voices on global warming, Al Gore, who sold Current TV, and its airwaves, to the Al Jazeera Media Network eight months ago.
Although Qatar has set a plan to shift to renewable sources of energy in the next decade — it aims to generate 20% of its energy from renewables, particularly solar power, by the year 2024 — the country is still emits the world's most carbon dioxide per capita, and petroleum accounts for 70% of government revenues, according to OPEC.
Climate activists, though, don't see a problem: Reporting on, or even talking about, climate change over Al Jazeera airwaves, they say, is an improvement from what viewers see on the networks or the three leading cable news channels — no matter the source of funding.
"I think it's wonderful," said Michael Mann, a climatologist at Pennsylvania State University who was also a guest on the Inside Story climate panel. "What it says is that it shouldn't be a matter of your politics or your monetary bottom line as to whether or not you believe in the science of climate change."
"It shouldn't matter whether or not you stand to profit from the continued sale of fossil fuels," Mann said, when asked about issue of Qatari funding. "This is a network built on oil money from an oil-driven economy, but they don't see the need to deny the reality of climate change."
Mann noted that Alwaleed bin Talal, the owner of Kingdom Holding Company and a Saudi prince, is the second-largest shareholder of News Corp., the parent company of Fox News, which regularly features guests and analysts who question whether climate change is a man-made phenomenon.
"Sadly, they have taken a very different tack," he said. "Other networks could take a lesson from [Al Jazeera America]."
Brad Johnson, campaign manager for Forecast the Facts, a climate accountability organization, acknowledged that Al Jazeera's funding is "certainly an issue," but argued that the United States "is also kind of a petro-state."
"Qatar is an oil-rich state that's trying to transition to a modern post-oil economy," said Johnson, "and in theory we describe ourselves in those terms as well."
When asked about the network's funding in an interview on MSNBC's Morning Joe, Gore said, "I understand the criticism, of course, but Al Jazeera has long since established itself as a really high-quality news gathering network," he said. "And by the way, their climate coverage is far more extensive and high-quality compared to any other network in the U.S."
Climate activists, delighted on the whole by the Inside Story segment, said if anything they hope the new network could push existing outlets to allot more airtime to the issue, and provide "a critique of what the dominate news stations are doing."
Bill McKibben, author and environmentalist, said he was struck by Al Jazeera America's "straightforward, serious tone" in an email. "They seem to have the odd conception that news is about important things, and that journalism might want to try to figure those things out."
"I can only hope that the kind of coverage that Al Jazeera got for its climate change coverage really ups the game for other networks," Cullen said.
Although other television news channels have dabbled recently in more serious climate change coverage — MSNBC primetime host Chris Hayes aired an hour-long documentary on the subject last month — most networks will pair a climate change expert with "a climate change denier in the name of balance," said Mann.
That Al Jazeera did not indulge an opposing, more political voice, said Cullen, shows they "are really serious about their coverage."
"There are so many different angles you can take with this story, but I really appreciated that they started with three scientists," she said.