Akin Goes To War With The Press
He wants a pair of McCaskill stories covered. The Post-Dispatch assures: "If there's a story there, you can be sure we'll run with it."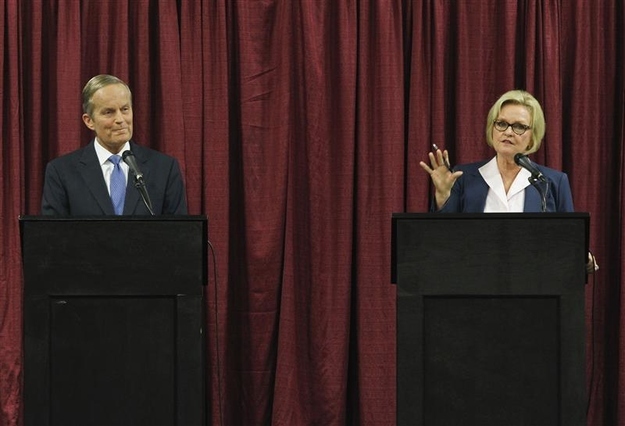 Rep. Todd Akin's Senate campaign posted an email exchange Tuesday night between Akin advisor Rick Tyler and St. Louis Post-Dispatch reporter Kevin McDermott. In the correspondence — published without context on Akin's website — Tyler alleges that the Missouri newspaper spiked a negative story about Sen. Claire McCaskill in favor of a report on Akin's early-career arrests.
"Claire McCaskill has a current sexual harassment suit filed against her flagship company Sugar Creek realty," Tyler wrote. "So the the Post-Dispatch is going to cover something that happened quarter century ago over something that is relevant now."
The exchange is the second time in a week that conservatives, seething over the media obsession with his "legitimate rape" comments, have charged that major news outlets have been soft on McCaskill coverage. Democrats reply that there isn't much to the stories. The sexual harassment case is not directly tied to the Missouri Senator.
In a separate report Monday, The Daily Caller wrote that The New York Times had considered, but not run, claims by a former employee of McCaskill's husband that the husband had done politically sensitive business in the Senate dining room. McCaskill, who said the first she learned of the story was from the Times in June, denied the charge and pointed to the criminal record of the would-be whistleblower.
"That would mean the New York Times had some information about McCaskill's husband's allegedly nefarious business dealings...and for some reason decided not to run it," wrote The Daily Caller.
Asked about both charges — the Akin campaign's and The Daily Caller's — the Post-Dispatch and the Times told BuzzFeed they would not comment on their reporting processes.
"I'm not going to talk about any specific tip or story. But what I can say in general is we get tips all the time and we investigate them, and if there's a story there, you can be sure we'll run with it," the political editor for the St. Louis Post-Dispatch, Christopher Ave, told BuzzFeed.
A Times spokeswoman, Danielle Rhoades Ha, said only: "We don't comment on lines of reporting that we might or might not have pursued."
Correction: A Daily Caller reporter who an earlier version of this article suggested was an "Akin supporter" said, in an email, that he is not; other conservatives who oppose McCaskill also stop short of backing Akin.