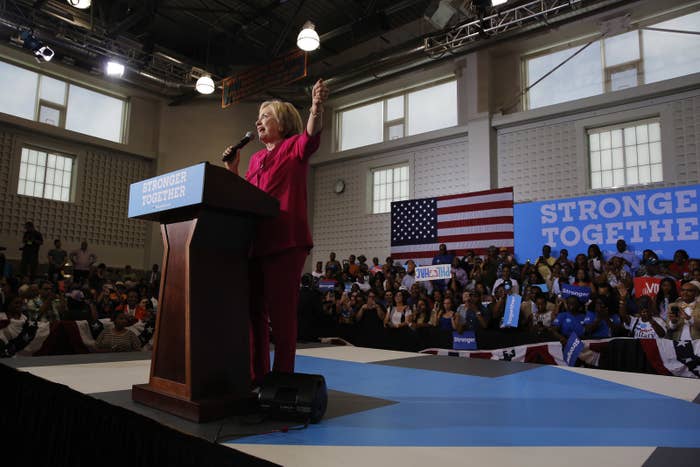 PHILADELPHIA — Hillary Clinton's campaign signaled Tuesday that it may ask Congress to release the notes from the interview she gave FBI agents in cooperation with the agency's email probe this summer.
An aide told reporters here before a rally that Clinton hoped the notes would be made public — a move that would allow voters a full view and avoid the prospect of targeted "piecemeal" leaks from "people with motive," the aide said.
Asked by a reporter on Tuesday for a reaction to the release, Clinton said, "I have nothing to say." She did not respond to a question about whether she wanted the public to have access to the notes, the notes, which are classified top secret and could require redactions, according to a report by NBC News.
The FBI has shared a summary of the July interview with members of Congress following requests to do so from House Republicans. On Tuesday afternoon, Jason Herring, an FBI official, sent those members a letter detailing the materials and why the FBI did not recommend prosecution.
The notes are a summary, not a transcript, of the three-and-half hour interview, conducted at FBI headquarters. The investigation, focusing on the private server Clinton used as secretary of state, concluded last month with no charges recommended.
Still, the FBI interview summary could provide Republicans, including Donald Trump, with a fresh angle into a controversy that resonates with voters' belief that Clinton can't be trusted.
The Democratic nominee has sought to address questions about her trustworthiness, acknowledging the concern in some of her speeches, while insisting that FBI Director James Comey had cleared her of wrongdoing.
Comey, in remarks last month that were at times very critical of Clinton's handling of her email, detailed the results of the investigation and the bureau's recommendations.
Questions about the email server have continued to dog Clinton for more than a year. Last week, Bill Clinton offered a new defense of the situation, suggesting that the endorsements from prominent national security figures should reassure voters. "If it was something to worry about," he asked, "would President [George H.W. Bush's] national security adviser, Admiral [Brent] Scowcroft, have endorsed Hillary?"