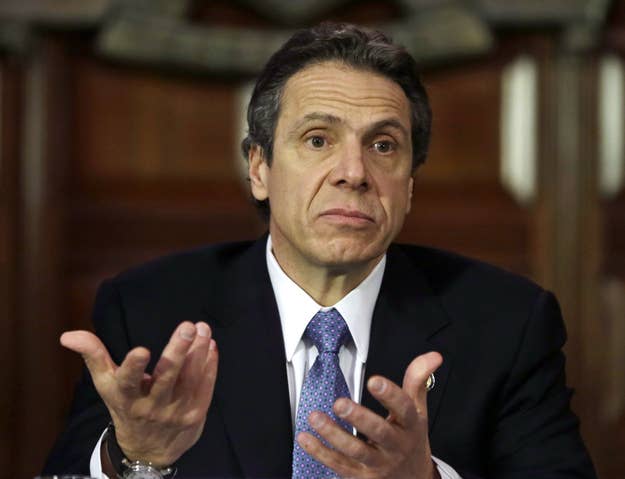 Andrew Cuomo, the governor of New York and a possible Democratic candidate for president in 2016, is writing a book that will offer a "full and frank look at his public and private life," his publisher, HarperCollins, announced Tuesday morning.
Cuomo, thought to be an all but certain presidential candidate if former Secretary of State Hillary Clinton decides not to run herself, has recently brushed off speculation about his White House ambitions. He told an Albany public radio program that he was focused on his work in the State House and nothing else: "Hillary is going to do whatever Hillary Clinton is going to do, and I'm doing what I'm doing," he said.
But the new book deal is certainly a signal that the New York governor is looking to raise his national profile.
The memoir is set for release next year, when a new book by Clinton is also scheduled for publication. Bob Barnett, the D.C. superlawyer who represents the biggest names in politics — including Clinton — was named by the publisher as Cuomo's agent.
HarperCollins said the book will focus on Cuomo's childhood in Queens; on his relationship with his father, Mario Cuomo, who also served as governor of New York; and on his record of "fighting for justice and championing government reform" during his years as New York's Attorney General and as Secretary of Housing and Urban Development under President Bill Clinton. Cuomo also plans to highlight the victories of his first term as governor, including his work in passing legislation for same-sex marriage and, more recently, a new gun control bill.
What may be of more interest to readers is Cuomo's relationship with live-in girlfriend Sandra Lee, a Food Network host, and his public split from Kerry Kennedy, who was not mentioned in the HarperCollins release.
"He will reveal the story of his history and will share personal and private moments that shaped his life: his father's legacy, his personal trials and tribulations, and his role as a father to his three girls, twins Mariah and Cara and his youngest Michaela," the Harper Collins release reads.
The publishing house, owned by Rupert Murdoch's News Corp, also has a standing contract for a Cuomo biography by Fred Dicker, a reporter for The New York Post, another News Corp property. A New York Times article said Tuesday that HarperCollins "is backing away from plans" to publish the biography by Dicker, whose relationship with Cuomo has reportedly worsened since the governor agreed to cooperate with the biographer in 2012.
But Tina Andreadis, a spokeswoman for HarperCollins, told BuzzFeed that Cuomo's memoir would not affect the Post reporter's standing project. "The book is still under contract," she said of Dicker's biography. "No publication date yet."
This post has been updated with information about Fred Dicker's Cuomo biography.