Something unusual has been going on in Ohio's 1st Congressional District.
You can see it when Aftab Pureval walks into the candidate fair at Walnut Hills High School. One after the other, students approach him with prepared questions. They ask about Donald Trump and the Republican tax bill, about criminal justice, Black Lives Matter, marijuana legalization. There is a question about ending child poverty and another about the electoral college. In his bid to unseat Rep. Steve Chabot, a 65-year-old Republican who has only fallen to a Democrat once since taking office in 1994, Pureval talks health care, taxes, and the Western Hills Viaduct that runs through Cincinnati and remains in such disrepair that it is "literally raining concrete," as he likes to say, on his opponent's watch.
The most important question that Pureval, 36, gets that morning at Walnut Hills High School isn't about policy or ideology or any of the national debates that have shaped a highly partisan election on the left. It comes from a teenage boy, nervous and clutching a notebook — and if Pureval pulls off an upset on Tuesday, his question will be the reason.
"Do you think our political system is broken?" the boy asks.
Pureval stands at 6 feet and 3 inches, and somehow, in his role as the Hamilton County Clerk of Courts, an office that handles millions of court documents, serves warrants and subpoenas, and processes parking tickets, has a certain look — some politicians have it, others don't — that makes students at this liberal, high-ranking public school watch him from across the room and giggle. ("We're just excited to see our local celebrity," a teacher says.)
Pureval answers the question by talking about his own story — a "skinny brown kid with a funny name," half Indian, half Tibetan, born to immigrant parents in Dayton, Ohio. "I'm a diverse millennial running for Congress for the first time," he tells the student. "If that doesn't make you optimistic…"
"I'm optimistic!" Pureval says. "Are you?!"
"Umm…yeah," he answers, as if he's just realized it. "Yeah, actually I am."
As Pureval sees it, this is "the larger existential argument that [he's] trying to win." Yes, he says in an interview, he knows it "may sound naive." But in the key swing state of Ohio, in what has been one of the most closely watched House races of the year, he's staked his campaign on the fundamental idea that aspirational politics still exist in 2018.
In one generation, his family went from being refugees — his mother fled Tibet under the Chinese Communist regime, crossed the Himalayas through Nepal and on into India, where she and Pureval's father met and decided to move to Ohio together in their twenties — to running for US Congress. "That story only happens in this country," he tells voters.
"The consistent thread through all of it," Pureval says of his own campaign, "is the optimism battling against the cynicism of traditional and current status quo politics."
"That is fundamentally what drives me."
It's an approach that Pureval is able to pull off, in part, because of his nonideological record as county clerk. Mark Longabaugh, the campaign's chief strategist, described the Aftab effect this way: "You've hit the sweet spot when you can be all things to all people."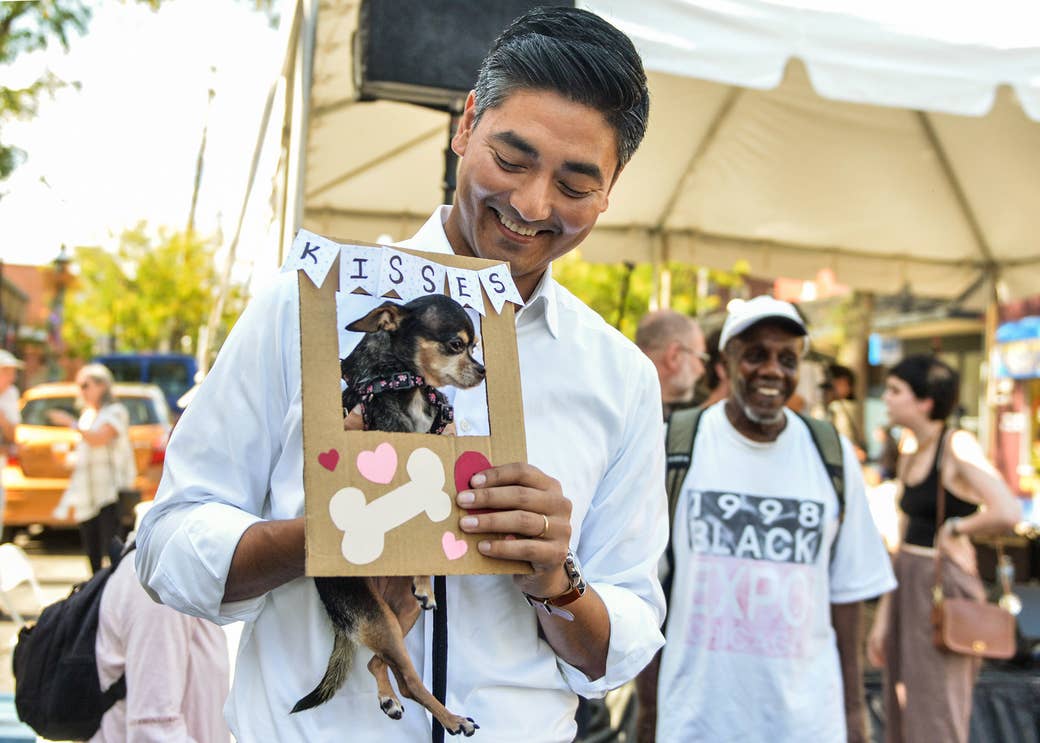 It's also an approach that has been easily threatened in the final weeks of the race by a series of missteps, including a protracted ethics investigation that finally concluded last week with a $100 fine and the resignation of his campaign manager, Sarah Topy.
The approach might not just sound "naive." In 2018, it seems unlikely, almost foreign — something from a bygone era.
Pureval is running a local "hope and change" campaign at a time that feels more like the slogan's gritty, clear-eyed inverse: "sick and tired." (The line from famed civil rights activist Fannie Lou Hamer — "I'm sick and tired of being sick and tired" — has become a common refrain among Democrats on the trail. Other mood-setting rallying cries from the Trump era include "resist," "persist," and "when they go low, we kick them.")
In this election, Democratic enthusiasm is laced with outrage and distrust. Democratic candidates are understood via strict ideological labels. And Democratic policy debates, now reoriented around an unapologetic progressive agenda, are litigated through litmus tests.
Pureval, who was elected county clerk in 2016, doesn't fit into any of it.
He is almost impossible to pin down ideologically, entering this year's highly partisan election from a nonpartisan county role. He has no voting record on the national issues of the day. He campaigned for the job by promising to strip the office of politics and cronyism — making it a place that attracted "the best and the brightest" employees, regardless of party affiliation. When it comes to his record, Pureval is equally proud of the progressive workplace policies he implemented — a $16 minimum wage, paid family leave, LGBT protections — as he is of the way he paid for them: by reducing the size of government, saving taxpayers close to $1 million. (In his first year as clerk, he made staff cuts, restructured the office bank accounts to save on fees, and digitized 12 million pieces of paper, clearing enough literal space to open a new legal help center for the public, with the support of the chief Republican judge on the Ohio Supreme Court.)
In his campaign against Chabot, who has tried to paint Pureval as a far-left extremist in the mold of House Democratic Leader Nancy Pelosi, he does not exactly embrace the progressive label. (He talks about being "a moral leader" instead.) He hasn't backed Medicare for All, and he talks secure borders and steers clear of the party's national debates. Progressives, though, still consider him progressive. Moderates consider him pragmatic. And even some Republicans like and have endorsed him, a fact that makes Pureval "incredibly proud." Earlier this year, he became the first House challenger to receive support from both the Progressive Caucus and its centrist equivalent, the New Democrats. His endorsements range from Barack Obama to Elizabeth Warren. Last week, there was talk of a last-minute rally with Bernie Sanders. No one seems to care whether he's closer to Conor Lamb or Alexandria Ocasio-Cortez. He's just Aftab.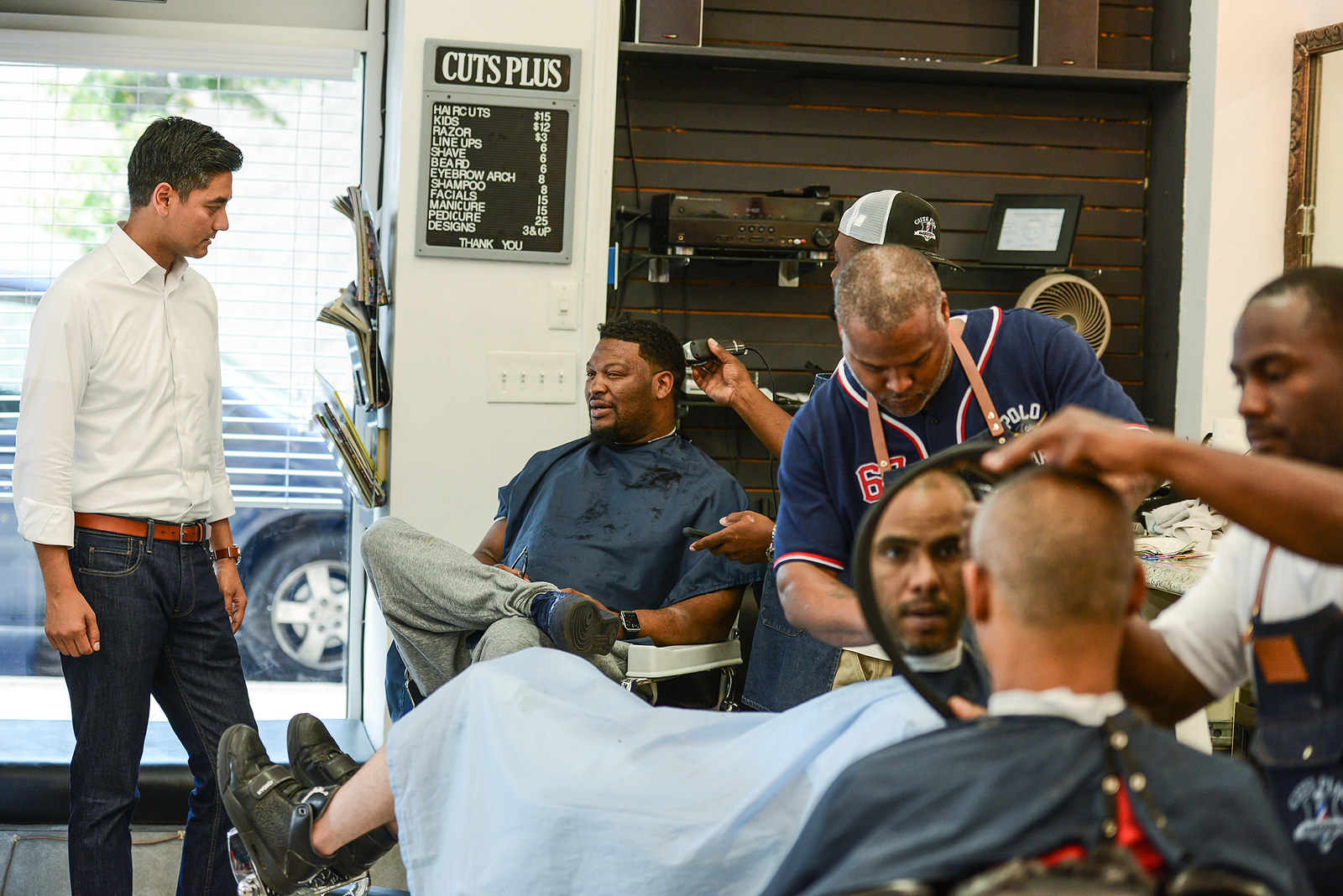 "What I would say is that I try to be authentically me," he says.
Which means what exactly?
On gun control, for instance, he supports universal background checks and bans on high-capacity magazines and military-style assault weapons. "People in the national media are going to view that position in a certain way. And then my track record of actually reducing the size of government and being fiscally responsible — some other national news outlets are going to see that in a different way. But it is all authentically me."
"We talk about a new generation of leadership," Pureval replies, "and I believe that to my core. But I hope that also means we are less ideological."
On the trail in Ohio's 1st, redrawn eight years ago to give Chabot an easier time than he had in the aughts, when he lost his seat for a term in 2008, Democrats describe Pureval in nonideological terms. Instead, Pureval is pitched more simply as a candidate who will follow through on promises, who conveys a "sense of hope" and represents a "fresh and diverse look."
In Warren County, a solidly conservative area where Democrats hope to make inroads with affluent, college-educated voters turned off by Trump's Republican Party, a small group of volunteer leaders tell Pureval that they believe an older generation of voters now sees an opportunity to elect someone "new and exciting," one woman tells the candidate, "and that's pretty inspiring to see. It's been a long time since we've seen that in politics."
"We talk about a new generation of leadership," Pureval replies, "and I believe that to my core. But I hope that also means we are less ideological."
In Hamilton County, where Pureval's campaign has attempted to build support from the African American community, a coalition of black leaders take turns listing the top issue they hope to see their candidate-of-choice address in Congress. But even as they talk policy — criminal justice, jobs, education — they usually come back to the same point.
There's Gwen McFarlin, co-chair of the county's Democratic Party: "When they meet and interact with him, he's able to give them a sense of hope." There's Reginald Harris, a Democratic organizer from Avondale: "You have that Obamaesque thing," he tells Pureval. "Folks like you." And there's Shawn Butler, a former Cincinnati city council candidate: "His background, I think, is what the community needs — a representation for the people who don't look like the 77% of this nation."
As a candidate, Pureval has the air of both a rising star and an amateur politician figuring it out as he goes along.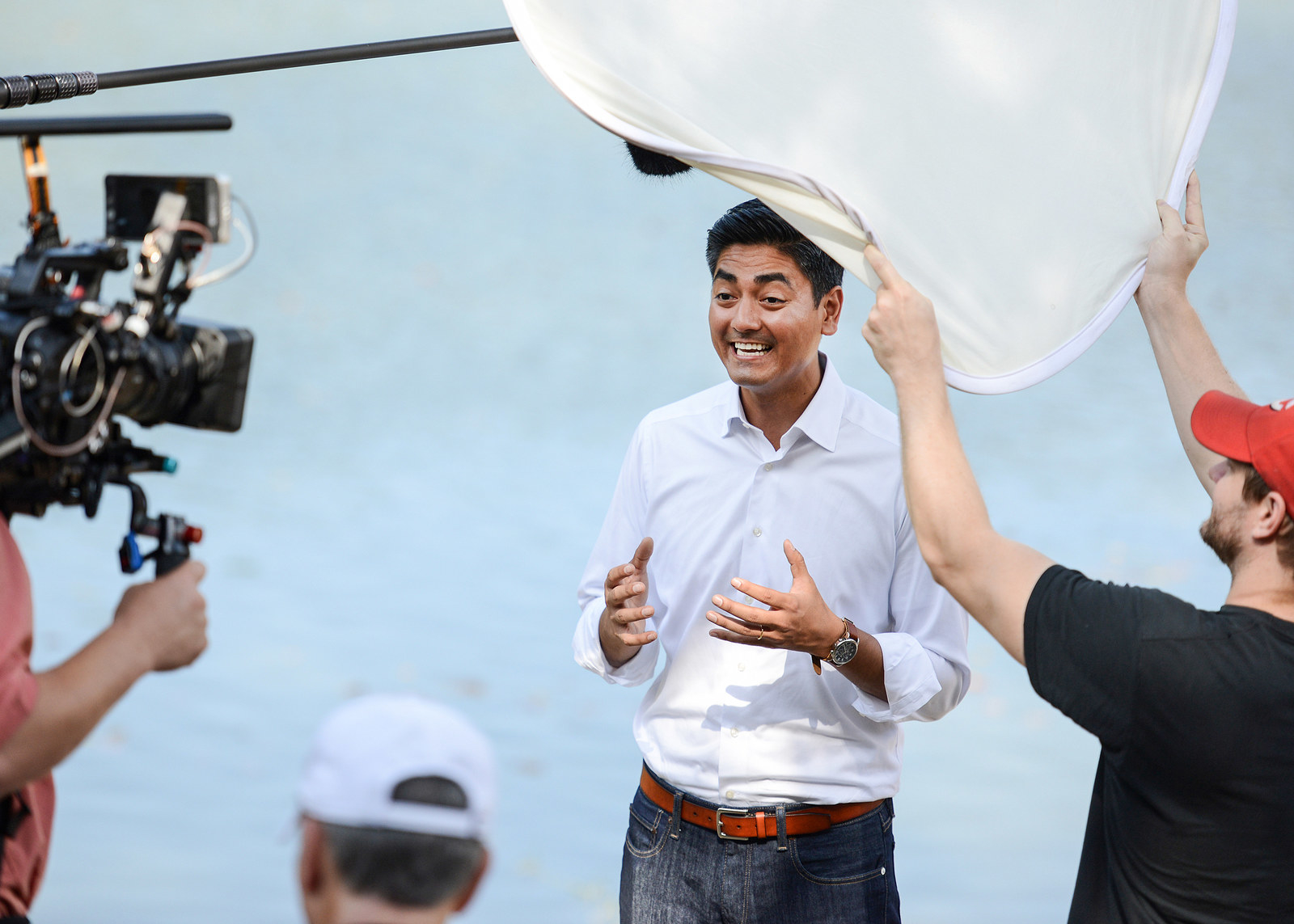 He has generated unexpected flashes of celebrity support and national attention. At this year's US Open, as Roger Federer played in a tiebreaker match, a spectator in a light blue "Aftab" T-shirt could be seen in the background of almost every shot. Celebrities from David Letterman to Bradley Whitford have campaigned for him in Cincinnati. On Sunday, John Legend showed up to put on a concert. And miles from the district, the Cincinnati-bred indie-rock band the National have given the candidate shoutouts at shows in Philadelphia and New York. (The lead singer, Matt Berninger, even made his own submission to Ben & Jerry's to name a flavor after Pureval: "Aftab Apple Cheesecake Crumble." Apple "because what's more American than a first-generation child of immigrants?" Berninger explained. Cheesecake because of the cheesecakelike Tibetan dessert barfi. And crumble because "our democracy seems to be crumbling.")
For all the interest in Pureval's future, his campaign has remained a homegrown, fairly shaky operation. A months-long ethics complaint over whether he wrongly used his county clerk's campaign account to pay for polling and a photographer was resolved last week at a depositionlike hearing before the Ohio Elections Commission. (In the case of the poll, Pureval was cleared of impropriety. The commission, however, found he should not have used his county account to pay a $360 photographer's fee.)
Late last month, Republican officials accused a Pureval volunteer of posing as a Chabot supporter in order to spy on the competition in advance of the debates. The ordeal ended with the resignation of his campaign manager, who also ran Pureval's 2016 bid for county clerk and has been best friends with Pureval since the two went to college together.
In any other race, the unforced errors might have been easily dismissed — but for a candidate like Pureval, whose campaign is grounded so heavily in what people see in his candidacy, the developments have felt more like existential threats to his chances.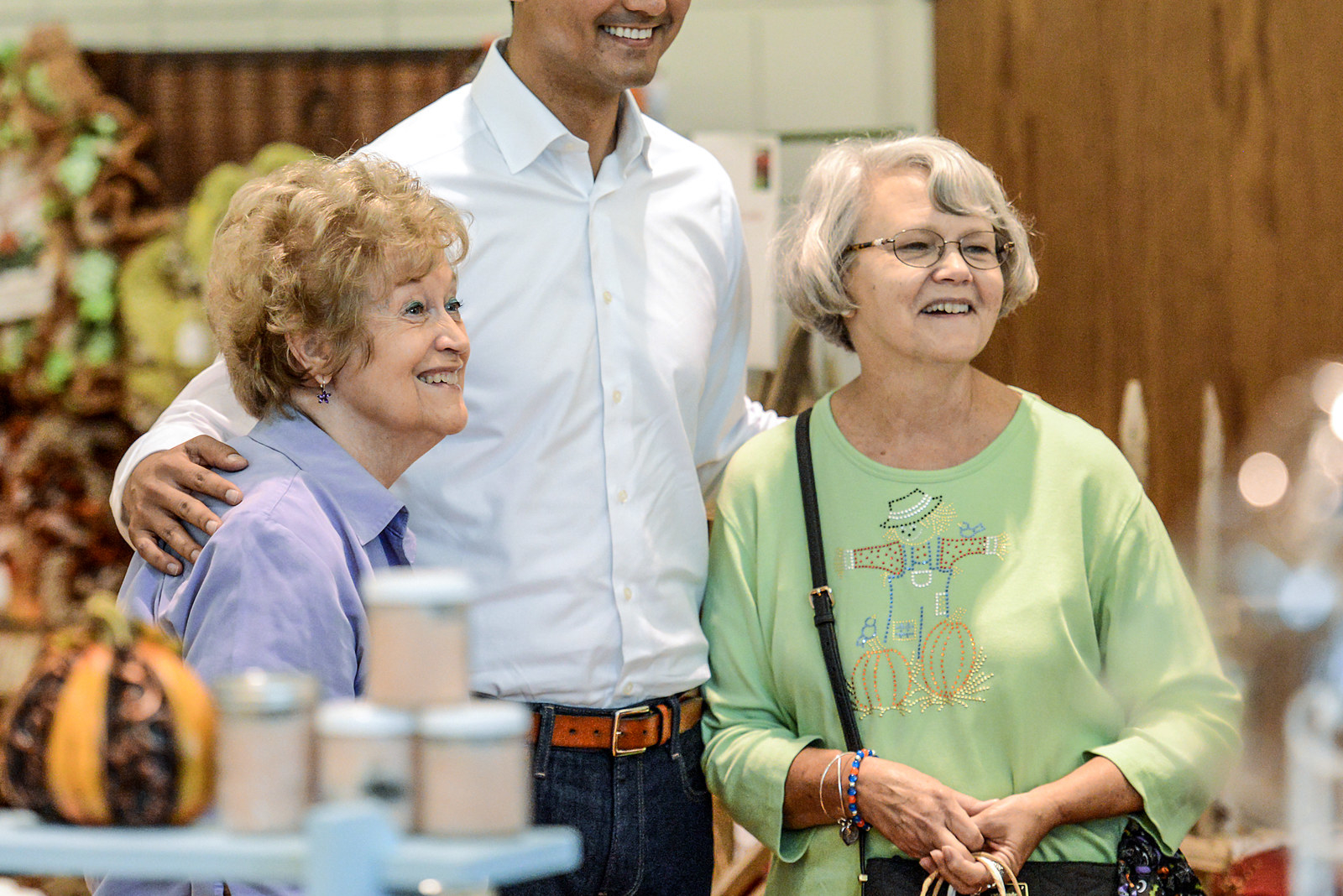 It's been a relief for Chabot allies, who spent months earlier this year in a panic about the race but are more confident than they've been in months that he will pull through on Tuesday. The Congressional Leadership Fund, an outside spending group closely aligned with House Speaker Paul Ryan, opened a field office in the district as early as March. And national Republican operatives were quick to complain about their candidate. (One operative was fond of saying that Chabot, needs to be "de-fossilized" if he wants to win.)
The 11-term lawmaker has a distinct brand in Cincinnati. He is known throughout the district for passing out plastic cups at events. These are Chabot Cups. If you need to contact the campaign, you will be directed to a "chabotcups@" email address. The design for this year's edition shows the face of a formidable-looking eagle, staring.
Chabot also is the author of a quirky and occasionally irreverent blog on his campaign website, where at times he has seemed to write anything on his mind at a given moment.
"No, that's not Fidel or Raul Castro I'm predicting will be Hillary's running mate in the fall, but Julian Castro, who is the Secretary of Housing and Urban Development," Chabot wrote in a March 2016 post headlined "Trump and Kasich vs Clinton and Castro" — a post in which he also incorrectly predicted that Ohio's governor would be Trump's running mate.
A January 2017 post is Chabot's fanfiction version of a Trump inaugural address that was notably critical of the incoming president. Chabot essentially wrote a full-length apology to everyone Trump had offended during the campaign: "For example, I shouldn't have labeled Mexican immigrants with the broad brush of being criminals and rapists … And even though John McCain gets under my skin sometimes, he most definitely IS a hero. And speaking of someone else who gets under my skin — Ted Cruz — and no, I don't seriously think his father had anything to do with the Kennedy assassination. That was just crazy talk."
By March of that year, Chabot had fully embraced the Trump brand. While offering an opening prayer at a Republican club's pancake breakfast in a northern Cincinnati suburb, Chabot praised the "art of the meal" and proclaimed that the gathering would be "huuuuuge."
And at the height of his rivalry with Pureval, Chabot did not exactly denounce an inflammatory television ad by the Paul Ryan group, CLF, that attempted to link the Democrat to his former law firm's work for Libya, overlaid with images from the 1988 Lockerbie terrorist bombing and statements like "he can't be trusted." Pureval was 6 at the time of the attack. ("I probably wouldn't have put Gaddafi's face up there," Chabot said of the ad at the last of three recent debates.)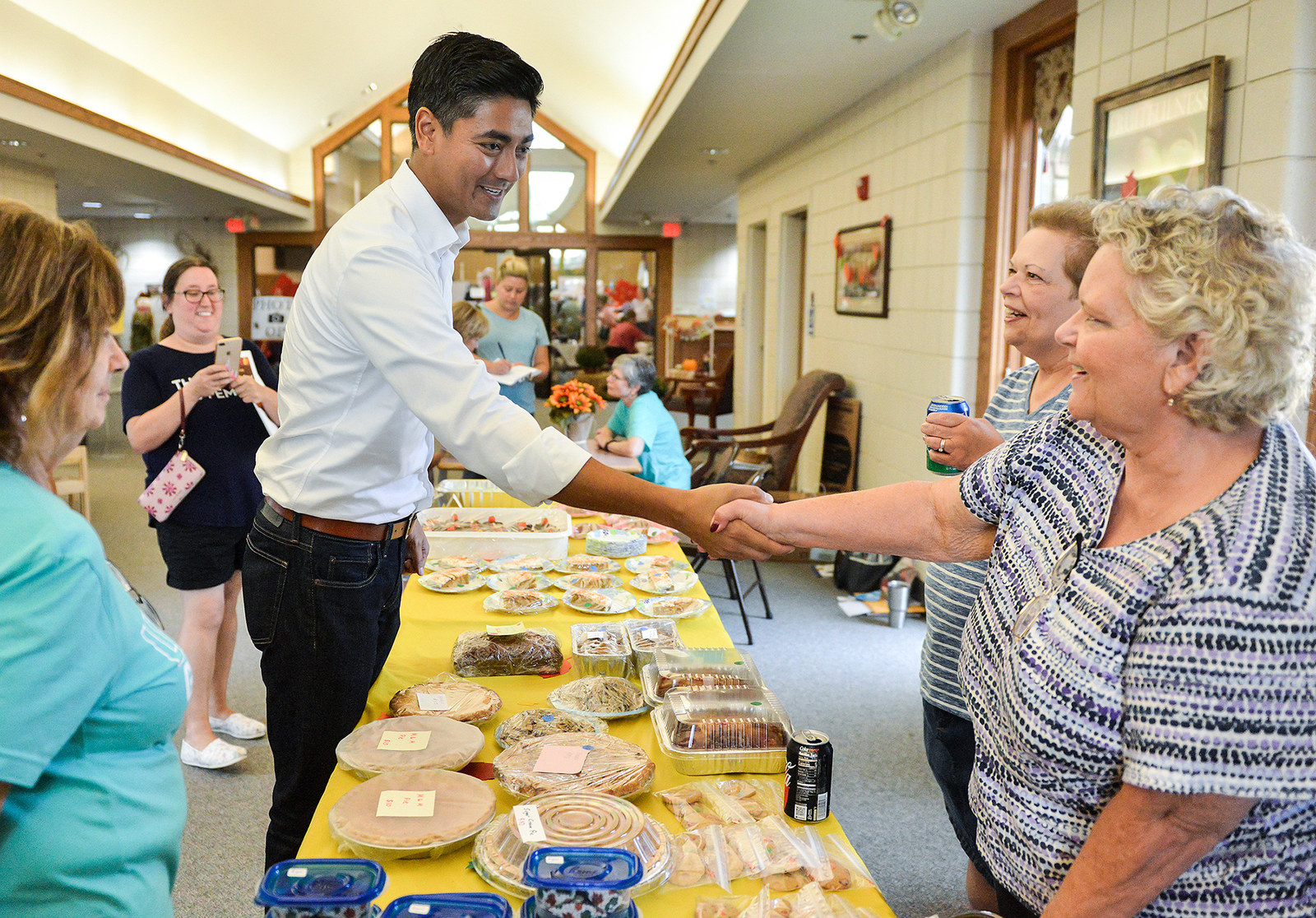 Pureval is acutely aware of the way his race interacts with public perception on the trail. At a parade in the conservative, working-class area of Cheviot, not long after the CLF ad first aired, he was relieved when only one person along the route called him a terrorist.
His political career began in eighth grade, with the slogan "Big, Brown, and Beautiful." At Beavercreek High School, where his classmates elected him senior-class president, he faced an opponent named Greene and used a new tagline: "Simple Math: Brown > Greene." The boy's response: "Vote for the American candidate." The campaign made the front page of the Dayton Daily News. The article, which pictures Pureval at a football game in a "Hi, I'm a S.P.A.Z." T-shirt, documents a suburban, middle-class community still adjusting to an increasingly diverse population and a new wave of first-generation kids balancing heritage with American identity. "You're brought up here, you're born here. And it's two different cultures," a teenage Pureval told the newspaper. "And you don't know which one to embrace."
Back then, in 2000, Pureval wanted to be president. His father, who died from cancer years later when Pureval was in law school at the University of Cincinnati, told the Daily News he didn't think the US would be ready for a Tibetan Indian president.
Pureval might have said the said the same not long ago. During the Democratic primary in 2008, he supported Hillary Clinton over Barack Obama, a man he now describes as his political hero — another "skinny brown kid with a funny name," who, to Pureval's own surprise, ran for president and won.
"I don't know what I was thinking," he says with a sigh. "I think there was a part of me that was cynical. I didn't think it was possible. Which is so sad." ●
Henry Gomez contributed reporting to this story.