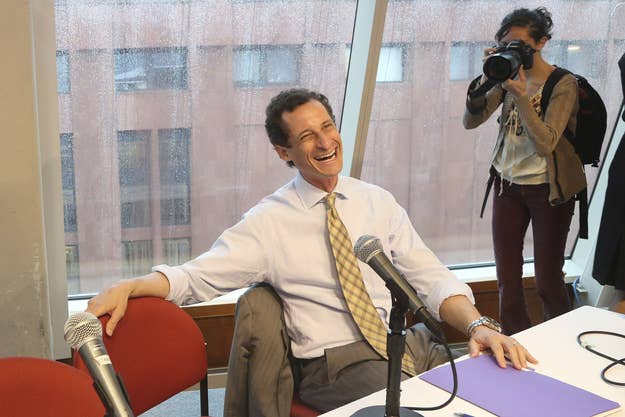 At a forum for mayoral candidates in Harlem, Anthony Weiner shrugged off an unfavorable New York Times article, published in Thursday morning's paper, that cast the former congressman as an inordinately demanding boss who accomplished little in Washington, D.C.
Weiner said he spent his time in Congress as an advocate on behalf of his constituents, and suggested that the story was not as damning as believed.
"I think the article did a pretty good job of contradicting the headline," he said Thursday before the start of a forum sponsored by the Grand Council of Guardians, a group representing black police officers.
"I'll tell you this," he said later during the forum, "that New York Times story was right about one thing. I'm an impatient person. I don't want to wait. I'm not going to wait four years to do a contract. I'm not gonna wait 24 hours to change the policies. I am like a lot of New Yorkers are — they don't slow down at yellow lights if you know what I'm saying."
Weiner argued, for example, that he was "ahead of the game" during the mayoral race eight years ago between then-one-term incumbent Michael Bloomberg and the opposing Democratic nominee, Fernando Ferrer.
"I tried to deny Mike Bloomberg a second term when I ran in 2005, and I united our party behind Fernando Ferrer because I knew how important it was even then."
"If you're not impatient when you're the mayor, there's something wrong with you — you don't have a heart," Weiner added, standing beside three fellow Democratic candidates: Comptroller John Liu, Public Advocate Bill de Blasio, and Reverend Erick Salgado. "So if you want to know what kind of guy I am, I am what I am."
Weiner also said he has become more "mellow" since leaving Congress in 2011, when he was forced out in the aftermath of his infamous Twitter scandal.
When asked about one particularly notable anecdote in the Times piece — in which Weiner, during his 2005 campaign, "threw a salad against the wall, then left the room as the dressing slowly dripped, leaving a stain" — the mayoral hopeful seemed confused about whether or not the incident had occurred.
"I was talking to Josh about the salad in the car," he said, referring to a friend and former body man who worked on the 2005 mayoral bid. "The salad story's apocryphal."
"The way Josh tells it — and he was on the campaign at the time — is the door opened and there was a salad on the wall," he said.
Weiner added, in his own defense, that he's just not a salad kind of guy: "First of all, I don't do salad. That's the other thing about the story. I don't do salads."
"Look, I'm impatient for change, and I fight hard for the middle class and those struggling to make it, and I make no apology about that," Weiner said. "I mean, I'm a much mellower person than I was when the salad did or did not wind up on the wall."
On Weiner's way out of the building, as heavy sheets of rain hit 125th Street, an aide offered his boss his own umbrella — which was smaller, apparently, than the one Weiner had brought himself but did not have on hand.
"I had this great big umbrella," Weiner said.
"I know, that's my umbrella," the aide responded, his arm still outstretched. "I can go get your big one."
He rushed into the rain, to the campaign car waiting outside, and came back with the larger umbrella for Weiner in hand.
"This way now neither one of us gets wet," Weiner said. "See, I'm impatient, but now he's not gonna get wet."