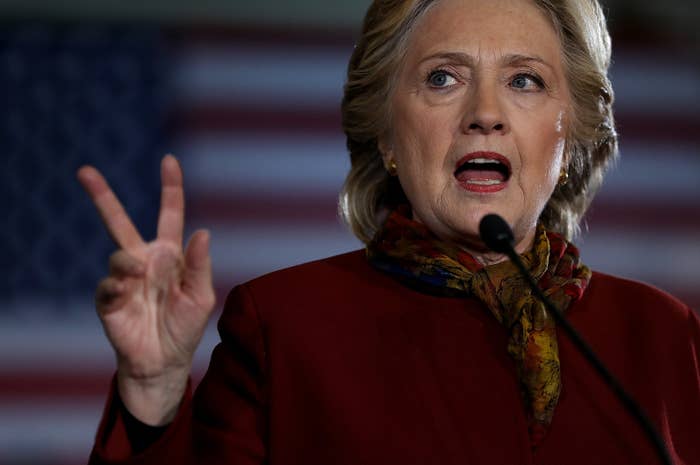 PITTSBURGH — Hillary Clinton did on Saturday night what she hasn't since the start of the general election: She went after a Republican not named Donald Trump.
Onstage at a gym rally in Pittsburgh's Taylor Allderdice High School with her running-mate Tim Kaine, Clinton took aim at Sen. Pat Toomey, who is locked in a tight race with Democrat Katie McGinty.
It was the first time Clinton, who has been courting support from Republicans in the race against Donald Trump, has devoted a major part of her stump speech to a down-ballot GOP candidate.
"Look at Katie's opponent," Clinton told a crowd of 1,800. "He still refuses to stand up to Donald Trump. Now, a lot of Republicans have. They have had the grit and the guts to stand up and say, 'He does not represent me.'"
Toomey has refused to endorse both Clinton and Trump, but has only said he won't vote for the Democrat. "I am not endorsing him and I remain unpersuaded," he recently told reporters.
"Pat Toomey heard Donald attack a grieving Gold Star family, heard Donald call Mexican immigrants rapists, he heard him say terrible things about women, heard him spread the lie that our first black president wasn't really born in America," Clinton went on. "Now how much more does Pat Toomey need to hear? If he doesn't have the courage to stand up to Donald Trump after all this, can you be sure he'll stand up for you when it counts?"
The line of attack was one Democrats, led most recently by President Obama, have adopted up and down the ticket against Republicans who have yet to disavow Trump, particularly in some of this year's most closely watched Senate races.
Clinton, however, has been late to embrace the rhetoric, after crafting a general election message that aimed to distance Trump from his own party, casting him as something distinct from rank-and-file Republicans.
Earlier this month, even as her aides signaled she would start to hold Republicans "accountable" for their nominee, Clinton shied from the message on the stump. Despite the campaign's preview, for instance, the candidate never mentioned the name of Rep. Joe Heck, the Republican running to succeed Sen. Harry Reid.
On Saturday, however, Clinton herself affirmed the new strategy aboard her campaign plane, taking questions with Tim Kaine before taking off for a rally in Philadelphia. "As we're traveling in these last 17 days, we're gonna be emphasizing the importance of electing Democrats down the ballot," she said, "and in particular, as I said today, we are strongly supportive of Katie McGinty."
Her focus on the McGinty-Toomey race in part reflects the campaign's solid standing here in Pennsylvania against Trump, allowing Clinton to shift her attention to Democrats' efforts to secure a majority in the Senate. It's not clear whether Clinton will go after Republicans in states where her chances are more uncertain, such as Ohio and North Carolina, which are both states whose college-educated white voters may provide her with the margin of victory. (At a rally in Cleveland on Friday, Clinton appeared alongside Democratic challenger Ted Strickland, but did not weigh in on the race or mention his opponent, Republican Sen. Rob Portman.)
Clinton suggested she was less concerned with Trump in the final weeks of the campaign, however, telling reporters, "I debated him for four and a half hours. I don't even think about responding to him anymore. I'm gonna let the American people decide between what he offers and what we offer."
Priorities USA, the main super PAC backing Clinton, has adopted a similar approach as the Clinton campaign in two states where the campaign has a more comfortable lead, New Hampshire and here in Pennsylvania.
The super PAC is currently airing ads against Toomey over comments Trump made about abortion earlier this year, and against Republican Sen. Kelly Ayotte on the subject of whether Trump is a role model for children.
Clinton has shown a heightened interest in recent weeks in shifting power in the Senate. Here on Saturday, appearing with Kaine for the first time since their post-convention swing this summer through Pennsylvania and Ohio, Clinton assailed Republicans in the Senate who are, she said, "beholden to the special interests."
"If they're gonna continue to do the work of those that are already privileged in America, then I want to make sure that they don't come back to Washington after the next election."