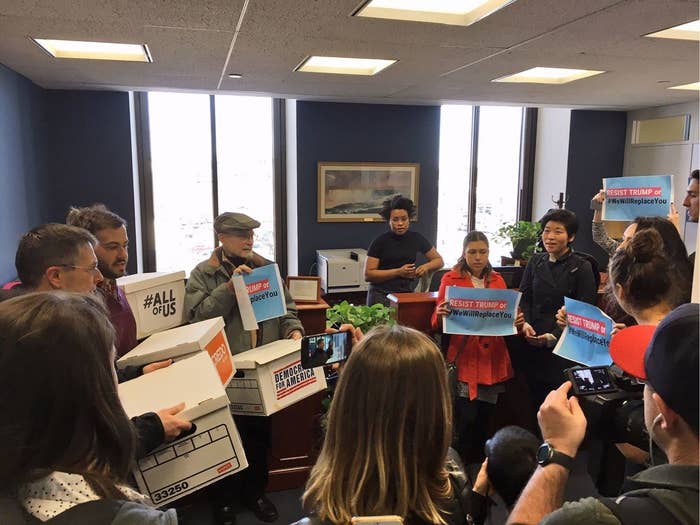 In the lobby of Sen. Chuck Schumer's office on Thursday, images of Attorney General Jeff Sessions flashed on a muted television screen tuned to MSNBC.

Paces away, standing in a semicircle around the Democratic minority leader's reception desk, a group of two dozen progressive activists presented Schumer with a petition aimed at their own target: West Virginia Sen. Joe Manchin, a Democrat.
Democratic leaders in Congress spent Thursday mounting an aggressive push to pressure former senator Sessions to resign from his post in President Donald Trump's cabinet following reports that he met with Russian Ambassador Sergei Kislyak during the presidential election, despite testifying that he had not had contact with Russian officials — an intense day of news on the Hill that ultimately culminated in Sessions recusing himself from investigations into the 2016 race.
Progressives, meanwhile, were waging a campaign against Manchin.
On Thursday morning, activists from five liberal groups delivered 225,000 signatures on a petition urging Schumer to fire the West Virginia Democrat from his Senate leadership team amid complaints from progressives that the red-state Democrat has not sufficiently opposed Trump's nominees or legislative agenda.
"Sen. Schumer must drop Trump collaborator, Sen. Joe Manchin," said Yong Jung Cho, reading remarks from her phone at the start of the 10-minute demonstration in Schumer's office, according to a video of the protest provided by organizers.
The protest comes as progressives have increasingly targeted their own party, urging Democrats to take a harder line against Trump's administration. Cho is a member of the new group All of Us, whose recently launched "#WeWillReplaceYou" effort threatens incumbent Democrats up for reelection in 2018 like Manchin to "resist Trump or be replaced" with a progressive primary challenger who will.
The split in Democratic focus on Thursday reflected a party struggling with new and difficult battle lines in the Trump era. These are not the same ideological divides that animated the 2016 primary between Hillary Clinton and Bernie Sanders. Instead, the fissures lie between the grassroots and the establishment, pitting activists who want to oppose Trump at every turn, against lawmakers who are selective in picking their battles or remain open to working with the administration in certain areas.
Efforts like #WeWillReplaceYou and the campaign against Manchin have drawn criticism from Democrats who say that calls for oppositional purity are misguided and that if the party loses seats in red states, they may never get them back.
But progressives involved in Thursday's demonstration argued that, despite the dual campaigns that played out on Capitol Hill, the progressive demands on Democrats won't impair or distract from the party's efforts to push Trump on stories like Russia.
"It's being able to walk and chew gum at the same time," said Neil Sroka, a spokesman for one of the groups targeting Manchin, Democracy for America.
"The way that we're going to resist Trump is by building a cohesive narrative about what this party is for and what it's against — that includes Russian interference in our elections, don't get me wrong," he said. "But any Democratic response has to begin with opposition to an agenda which is directly opposed to Democratic values."
As ardent liberal activists describe it, the problem with Manchin is manifold: He has voted for 11 of Trump's cabinet nominees; said repeatedly he will partner with Trump on policy; hugged Trump; greeted parts of Trump's address to Congress with a standing ovation; launched into a tense exchange last week with activists, inviting a primary challenger; and met with Breitbart News, an outlet reviled by the left.
Manchin has been a complicated figure in the party. He is unapologetic about representing the more moderate and conservative voters of West Virginia. But he has also provided Democrats a key and unlikely ally in the party's major fights, taking a lead role in Barack Obama's failed gun restrictions push four years ago.
After the election, Schumer, the longtime New York Democrat, began his tenure as minority leader by expanding his leadership team to 10 members, adding Manchin and Sen. Bernie Sanders among others to help with outreach and messaging to "unite the disparate factions of our party and our country," he said at the time.
In January, at a closed-door retreat for Democratic senators in Shepherdstown, W.Va., Manchin moderated a "discussion with Trump voters" for his colleagues.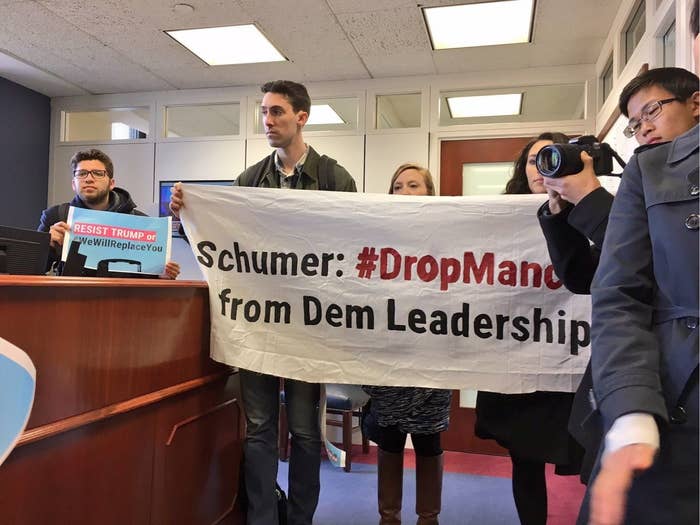 In addition to All of Us and Democracy for America, the other progressive groups involved in Thursday's demonstration were CREDO, Other98, and 350 Action.
Other liberal groups were noticeably absent, including one that partners often with Democracy For America on protests and petitions, MoveOn.org. A spokesman for MoveOn.org declined to comment on the activists' focus on ousting Manchin.
"Sen. Manchin is a Democrat in name only," Cho said, standing beside a banner that read in black and red, "Schumer: #DropManchin from Dem Leadership."
Next, a 21-year-old West Virginia constituent, Daniela Powers, spoke about her personal disappointment in Manchin. "My hopes have been shattered," she said.
Two staffers at Schumer's reception desk watched the protest in silence.
"There is no time or room for Democrats in Congress who are Democrats in name only. And especially not in the Senate Democratic leadership," Powers went on.
Cho, the activist aligned with All Of Us' #WeWillReplaceYou, added that if Schumer does not "immediately" drop Manchin from his leadership post — an outcome that at this moment appears unlikely — he'll "be sending a clear message to the American people: Schumer does not stand with the resistance movement and when push comes to shove, he'd rather lead the Democrats to compromise than to victory."
The activists ended the protest with a song.
"When the people rise up, the powers come down," they sang.
"They try to stop us, but we keep comin' back."