Saturday, 12:13 p.m., White Plains, N.Y. Saturday on the trail begins like any other for Hillary Clinton. She steps onto the tarmac. She smiles. She waves. It's as if the events of the prior 24 hours, unfolding in dramatic and at points surreal turns, have either never occurred or are simply of no ultimate consequence to the candidate.

This, from the outside at least, is the Clinton campaign under siege. She and her aides, by now, after a long 18 months, are somewhat at home when in crisis. ("Happy warrior" is how a Clinton official described the candidate's state of mind on Saturday morning here in Westchester.)
Though little is still known about the new investigation from FBI director James Comey, made public in a letter to members of Congress, the probe will undoubtedly damage Clinton's standing in the race, with another round of email headlines landing on the front page of nearly every battleground state newspaper.

But on Friday, as news of the inquiry hit the presidential race just 11 days before election time — while the press scrambled for information with few details and without inflight internet, while Donald Trump assailed the latest "criminal scheme" — Clinton held her smile, and the day proceeded as planned. There were two rallies in Iowa. ("I am so excited and happy to be back here!") There were special guests. (Celebrity DJ Samantha Ronson. Star photographer Annie Leibovitz. Childhood friend Betsy Ebeling.) And there was no mention of the FBI inquiry until the day was done.

Friday, 12:57 p.m. Clinton campaign manager Robby Mook takes questions about early vote returns aboard the "Stronger Together" Boeing 737 — flying through the Midwest without wifi. On the ground, Rep. Jason Chaffetz tweets that the FBI has informed him of emails that "appear to be pertinent" to the Clinton investigation.
1:21 p.m. News breaks aboard the plane, now making its initial descent into Cedar Rapids, Iowa. Mook declines to address what looks like word of a new (re-opened?) FBI inquiry. Reporters refresh Twitter. "Gogo inflight experience is temporarily unavailable."
1:39 p.m. Reporters unload onto the tarmac and take out their cameras and phones, waiting for Clinton. Twenty minutes pass.

On TV, back in Washington, NBC News' Pete Williams is talking about the investigation ("to be purely technical about it, it's really not being reopened"). Senior officials, he says, identified the emails as part of an "unrelated" case.
2:06 p.m. Clinton pops out of the front cabin. Big smile. Reporters shout over the drone of plane engines. "SECRETARY CLINTON, SECRETARY CLINTON? THE FBI?" She waves in the direction of the press. A few steps behind, a woman of the same age follows — Clinton's best friend since childhood, Betsy Ebeling, joining along for what would have otherwise been a normal day. ("Poor Betsy!" the reporters agree.)

2:07 p.m. The press spots the wiry-haired Leibovitz emerge from the plane, toting her camera. "I only had a minute," she says, rejoining the reporters. So there was a photoshoot? Amid the FBI news? Later, an aide says yes, this is safe to "deduce."
2:23 p.m. Motorcade arrives at NewBo City Market in Cedar Rapids. Pumpkins decorate the courtyard. Still nothing from the campaign on what is going on. Clinton takes the stage and exclaims, "Wow! What a beautiful day in Cedar Rapids!"
3:14 p.m. News alert from the New York Times: "New emails tied to the FBI's Clinton inquiry were discovered during the investigation into Anthony Weiner's sexting."
3:18 p.m. A cheerful Clinton speaks for 30 minutes about Trump, his female accusers, and her many policy proposals. "I have a plan for just about everything… You know, maybe this is a woman thing. We make lists, right? I love making lists. And then I love crossing things off! So I want you to imagine that together we're gonna vote on Nov. 8 for an agenda that will become a list that we will work on!"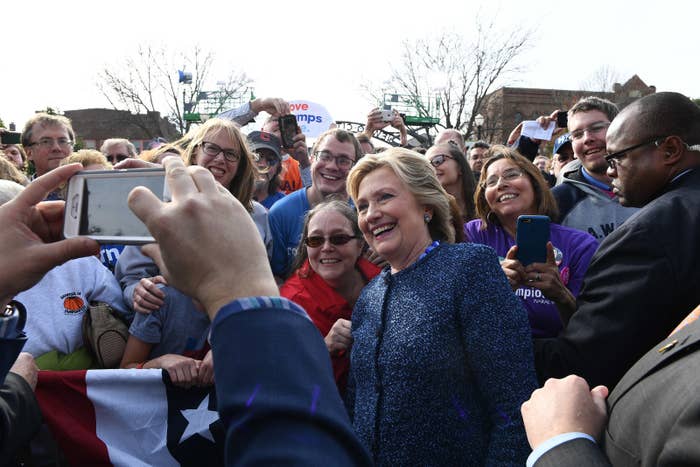 3:44 p.m. Campaign chairman John Podesta releases a statement, criticizing Comey. "It is extraordinary that we would see something like this just 11 days out from a presidential election. The director owes it to the American people to immediately provide the full details of what he is now examining."

3:49 p.m. A second news alert, this one from the Associated Press: "BREAKING: US official: Emails related to Clinton investigation came from sexting probe of Anthony Weiner."
4:02 p.m. Reporters file back to the bus in disbelief. TV news packages get re-tracked. "Three, two, one... It started out as a regular day on the campaign trail..."
4:06 p.m. A newcomer jumps out of the campaign staff van at the Eastern Iowa Airport: Samantha Ronson, the popular DJ and famed ex-girlfriend of Lindsay Lohan, is tagging along. Wearing a cowboy hat and pastel plaid shirt, she mounts the back staircase along with the press and sits down in the staff cabin.
4:24 p.m. Flight to the next event. Senior aides materialize in the aisle. Mook is gesticulating and laughing. Reporters in the back cabin start to prepare for another press conference, but instead watch as Mook and Clinton's communications director, Jennifer Palmieri, walk only as far as the table in the staff cabin, where they serve themselves a slice of apple pie.
4:33 p.m. Wheels down in Des Moines.
On the tarmac, reporters learn that Clinton and her campaign aides only found out about the Comey news through public reports. (After the Leibovitz photoshoot, another aide notes later.) The campaign hasn't said more about what is going on, it seems, because they simply don't know. When a reporter asks if Clinton is "rattled," the aide flashes a look as if to ask, Do you know the woman?

5:18 p.m. Clinton deplanes. More smiles and waves. Betsy follows. Then Palmieri. And then, finally, Huma Abedin, Clinton's closest aide and separated wife of Weiner, the man at the center of the probe. All four women pile into a chevy suburban with darkened windows.
"BTW," the pool report notes, "Annie Leibovitz was on the tarmac this time."
5:28 p.m. A picture of Donald Trump flashing two thumbs up arrives via text message on the phones of Trump supporters. "BREAKING: FBI Reopens investigation into Crooked Hillary. She should be in JAIL. Time to DRAIN the SWAMP! Contribute $1 in the next hour."
5:54 p.m. Clinton takes the stage in the gymnasium at Theodore Roosevelt High School in Des Moines. "This election is 10 days away," she says, then corrects. "Eleven, but we're more than halfway through today." Not that she or anyone else is counting.

6:04 p.m. More about women and lists. "We love making lists, and then we wanna get things done and cross them off. So I have this image of like this great big list on the White House lawn..."
6:41 p.m. The campaign's press wrangler gathers reporters in the back of the gym. Minutes later, the group ends up in the high school choir room, transformed by advance staffers into a briefing room with black pipe-and-drape, six American flags, a "Stronger Together" lectern, a "Stronger Together" banner, and rows of "Stronger Together" posters.
7:01 p.m. Clinton walks in behind a small phalanx of aides: campaign manager Mook, communications director Palmieri, press secretary Nick Merrill. No Abedin.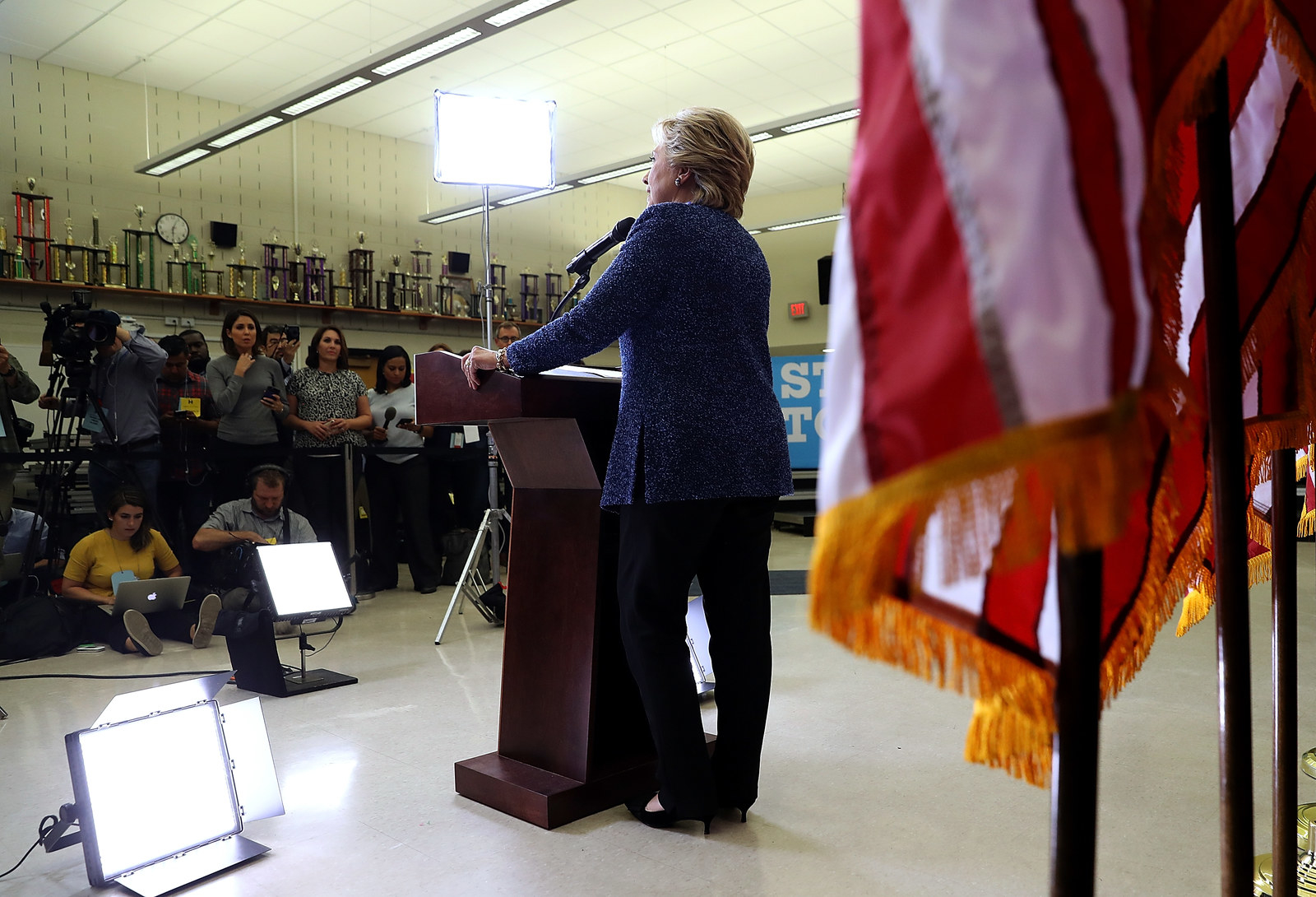 From the lectern, she delivers a succinct message, asking Comey to come forward with more details about the investigation he's launched 11 days out. It is all she will say for the time being, aides indicate, about the development.
7:08 p.m. Clinton takes three questions. ("Your guess is as good as mine," she says, when asked if the campaign knows anything more about the FBI inquiry.)

7:12 p.m. Clinton heads for the exit. A reporter shouts one final question.
"Are you worried this could sink your campaign, Secretary Clinton?"
The candidate is almost out the door as she lets out one big, long laugh.